Every flower gardener should know the pleasure of growing clematis. With their stunning blooms and elegant climbing habit, clematis plants add a touch of beauty and charm to any garden. Whether you're a seasoned gardener or new to the world of clematis, this article will provide you with essential tips to ensure success with the "queen of climbers."
Selecting the Perfect Plant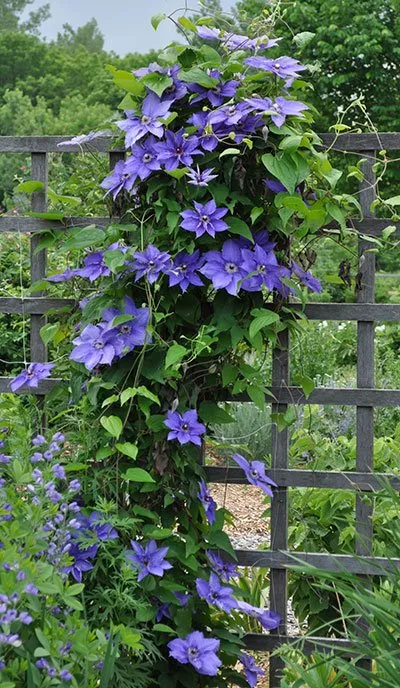 Gone are the days when only a handful of clematis cultivars were available. Today, local garden centers offer a plethora of choices, making it easier than ever to find the perfect clematis for your garden. When selecting a clematis, consider factors such as mature height, flower form, and color.
If you have ample space for a vigorous vine, there are many wonderful cultivars that can reach heights of 10 to 20 feet. However, if you have a small garden or limited space, don't worry! There are also compact varieties that thrive in smaller areas or even in pots on patios.
Clematis flowers come in various forms, including large blossoms with six or seven petals, measuring 5-6″ across. Additionally, there are cultivars with smaller or double blossoms, as well as bell-like flowers. The color palette of clematis ranges from white to wine red, lavender to deep purple, and even includes a few rare yellow varieties.
To shorten the waiting time for your clematis to mature and start flowering vigorously, it's advisable to purchase a plant that's at least two years old. Look for container-grown plants in quart or gallon-size pots. Opt for robust plants showing vigorous growth, rather than weak ones with appealing pictures.
Choosing the Perfect Spot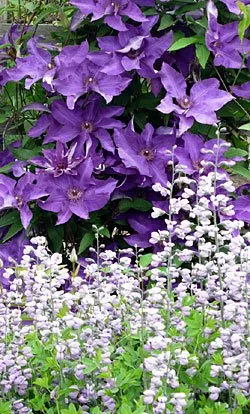 Before bringing home your new clematis, it's crucial to have a suitable planting location in mind. Ideally, clematis should be planted in a sunny spot, although certain cultivars can tolerate partial shade. For optimal growth and flowering, clematis requires a minimum of six hours of sunlight each day.
When it comes to soil, clematis prefers moist, well-drained soil with a neutral to slightly alkaline pH. If your soil tends to be acidic, periodic amendments with limestone or wood ash can help balance the pH. Dig a generous hole for your new clematis, incorporating plenty of compost and granular organic fertilizer.
When transplanting your clematis, handle the plant with care as its delicate roots, crown, and emerging vines are susceptible to damage. Position the plant slightly deeper than it was in the pot, ensuring that the first set of true leaves is just below the soil surface. During the first season, water the plant weekly to aid in establishment. Once your clematis has successfully weathered its first year, it is likely to thrive. Mulching around the base of the plant helps retain moisture, but ensure the mulch is several inches away from the crown where the vines emerge from the soil.
Providing the Right Support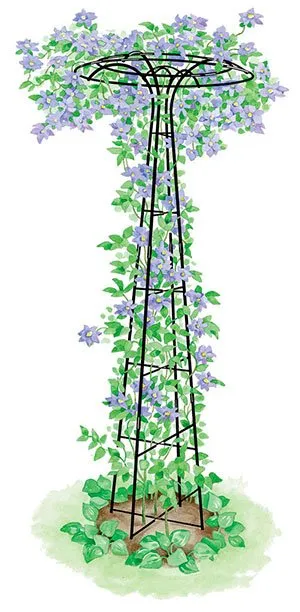 While some clematis cultivars have a bushy habit, most are natural climbers. These vines search for something to grab onto as they grow. Therefore, it's essential to provide suitable support for your clematis from the beginning.
Unlike pole beans or morning glories, clematis vines do not twine around objects. Instead, they use their leaf stems to wrap around supports. Keep in mind that the leaf stems are not very long, so objects wider than approximately 1/2″ in diameter are unsuitable for the vine to wrap around. You can use twine, fishing line, wire, thin branches, wooden dowels, or steel rods as support. The more options you provide, the better. Even if you have a trellis, consider adding twine or covering it with trellis netting to offer additional grabbing opportunities.
Depending on the plant's vigor and the type of trellis, you may need to provide support during the growing season to keep the vines attached. Fishing line and twine work well for this purpose.
Pruning and Care
Clematis pruning requirements vary depending on the type of cultivar. Some varieties bloom on last year's vines, meaning you should avoid cutting them to the ground in spring. Others bloom on current-year vines, allowing for annual pruning. To simplify the pruning process, leave the prior year's growth intact until mid-spring. Start pruning only when you can distinguish dead vines from those beginning to leaf out.
A well-fed clematis plant rewards you with an abundance of vibrant flowers and lush foliage. Ensure the health and vigor of your plants by providing proper nourishment. In early spring, surround the plant with compost and a handful of granular organic fertilizer. During the growing season, feed your clematis once or twice with water-soluble organic fertilizer.
With these essential tips, you are well-equipped to unleash the beauty of clematis in your garden. From selecting the right plant to providing suitable support and care, your clematis vines will thrive, showcasing their breathtaking blooms as they ascend towards the sun. Embark on this journey with the "queen of climbers" and create a garden adorned with the splendor of clematis.