Transforming a Faded Orchid Back to its Blooming Glory
The thriving market for orchids, once deemed an exotic rarity, has evolved, making them a beloved and popular choice for gift plants. Renowned for their durability, the blooms of orchids linger impressively long. But when their time is up, they leave behind a bare and somewhat forlorn stem.
This is where many people, considering their orchid's prime to have passed, decide to replace it with a new, blooming plant.
Yet, it's crucial to understand that orchids are not meant to be disposable, akin to a bouquet of cut flowers. Given appropriate care and some patience, you can encourage your orchid to bloom again, transforming it into a long-term companion.
A Glimpse into the World of Orchids
With an impressive roster of about 28,000 species, orchids are a diverse and widespread family, with phalaenopsis orchids—also known as moth orchids—taking center stage in the houseplant sphere. Their moniker is inspired by their expansive, moth-like petals that flourish on either side of the central stem.
Modern breeding techniques have enabled the mass cloning of moth orchids, ensuring their prominence in the market. Their flowers, while long-lasting, tend to bloom just once per year and typically need a nudge to do so when housed indoors.
Thankfully, phalaenopsis orchids rank among the easiest to coax back into flowering, if one sticks to certain key care steps.
Note: These tips are tailored for phalaenopsis orchids and may not align with the reblooming needs of other varieties.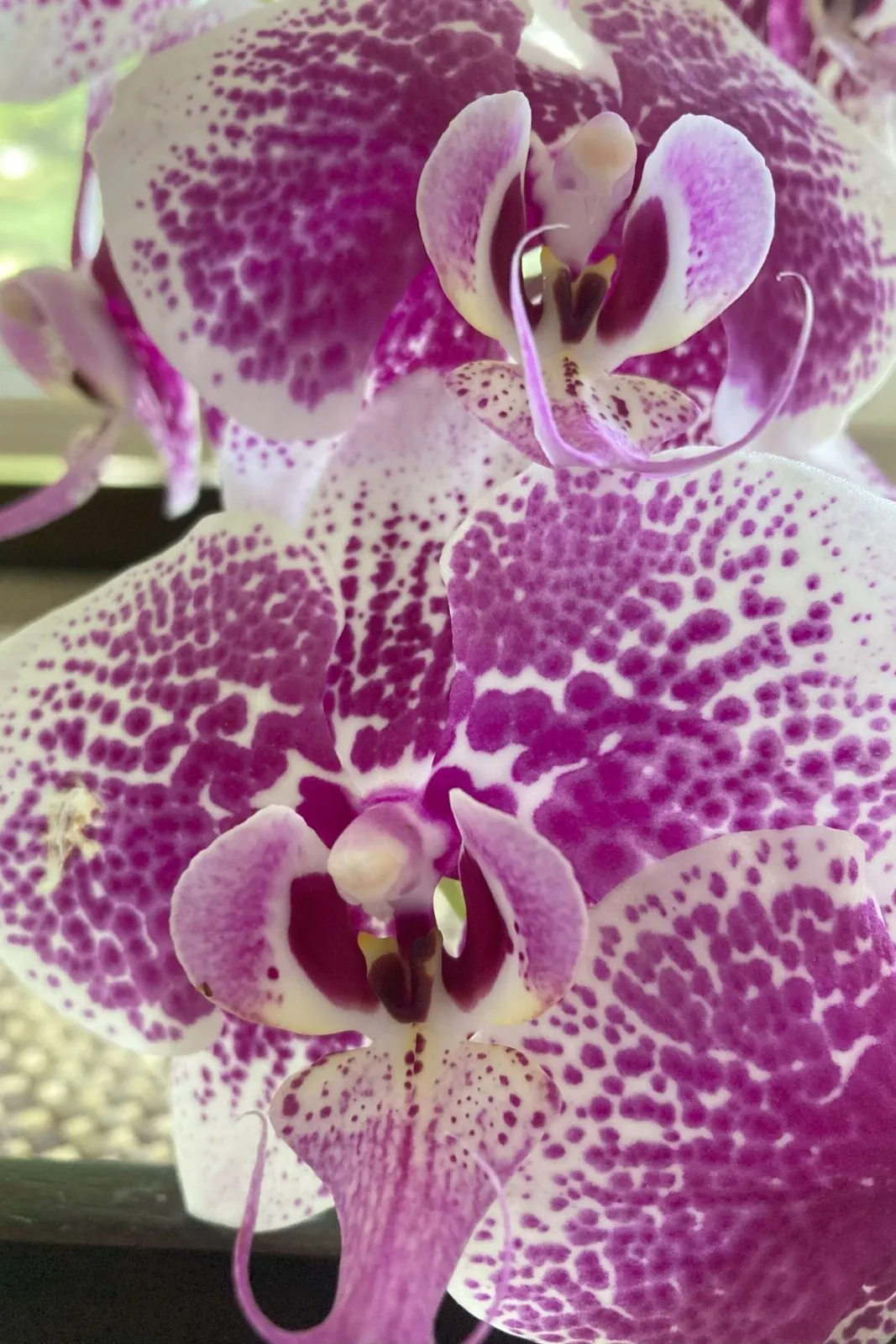 Understanding Phalaenopsis Orchids and Their Origins:
Natives of southeast Asia and Australia, these orchids live as epiphytes, anchoring themselves on trees and typically blooming in late spring. To encourage reblooming within the confines of your home, replicating their natural seasonal cycle is key.
Initiating the Bloom Renewal:
As the current flowers begin to fade, start your journey towards the next blooming cycle. With a combination of care and luck, a new set of blossoms could grace your orchid in three to six months. But first, the plant needs to enter its dormancy period.
The Importance of Dormancy for Orchid Revitalization:
Dormancy is not a time of idleness but a crucial period where the orchid conserves energy and gathers nutrients essential for its next flowering stage. Depending on various environmental conditions, this rest could last from six to nine months.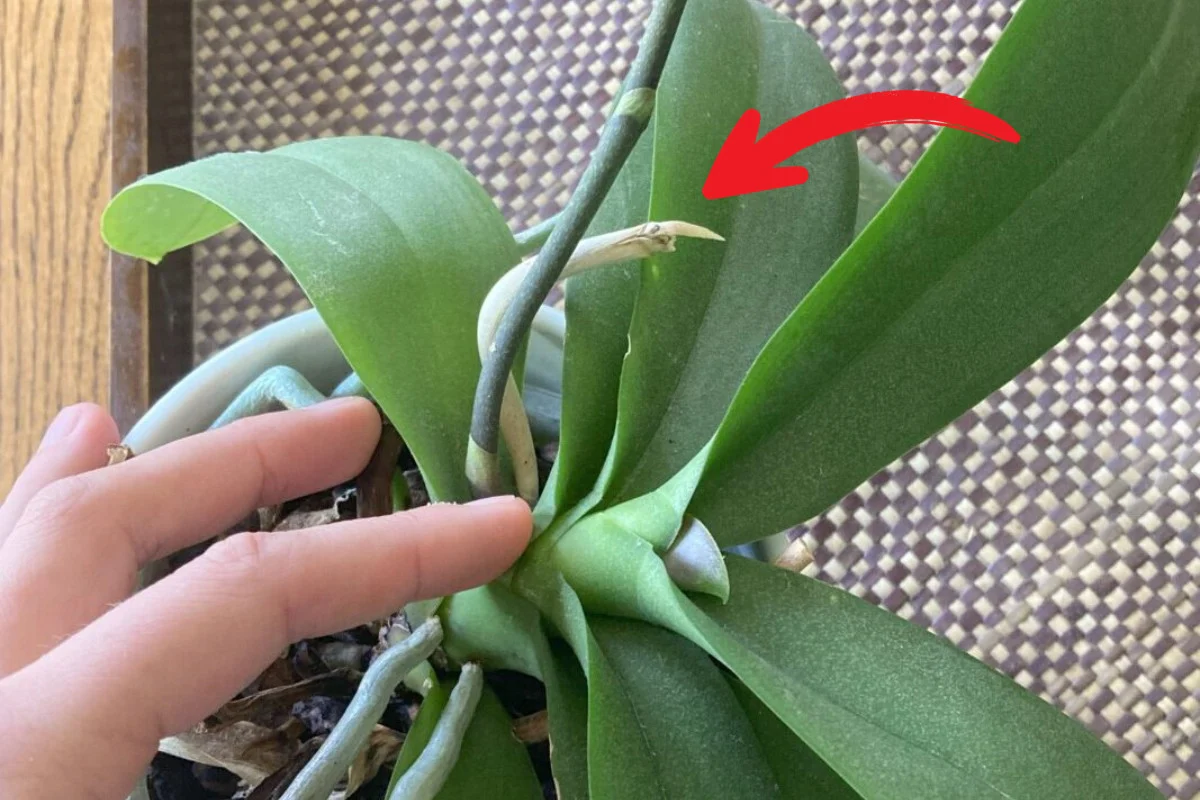 Handy Tip:
Promptly remove any wilting flowers, as they release ethylene gas, accelerating the decline of nearby blooms. This is particularly relevant for orchids placed in environments like kitchens, where ripening fruit can expedite wilting due to the release of this gas.
Nurturing Dormant Orchids Back to Life: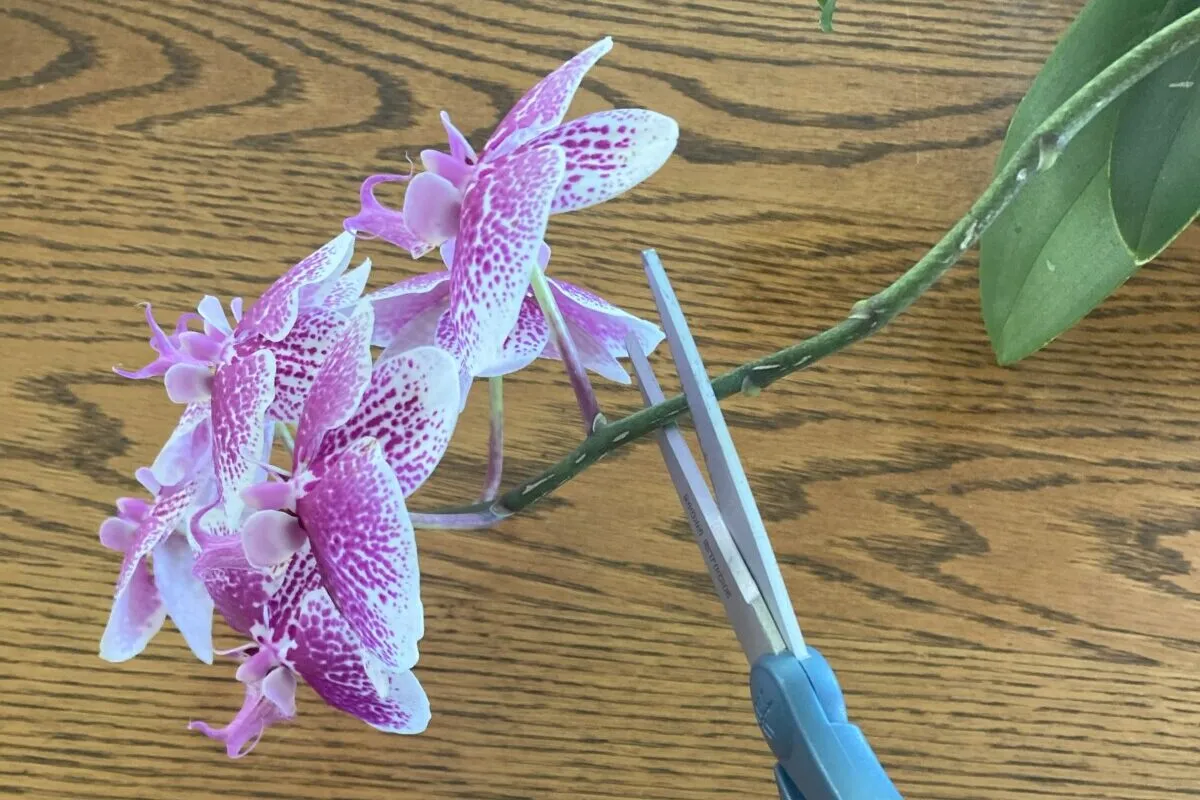 The grace of orchids in full bloom can transform any room, yet often after their showy petals fall, we're left with the skeletal remains of flower spikes.
This doesn't have to signal the end.
With care and patience, the barren orchid can again burst into life, year after year.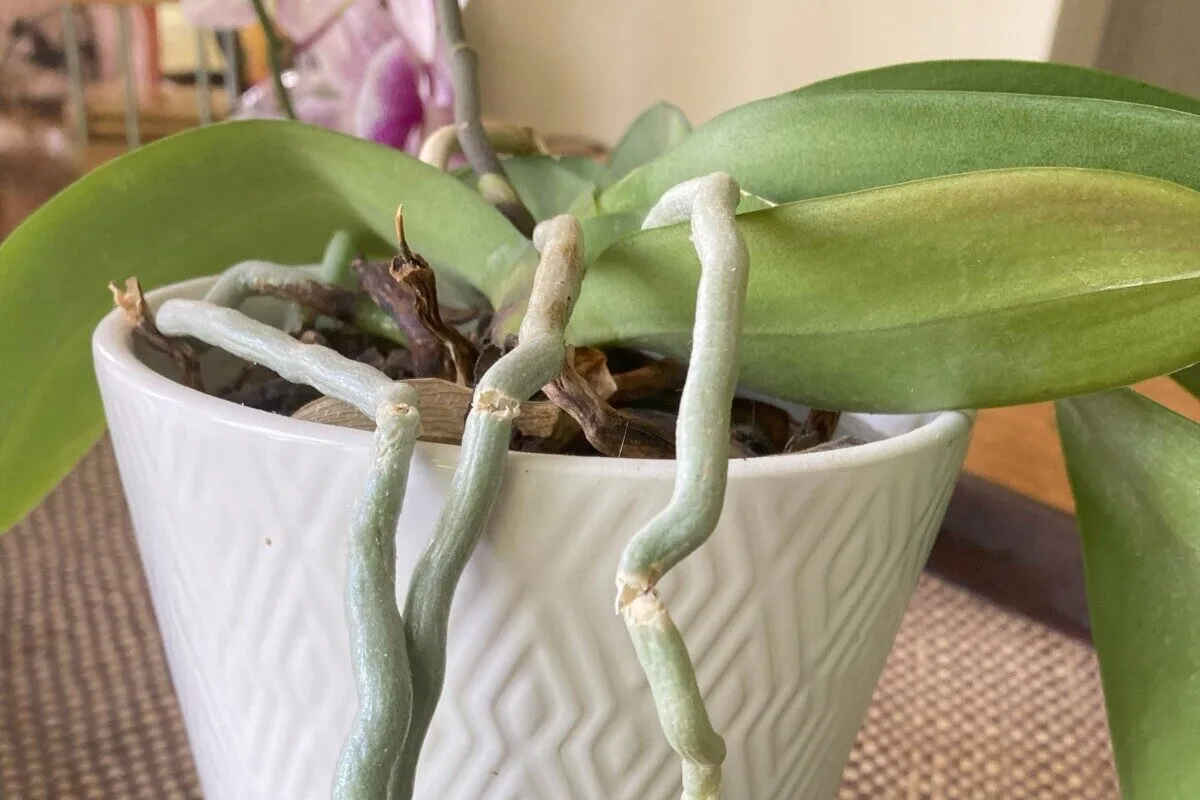 Understanding Your Orchid's Cycle:
Among the vast family of orchids, phalaenopsis, or moth orchids, reign supreme as household favorites. Recognizable by their symmetric leaves flanking a central stem, these orchids bloom opulently once a year if coaxed correctly.
Orchid propagation has become a fine-tuned craft, ensuring the moth orchid's dominance in homes. Although their blooms can linger for months, coaxing them to repeat this display indoors calls for insight into their natural cycle and preferences.
The Thrill of Reblooming: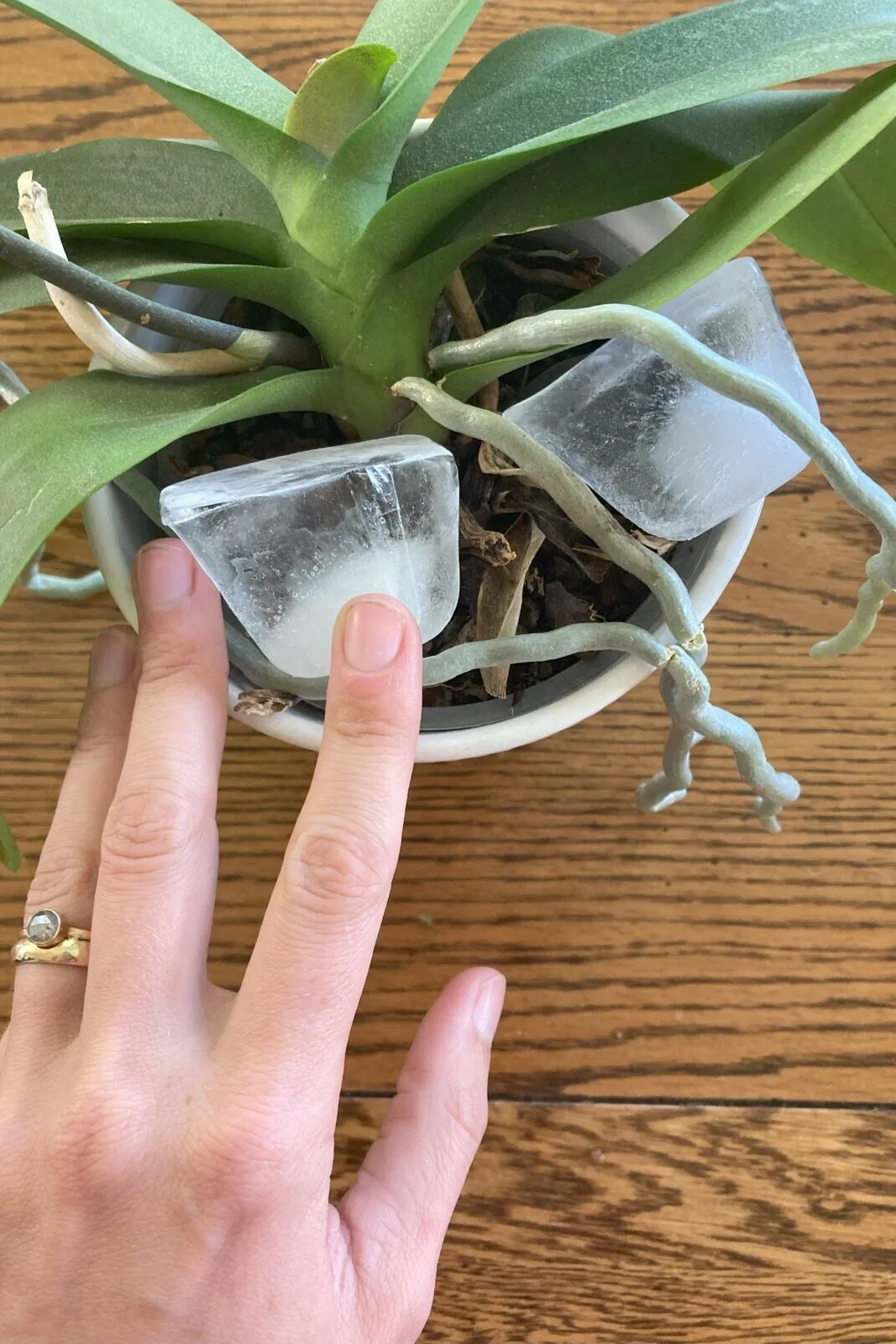 As the last petals fall, turn your attention to the orchid spike—this memento from the past season's grandeur could be the prologue to your next bloom.
Consider its color as your action cue: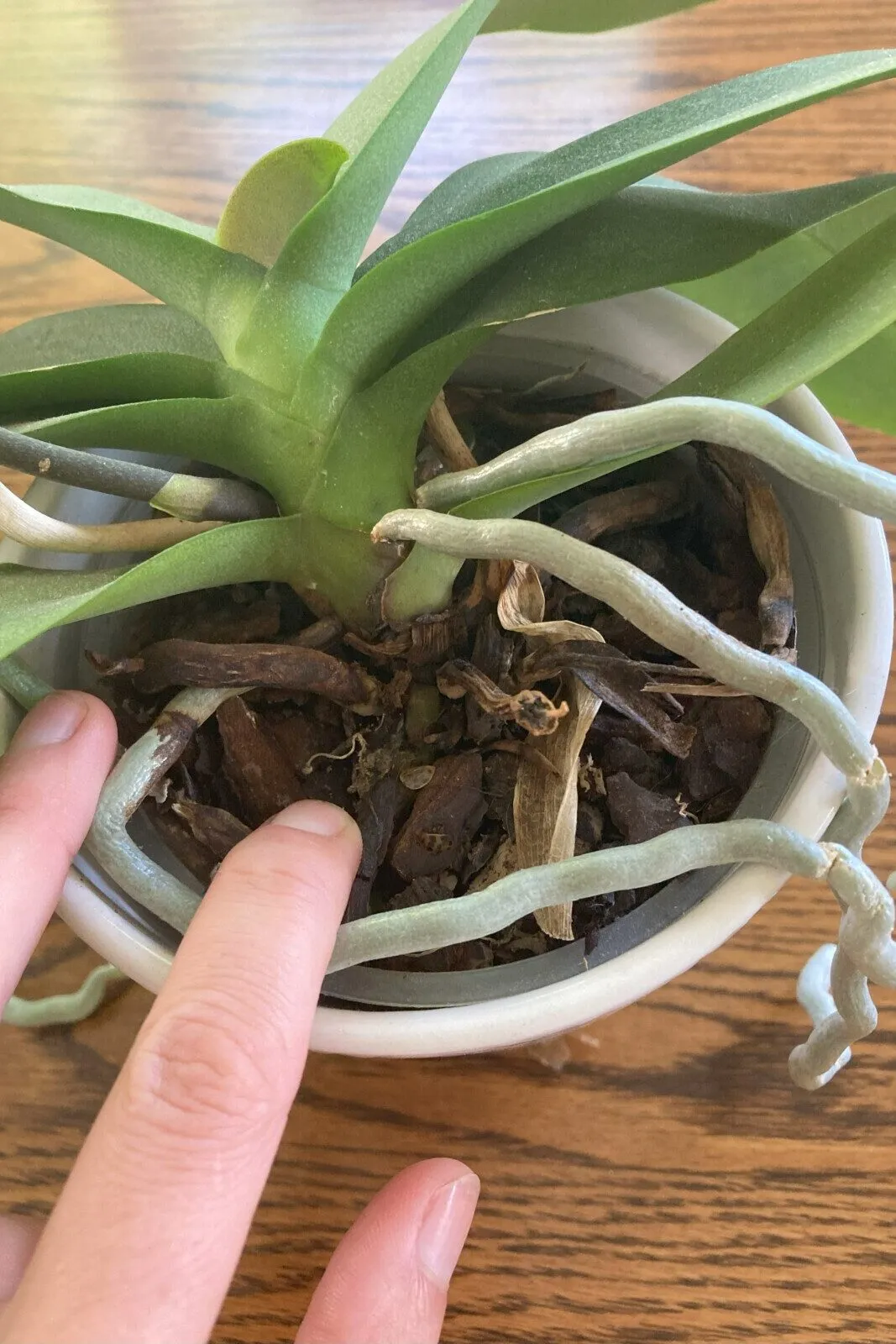 Lively Green Spikes: 
A sign of life, trim just an inch above the first node from the previous bloom's end, avoiding damage to potential growth areas.
Brown, Lifeless Spikes: 
These are unlikely to sprout anew; trim them down to the base.
For the Fortunate Dual-Spiked Orchid: 
Alternate your approach; prune one high and the other low.
This strategy might postpone blooming but promises a vigorous spike in the next cycle.
Creating a Conducive Climate:
Mimic the orchid's cooler, winter bloom conditions by dialing down the thermostat at night to between 55-65 ºF. This simulates their winter awakening period.
Place your plant by the window to share in the glass's chill or venture to leave it outside on cooler nights. When a new spike heralds, shift the orchid back to a balmy nook in your dwelling, where the temperatures range from 65-85ºF, and the sun visits but never overstays.
Balance in Watering:
In their native tree-bound existence, orchids draw moisture from the air. Emulate this by watering only when the soil's top feels dry to the touch and the drainage allows no room for root-soaking.
Check the roots; a healthy green signals hydration, while grey whispers for water.
Remember, your choice of potting mix matters—a moss base holds moisture longer, while bark mix may call for more frequent watering.
A Gentle Touch with Fertilizer:
Orchids are not greedy feeders. A half-diluted dose of bloom-boosting or orchid-specific fertilizer every other month will suffice.
Securing the Stems:
As blooms amass on their singular stem, Phalaenopsis orchids can become top-heavy. Offer support with stakes once the spike stretches beyond five inches. Avoid my previous oversight that saw a beautiful orchid bow under its own weight.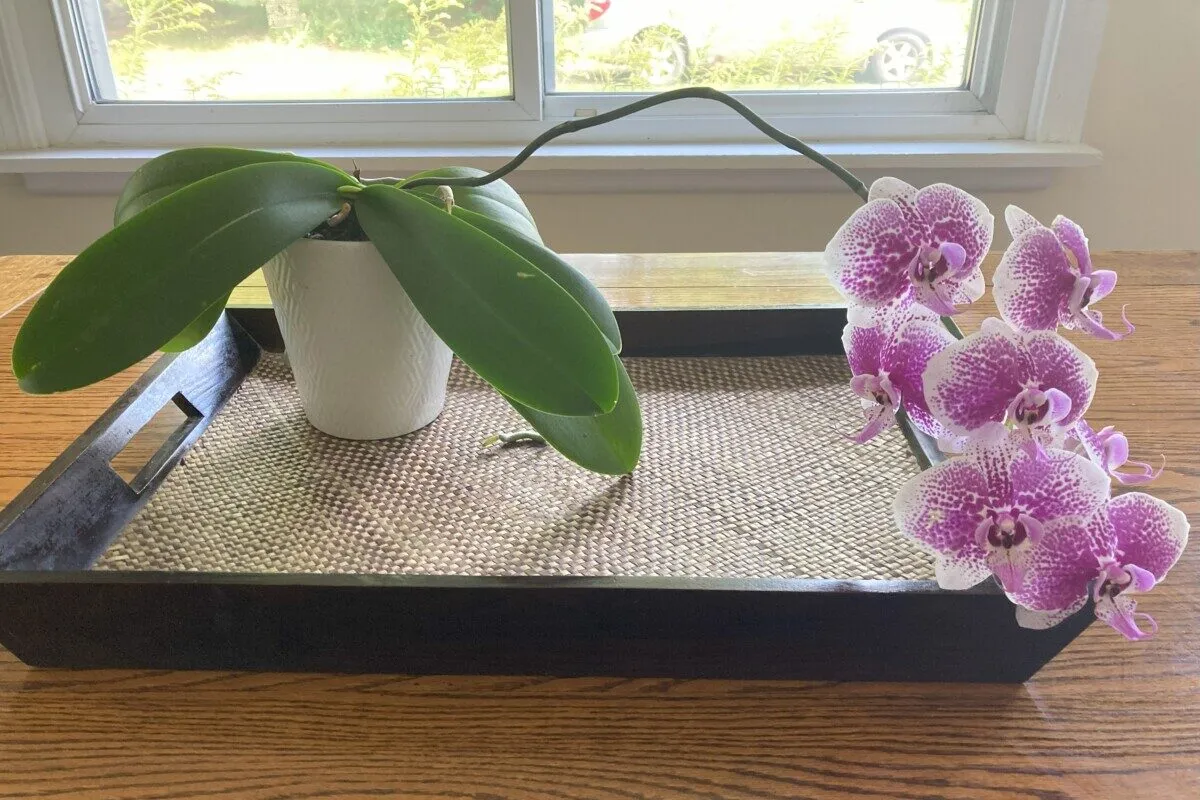 The Virtue of Patience:
Orchids bloom at their leisure, sometimes pausing for years between displays. If your meticulous care isn't rewarded with blooms, consider increasing the fertilizer strength slightly and cooling down its environment.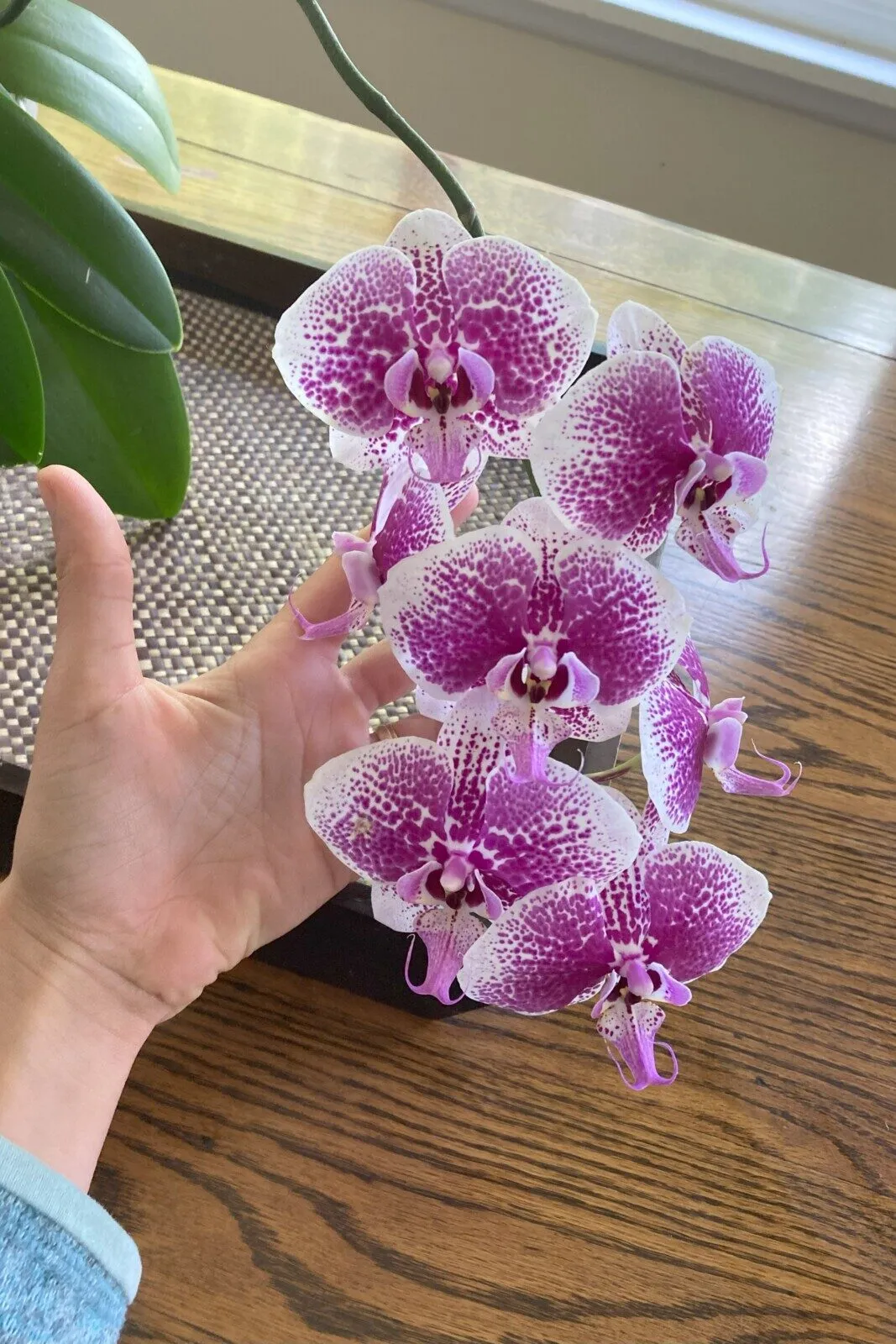 Remember, the most breathtaking blooms come to those who wait, as we witnessed with our own plant—a silent companion for over a year, now dazzling once more with flowers enduring well into their second month.
In orchid care, patience isn't just a virtue—it's a necessity.