Admittedly, I'm no early bird.
For me, a robust cup of java each morning is akin to a lifeline, pulling me into the realm of the living and readying me for the day's duties.
Engaging me pre-coffee? Not recommended. Making eye contact? Probably safer if you refrain. Your well-being may thank you.
Yet, post that initial coffee indulgence, a grateful whisper of, "My savior, Coffee," escapes me, marking my return to the human race.
As fervent coffee aficionados, we inevitably accumulate a wealth of used coffee grounds.
Rather than sending them to the waste bin, explore these innovative means to repurpose them in and around your living space.
Magic of Coffee Grounds in Your Culinary Space: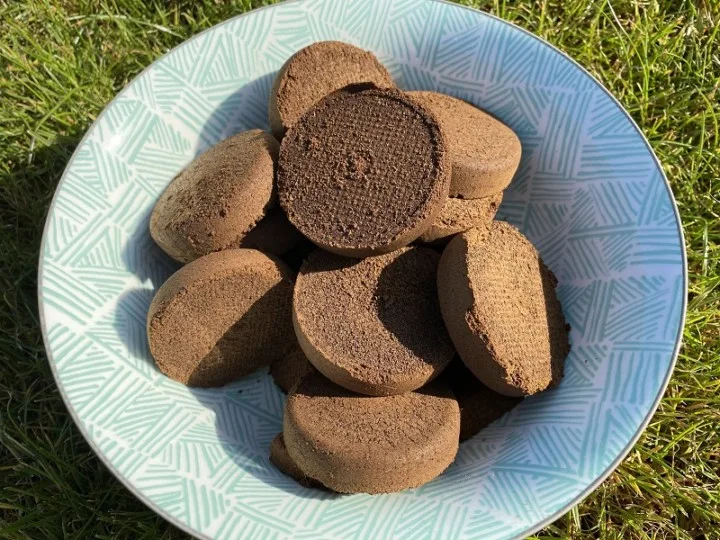 1. Natural Scouring Agent:
Faced with stubborn residues? Coffee grounds can be your gentle rescue squad. Yes, lasagna dish, I'm addressing you! Scatter some grounds on those troublesome spots for an eco-friendly scrubbing solution.
Especially for materials like cast iron, where preserving the seasoning is crucial, this approach is a savior.
2. Odor Eliminator:
An open bowl of coffee grounds placed in your refrigerator or freezer works wonders in neutralizing unwanted scents. Freshen the grounds periodically for optimal results.
3. Combat Stubborn Food Aromas:
While dishes like fried fish are delightful, the lingering scent isn't. As you cook, simmer a blend of coffee grounds and water on the side to neutralize any potent odors, ensuring a fresh kitchen ambiance post meal.
4. Natural Hand Deodorizer: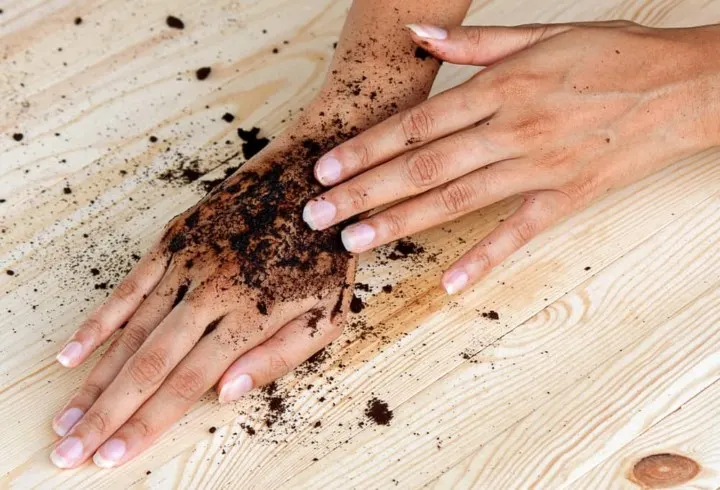 Dealing with pungent ingredients like garlic and onion? A handful of coffee grounds serves as an effective scrub, leaving your hands odor-free and feeling rejuvenated.
5. Smoky Meat Enhancer:
Craving that grilled flavor without the grill? Blend coffee grounds into your marinade or directly rub onto meat for an added smoky dimension.
Venturing Outdoors with Coffee Grounds:
6. Ice Buster:
Come winter, your grounds find utility on icy pathways. Their innate acidic nature accelerates ice melting while the granular texture ensures better grip.
7. BBQ Cleaner:
Dirty grill? No problem! A sponge dipped in coffee grounds effectively scours away residue, prepping your grill for the next cookout.
8. Natural Bug Repellent: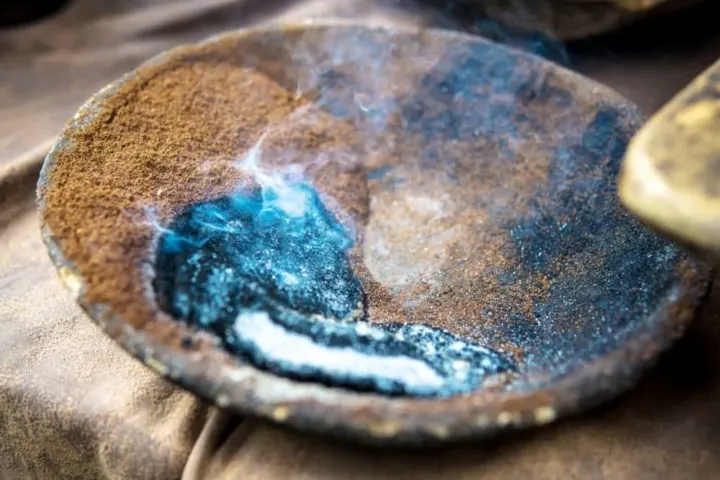 Coffee ground fumes deter pesky mosquitoes.
NOTE: Exercise caution when dealing with fire and ensure kids and pets are at a safe distance.
For this, fill a metal tray with coffee grounds and light it. After ensuring it smolders steadily, douse the open flame, allowing the grounds to smolder and repel insects.
9. Cat Repellant:
If neighborhood cats are frequenting your yard more than you'd like, coffee grounds might be your solution. Scatter them around the perimeter, especially around gardens, to deter feline intruders. Some even suggest it could repel rabbits—worth a shot!
Creativity with Crafts:
10. Eco-friendly Tan Tint:
The earthy hues of brown can easily be achieved using coffee grounds. Try a unique approach to your Easter decorations by staining your eggs with coffee. The process is straightforward: boil your eggs with coffee grounds, water, and a splash of vinegar. Play around with the duration and coffee concentration to get a spectrum of tan.
11. Authentic Halloween Stubble:
Here's a fun idea: use coffee grounds to mimic a day's stubble. Apply a thin layer of cold cream or petroleum jelly where you'd like your "stubble." Gently press coffee grounds onto this layer, and voilà—a believable beard!
12. Earthy Playdough for Young Adventurers:
Ramp up playtime with this tactile experience. Mix in coffee grounds with your regular playdough, and the kids are all set for a prehistoric adventure!
13. Aged Finish for Wooden Artifacts:
Seeking a vintage touch for your wooden crafts? A homemade stain from coffee grounds, vinegar, and steel wool can impart that sought-after rustic charm.
14. Natural Scent Satchels for Wardrobes:
This is a project for everyone. Snip the end off an old pair of tights, stuff with dry coffee grounds, secure the end, and embellish with a ribbon. Place in closets or drawers to keep spaces smelling fresh.
15. DIY Coffee Fossils:
Children can make their very own "fossils" using coffee grounds—an exciting activity for rainy days. Plus, adding a hanging thread transforms them into perfect holiday ornaments.
16. Hidden Gemstones:
Taking inspiration from the fossil idea, craft treasure stones embedded with tiny surprises. Ideal for a thematic children's party where each child can unveil a hidden treasure.
17. Artistic Earth Replica:
Elevate school projects or dioramas with realistic ground. Simply spread white glue on the surface and sprinkle over dried coffee grounds for an authentic earthen texture.
18. Java Art Medium:
Post coffee brewing, channel your inner artist with coffee as paint. Mix coffee grounds with boiling water at varying concentrations for different shades. Once cooled, paint away on watercolor paper, marking the beginning of your 'Espresso Era.'
Beauty & Self-Care:
19. Java Body Bar: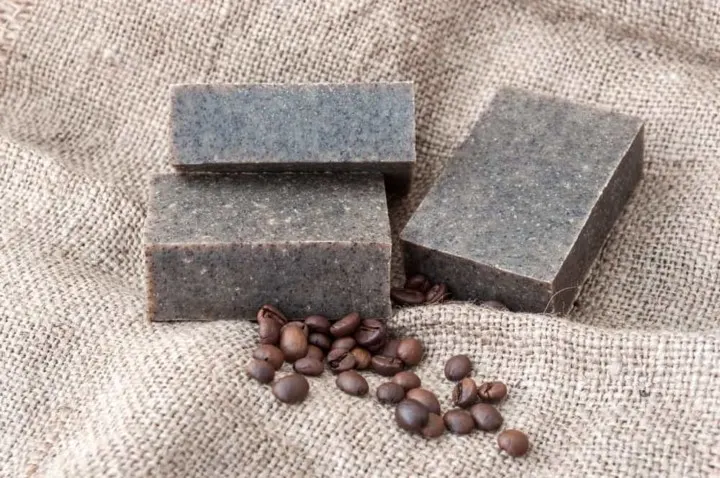 Elevate your shower ritual with a soap infused with coffee grounds. Experience natural exfoliation and an invigorating aroma.
20. Deflate Eye Bags:
The beauty world is abuzz with caffeine's wondrous effects, particularly for the eyes. Whip up a homemade eye mask by combining a teaspoon of coffee with equal parts honey. Apply gently below the eyes, leave for 10 minutes, then rinse with cool water.
21. Natural Skin Reviver:
Blend your choice of body wash with a spoon or two of coffee grounds. This mixture not only cleans but also sloughs off dead skin.
22. DIY Cellulite Solution:
While the verdict is still out on this, the web is flooded with testimonials about coffee's effect on cellulite. Craft your cellulite treatment by mixing warm coffee grounds and melted coconut oil. Apply, wrap with plastic, wait, then rinse. Finish by massaging any leftover coconut oil into your skin.
23. Rescue Your Nose Palette:
Overwhelmed by a barrage of fragrances? Refresh your olfactory senses by inhaling the soothing aroma of coffee grounds.
24. Radiant Locks for Dark Hair:
Enrich dark tresses with a coffee-infused hair mask. Combine cooled coffee grounds with your preferred conditioner, massage, and rinse after a brief wait. This technique is best suited for brunettes.
Household Tips:
25. Ant Evictor: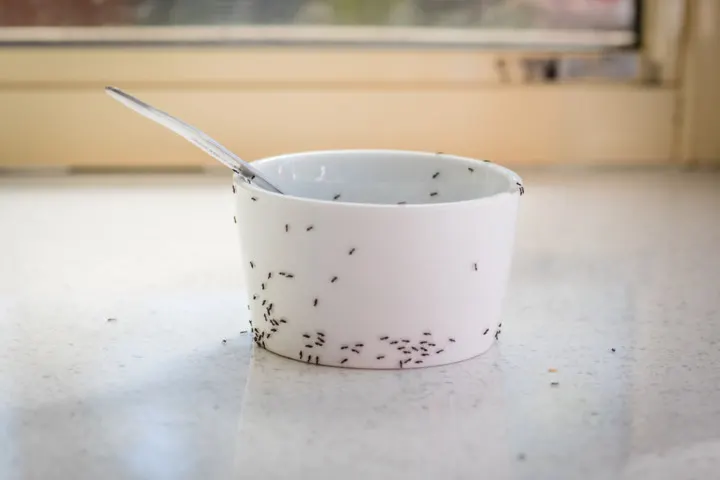 Nothing spoils a meal like spotting an ant. Declare an aromatic barrier against these tiny invaders using coffee grounds around your home, focusing on ant trails and their mounds.
26. Furniture Facelift:
Give dark furniture a touch-up for minor scratches. Mix coffee grounds and olive oil, then rub the blend onto scratches. After letting it settle, wipe away the excess.
27. Simpler Hearth Cleanup:
While fireplaces provide cozy vibes, cleaning them isn't as fun. Facilitate ash cleanup by sprinkling damp coffee grounds over the ashes, ensuring a dust-free process.
Cautionary Note:
Misguided Coffee Ground Hack:
You might have come across the idea of using coffee grounds to freshen up garbage disposals. Here's a word of caution: Avoid It! Coffee grounds can accumulate and result in blockages, leading to hefty repair costs.
Treasure Your Coffee Grounds:
From the above, it's evident that coffee grounds are quite the multitaskers. Even if you're not a coffee aficionado, these tricks might tempt you to source some grounds. Remember, your local café might just have some to spare.
Well, all this talk about coffee, and I find myself craving a brew!