Growing the Jade: A Gardener's Guide
Known in the scientific community as Crassula ovata, the Jade plant is on its way to becoming a favorite among houseplant enthusiasts and gardeners alike.
Originating from South Africa, these hardy succulents thrive with minimal fuss and are tough to overdo (unless overwatered). Given their robust nature and visual appeal, it's no wonder horticulturists are keen on multiplying these gems.
The art of propagating these plants is refreshingly straightforward. As spring emerges, you're presented with two methods: using stem or leaf cuttings.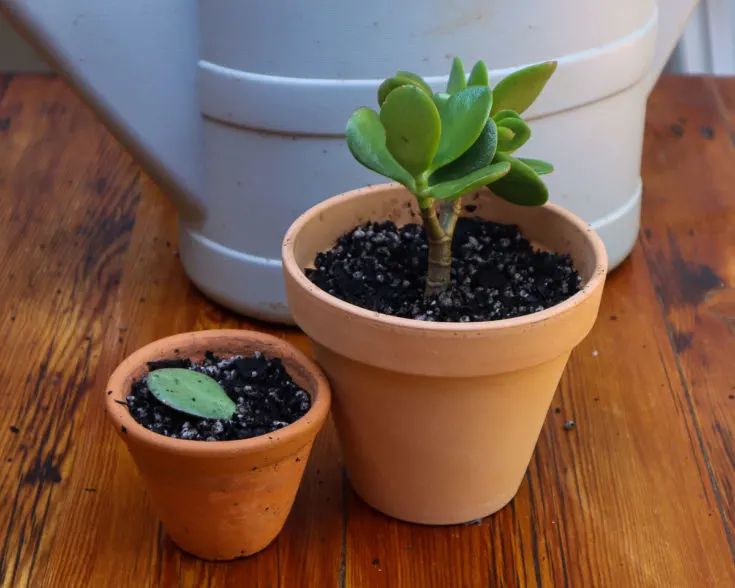 While stem cuttings tend to develop roots and mature faster, leaf cuttings serve as an excellent alternative for smaller Jade plants lacking substantial branching.
Regardless of your chosen method, the procedure remains hassle-free for both outdoor and indoor settings. With persistence and care, soon enough, you'll be admiring a flourishing Jade plant — at no added cost.
Steps for Jade Stem Propagation
1. Identify an Ideal Stem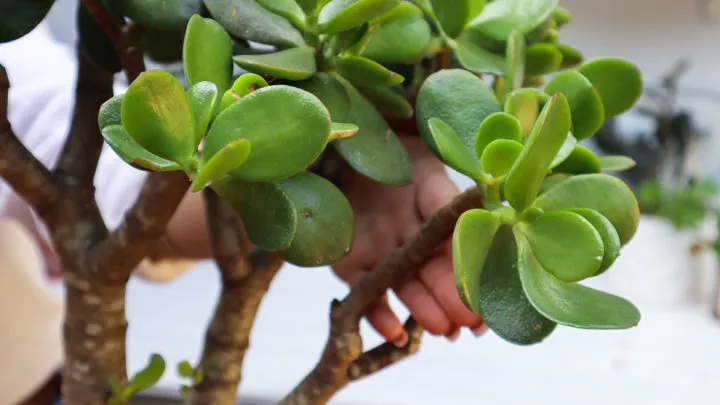 Begin with a vigorous Jade plant showing no signs of disease or wear. Moreover, selecting the right spot for a cut not only speeds up rooting but ensures the original plant remains aesthetic.
Scout for regions where the foliage converges with the primary stem. Aim for a stem segment approximately 4 inches in length, spanning from such junctions to the stem's end. If your Jade plant is on the younger side and lacks long cuttings, consider shorter segments or leaf propagation.
2. Precision Cutting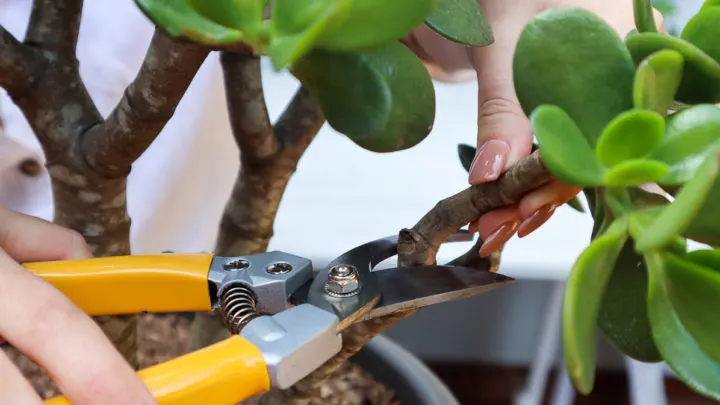 Arm yourself with either sharp pruning shears or a knife, ensuring they're sanitized to prevent bacterial transfer. A neat, swift cut ensures speedy recovery.
Slice the stem roughly 4 inches from the tip in a clean motion, refraining from rough, jagged cuts. Depending on your aim, cut just below a node for complete branch removal or slightly above a node to encourage further growth. If opting for the latter, snip off any redundant stem, ensuring the node remains at the cutting's base.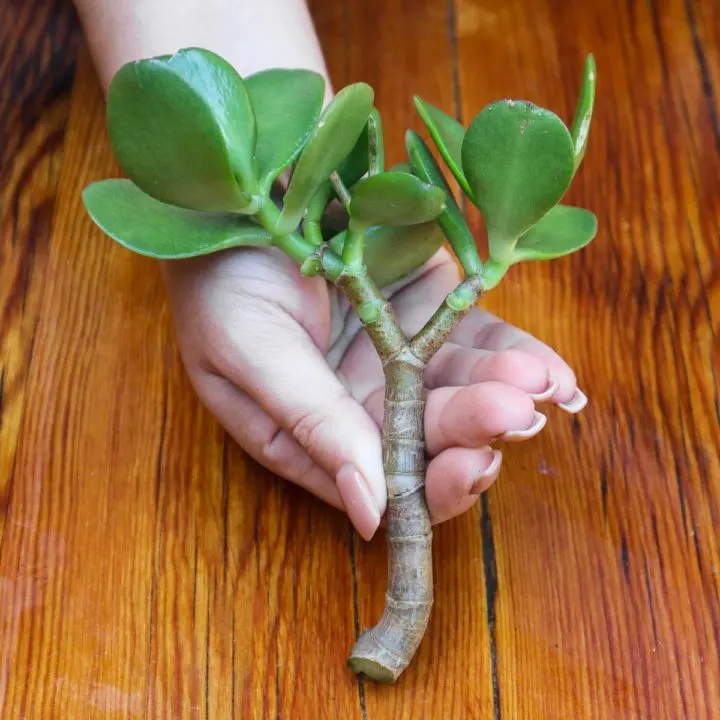 Pare down the leaves on the lower half of the segment, retaining a few up top. This reveals additional nodes, aiding in soil anchorage during rooting, while also channeling the plant's resources towards root development.
3. The Callousing Phase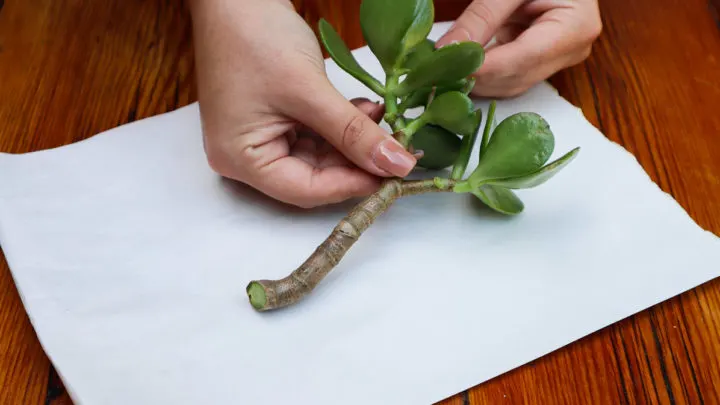 Those who often propagate tropical varieties might find this step intriguing. Delve into a waiting game as immediate rooting isn't advisable. While feasible, it makes the cutting more susceptible to decay and illness.
Being a succulent, Jade cuttings need a callousing period post-cutting prior to planting, given their vulnerability to excessive moisture.
The routine is uncomplicated. Lay the cutting on a newspaper surface, letting it rest for several days — optimally nearing a week. Once the cut area begins to harden, you're set for the rooting phase.
Planting Depths: Soil Tips for Successful Rooting
Starting your journey with rooting? The soil is your foremost companion. If you're prepped with some potting mix, ensure it's of the free-draining kind, particularly tailored for succulents. If not, worry not! Craft your unique succulent blend using equal proportions of coconut coir and either perlite or river sand.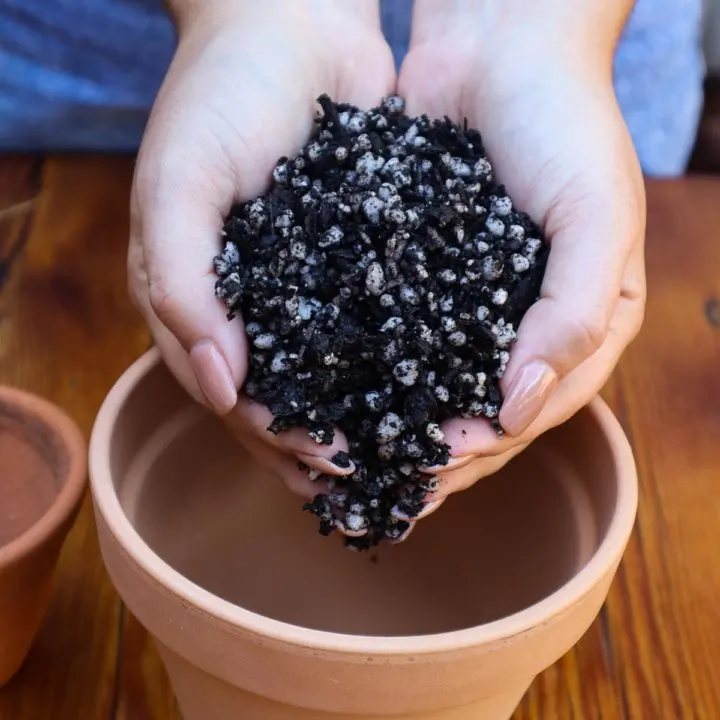 Commence by packing a pot with your selected blend. Drench it until you witness water gracefully escaping from the pot's drainage opening. This step ensures the soil's firmness, prepping it for planting and warding off excess moisture.
Grasp your plant cutting, create a petite cavity in the middle of the pot, and insert the cutting such that half of it is nestled within the soil. Firmly pat the soil around to secure the cutting.
Nurturing Steps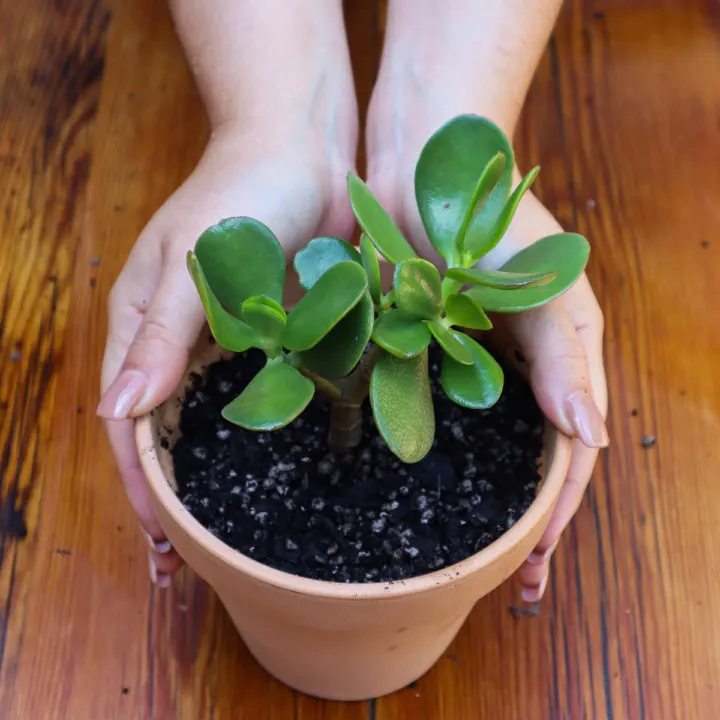 Relocate the pot to a snug, warm spot to champion root emergence. Strive for a consistently damp soil texture, but steer clear of over-saturation. Once you spot the roots stretching a couple of inches, it's a cue to moderate the watering frequency. Care for this cutting, cherishing it just like your mature Jade plants.
Leaf Propagation in Jade Plants
1. Selecting the Ideal Leaf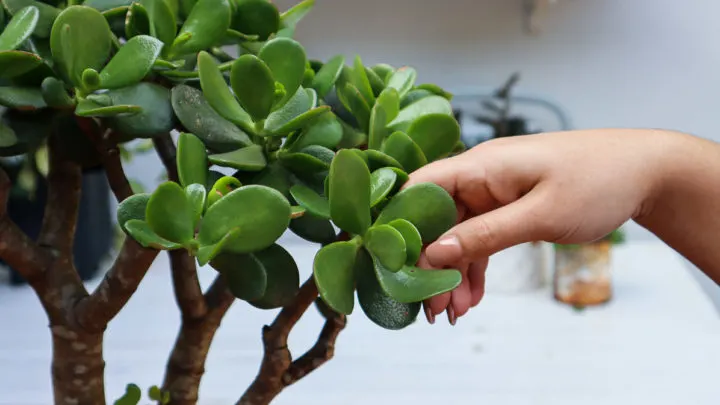 Just as stem cuttings are vital, leaves too have their significance. Scout for vibrant green, full-bodied leaves, untouched by pests or maladies. Opting for a leaf from a vigorous stem amplifies rooting success.
2. Leaf Detachment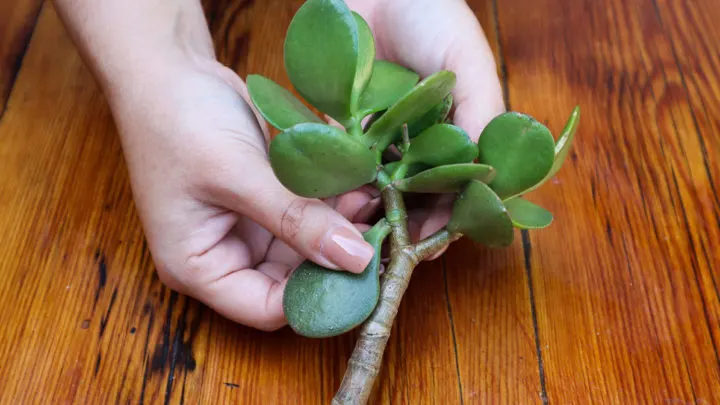 While it might sound rudimentary, detaching a leaf requires a gentle touch. The real trick lies in ensuring that the leaf cutting retains a fragment of the stem's node. A hasty or random leaf snip might fall short in root development.
During detachment, aim for the leaf's lowermost section, capturing a bit of the node. Use a gentle twist technique or snip it close to the stem, ensuring the leaf remains intact to bolster rooting prospects.
3. Allowing Time for Healing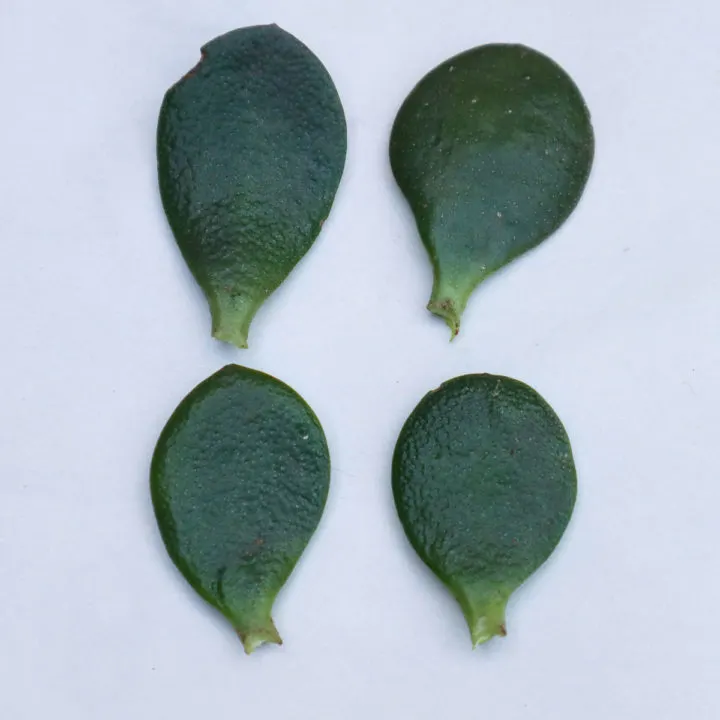 Mirroring stem care, leaves too demand a brief hiatus to mend their fresh cuts. This curtails any rotting potential at the leaf's base, thereby safeguarding rooting. A simple layover on a newspaper for a couple of days should suffice before the actual planting.
4. Soil Integration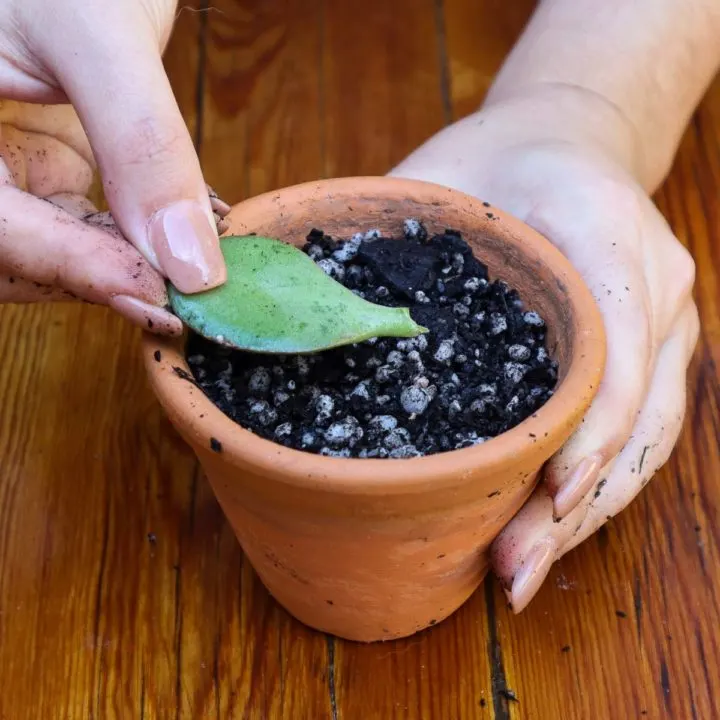 The leaf cuttings happily adapt to the propagating blend used for stem cuttings. To enhance your Jade repertoire, consider surrounding your stem cutting with multiple leaf cuttings in the same container. However, be vigilant about soil moisture, for prolonged dampness spells doom for the leaves.
While planting, ensure the leaf isn't submerged too deep—only its foundational part should be under the soil. Alternatively, you could place the leaf atop the soil, sprinkling a bit of potting mix over it, to spur root growth.
5. Subsequent Care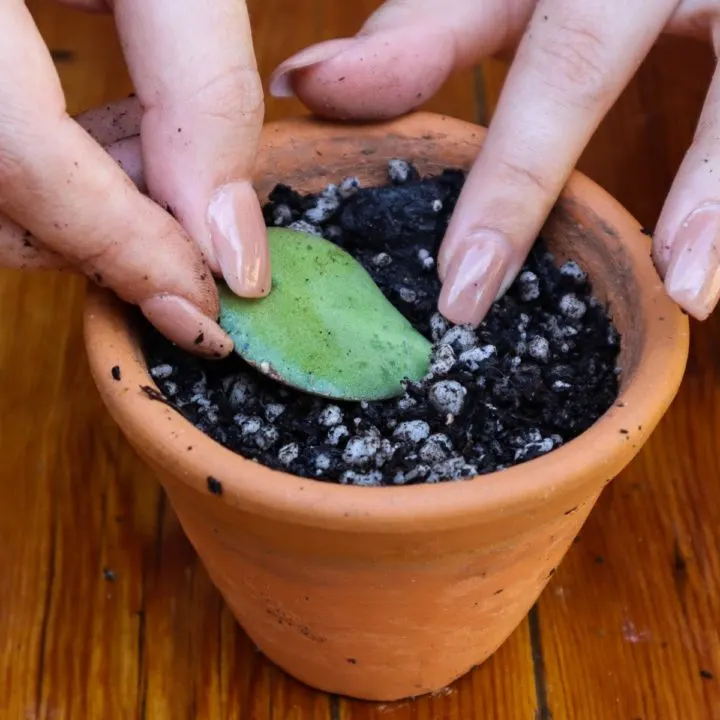 Positioned in a cozy setting with a uniformly damp soil bed, the leaf will commence its growth journey in a month or two. You can nurture this youngling in its original pot until it boasts a decent height, post which a transfer to a succulent-specific soil blend can occur.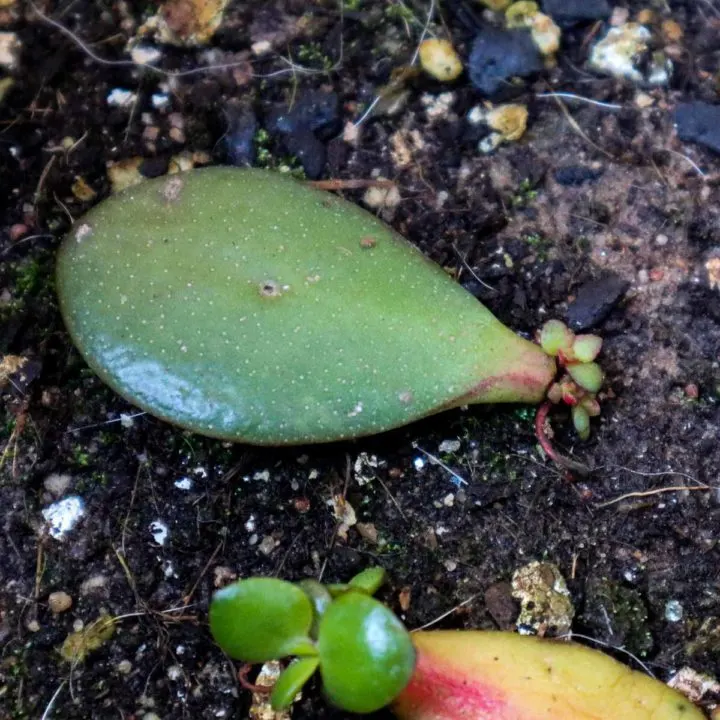 Though Jades sprouted from leaf cuttings (or even petite stem cuttings) take their time to flourish, the end result is undeniably gratifying.