Understanding Orchid Varieties: Exploring the Wonders of Soil-Free Growth
Orchids, in their natural splendor, are divided into three main categories: epiphytes, lithophytes, and terrestrials. A fascinating feature in epiphytic and lithophytic orchids is the velamen tissue that envelops their aerial roots. This distinctive layer acts as a sponge, helping the plant soak up essential nutrients.
Some orchids, through the power of their velamen-coated roots, carry out photosynthesis, thriving without needing soil to anchor them.
The prominent techniques to grow these majestic, soil-independent orchids include hydroponics, aeroponics, and hydroculture. Key to their flourishing growth is a consistent moist environment, supplemented with nutrient-rich water solutions.
The Art of Soilless Orchid Growth
To thrive in a soil-free setting, orchid roots crave consistently moist surroundings.
While additional support materials like tree bark can be used, their main role is structural support rather than nutritional. When opting for alternatives like skewers for support, there's no need for the conventional soil blend.
Winter months see orchids in soilless setups requiring less water. Come spring, they thrive with increased hydration.
Although orchids can adapt to various light conditions, it's best to keep them away from direct sunlight from south-facing windows, especially varieties like phalaenopsis.
Feeding Dynamics of Soil-Independent Orchids
For orchids growing without the anchor of soil, their nourishment primarily comes from the water they absorb. Such water should ideally be soft.
A widespread belief suggests that rainwater or melted snow is apt for orchid hydration. However, unless you're in a remote locale, the contaminants in urban rainwater can be harmful.
Warm water, preferably after boiling, is ideal for misting. Fertilizer mists can be employed but ensure they're diluted substantially to protect orchid leaves.
The Ups and Downs of Soil-Free Orchid Growth
Pros:
Replicates the authentic habitat of epiphytic orchids. Defends orchids from soil-related diseases and common root rot issues. Eliminates the need for stressful repotting sessions. Ensures a consistent nutrient supply, preventing nutrient buildup. Keeps orchid roots optimally hydrated. Enables easy integration of automated watering mechanisms, making orchid care effortless.
Cons:
Frequent preparation of nutrient-rich solutions. Chances of overhydration, resulting in leaf discoloration and drop. Sunlight exposure can burn the delicate root system. Rapid decline when exposed to cold drafts or temperatures.
Mastering Orchid Growth in a World Beyond Soil
There's a burgeoning interest in innovative techniques that allow plants to thrive without the cradle of traditional soil:
Hydroponics: Orchid roots bask in a bath of nutrient-rich fluid.
Hydroculture: Tailored for an optimized growth arena.
Aeroponics: The roots hang free, dancing in the air.
Journey of Orchids in Liquid Embrace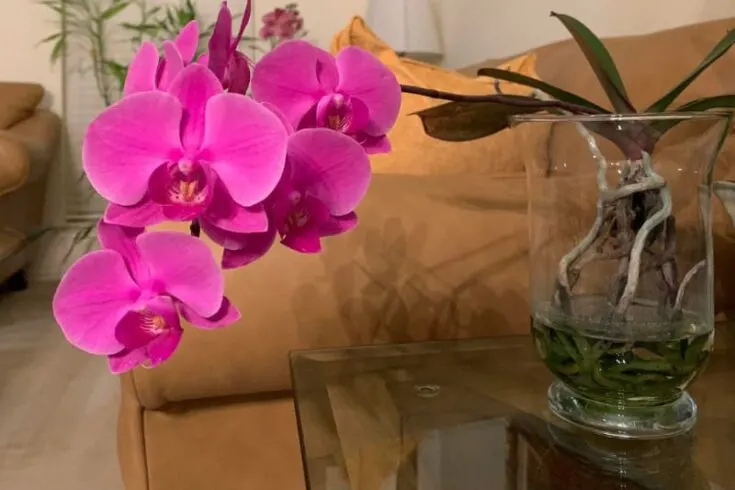 Hydroponic growth has been a success story for various orchid species like Phalaenopsis, Dendrobium, and Vanda.
The transition of an orchid into its aquatic lifestyle might span a few weeks.
The induction involves a gentle extrication of the orchid from soil, followed by a meticulous rinse of its roots. The next step is a gradual water submersion with increasing frequency across the week.
A helpful tip is to layer the container's bottom with pebbles or permeable clay for enhanced anchoring.
Notable perks include streamlined maintenance, diminished disease exposure, and a pest-free environment.
Yet, the challenges lie in balancing nutrient concentration and maintaining optimal water temperature.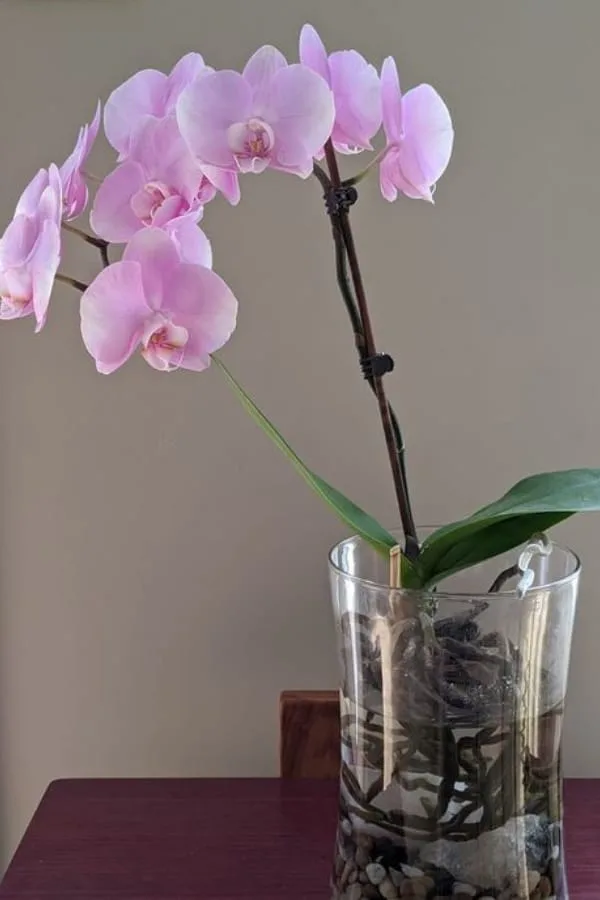 Issues that may emerge include:
Root decay, often due to excessive hydration or cramped pots.
Wilted and withering leaves from overly hot water.
Extended periods without blooms, possibly from insufficient temperature fluctuations.
Nature's Stands: The Wooden Blocks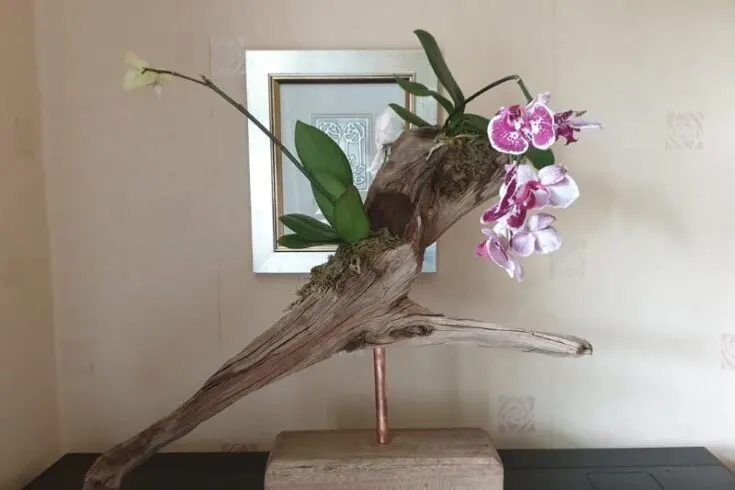 Natural wooden blocks, from dense barks to sun-kissed driftwood, become the ideal pedestals for orchids.
Orchids like Oncidium and Cattleya find solace on these blocks. Sturdy woods, such as cork and oak, are champions in this arena. A thickness of at least 15mm is advocated to stave off decomposition.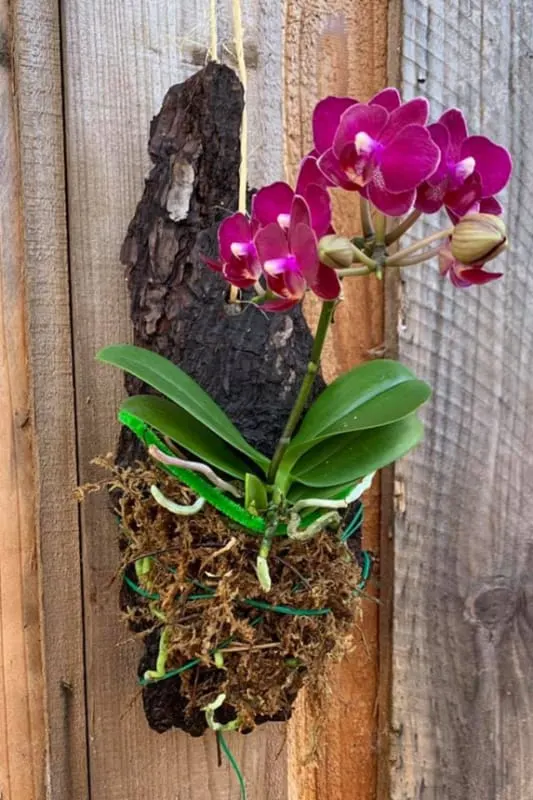 Misting reigns supreme for orchids stationed on blocks, hydrating roots and leaves but sparing the delicate flowers.
Orchid Elegance in Crystal Carafes
Orchids like Phalaenopsis and Vanda, when nested in translucent glass vessels, become living artworks with their roots on full display.
Phalaenopsis are typically perched inside these glass confines, anchored by wires or sticks.
For the Vandas, slender and elongated vases are the go-to choice, accommodating their natural upward growth, with roots fortifying the base.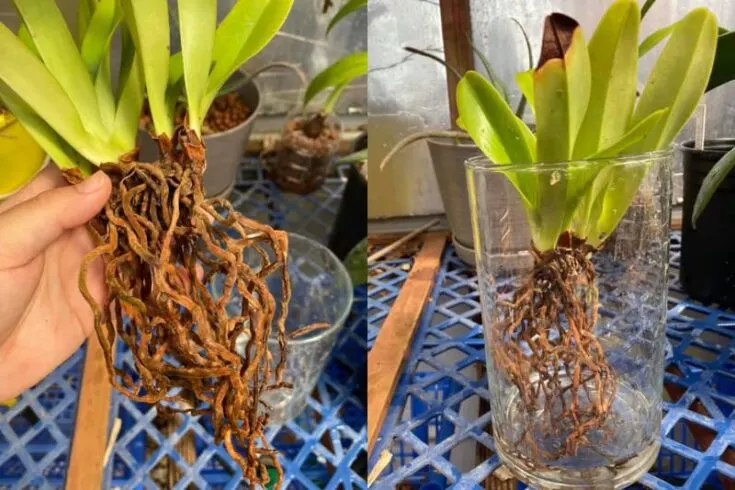 Benefits of this display:
Extended periods of radiant blooming.
Minimal chances of root injury or water excess. No transplantation requirements, plus easy root health oversight.
However, hydration needs finesse.
Immerse the roots momentarily, drain thoroughly, and handle with care to protect the tender roots.
Skyward Splendor: Suspended Baskets
Fashioned from either plastic or wood, hanging baskets permit orchids to blossom with roots unfurling in mid-air.
These airborne containers can become artful highlights in residences or mini-greenhouses.
For Vandas, known for their sprawling aerial roots, anchoring the adult orchid becomes imperative.
These skyward cradles are often cushioned with materials like sphagnum moss or bark to maintain humidity. As for hydration, misting stands out in these setups.
Orchid Care in the Soil-Averse Domain Hydration & Feed:
Bright, sunny days warrant 2-3 hydration sessions weekly for your orchids. Cloudy, chilly days reduce the need to once a week. Warm the water between 86°F to 96°F (30°C to 36°C) for optimal results. Incorporate a gentle, orchid-friendly fertilizer during each watering.
Illumination:
Orchids prosper in well-ventilated locales with dappled sunlight. A daily light dose of around 12 hours is ideal. In dimmer settings, artificial lamps can bridge the gap.
Temperature Tolerance:
Summertime sees optimal daytime temperatures of 68°F to 80°F (20°C-27°C), and night temperatures no less than 59°F (15°C). Winter should be kept at 58°F-65°F (14°C-18°C) in the day and above 54°F (12°C) at night.
Humidity Harmony:
Spring and summer beckon for 70-80% humidity, while winter sees this requirement drop to 50%-60%.
Navigating Challenges in the Soil-Independent Orchid Odyssey:
If younger orchids display pale, crinkled leaves, it could signify:
Overhydration, signaled by rotting roots. Dry ambiance or sporadic misting. Exposure to intense sunlight during torrid periods. Bone-chilling or excessively wet conditions in winters. Stifled air movement, particularly in elongated glass shelters.
The quest to nurture orchids is filled with both patience and passion. But the payoff – vibrant flowers emitting mesmerizing scents – is a joy like no other. Embrace this enchanting journey and let orchids weave their magic around you.