The yellowing of cyclamen leaves can be an indicator of a variety of conditions affecting the plant. A different approach might be necessary to tackle each root cause. In this article, horticulture expert Emily Horn demystifies the most prevalent causes of yellowing leaves in cyclamen plants and provides practical solutions.
Cyclamen: A Popular Houseplant with Unique Needs
Cyclamen is a popular houseplant, often gifted during Christmas due to its stunning appearance. Despite its relative ease to grow, the plant can lose its appeal when its leaves begin to yellow and fade. Adapting completely to indoor conditions can sometimes be a challenge for the cyclamen.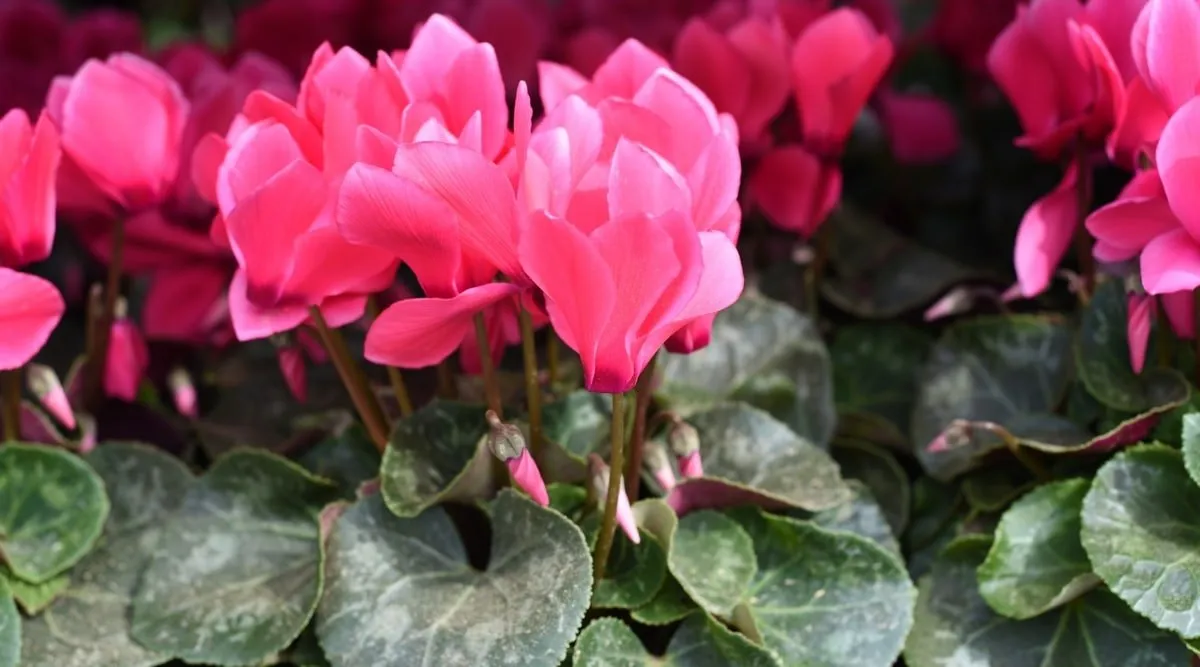 The plant is native to the Mediterranean, so if the leaves start to look sick or turn yellow, it could be a sign that it requires special care. Let's delve into the top 8 reasons why cyclamen leaves might turn yellow and how to prevent or remedy these issues.
The Cyclamen's Native Habitat: Understanding Its Ideal Conditions
Understanding the natural habitat of a plant is key to replicating its ideal growing conditions. The cyclamen genus includes 23 distinct species found worldwide. Cyclamen persicum, the florist's cyclamen or Persian cyclamen, is particularly popular in the U.S.
These plants, part of the Primulaceae family, thrive in rich, well-draining soils, often in protected spots beneath larger plants where they receive filtered sunlight. Cyclamen persicum is indigenous to the greater Mediterranean region, including Palestine, Lebanon, and Syria – a region known for its hot, dry summers and cool, wet winters.
While typically grown indoors, the florist's cyclamen can survive outdoors in USDA hardiness zones 9-11, withstanding temperatures as low as 30 to 40℉.
Understanding Cyclamen Dormancy
In their native Mediterranean habitat, cyclamen plants naturally go dormant during dry, warm periods to protect themselves from the harsh summer conditions. They typically exit this dormant stage in early fall, exhibiting lush, heart-shaped leaves and flower spikes in various colors such as red, purple, pink, and white. This makes cyclamen an ideal gift for Christmas and Valentine's Day.
8 Reasons Why Cyclamen Leaves Turn Yellow
If your cyclamen plant is sporting yellow leaves, it's signaling that something is amiss. Let's explore some common issues and solutions.
High Temperatures
Cyclamen plants thrive at temperatures between 50℉ and 70℉. If the temperatures consistently rise above 70℉, they may enter dormancy, leading to yellowing leaves.
Solution: Regularly check the amount of sunlight your plant is receiving. If it's exposed to intense heat, such as an overly warm windowsill or near a heating vent, consider moving it to a cooler location.
Overwatering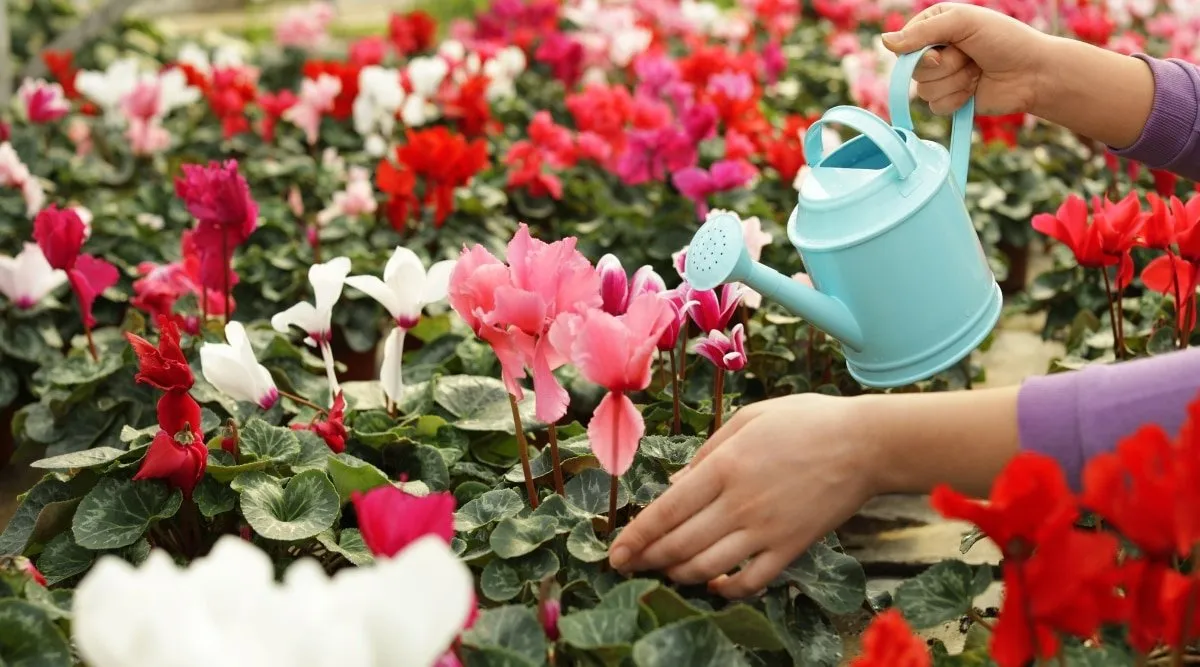 Even plants that prefer moist soil can suffer from overwatering. An oversaturated potting mix, especially in a pot with no drainage, can result in waterlogged soil, depriving the roots of oxygen and impairing the plant's nutrient uptake.
Solution: Only water your cyclamen when necessary. You can determine the watering need by checking the soil's moisture level deep down in the root zone. Also, be mindful to avoid wetting the crown, as this can cause stem rot.
Underwatering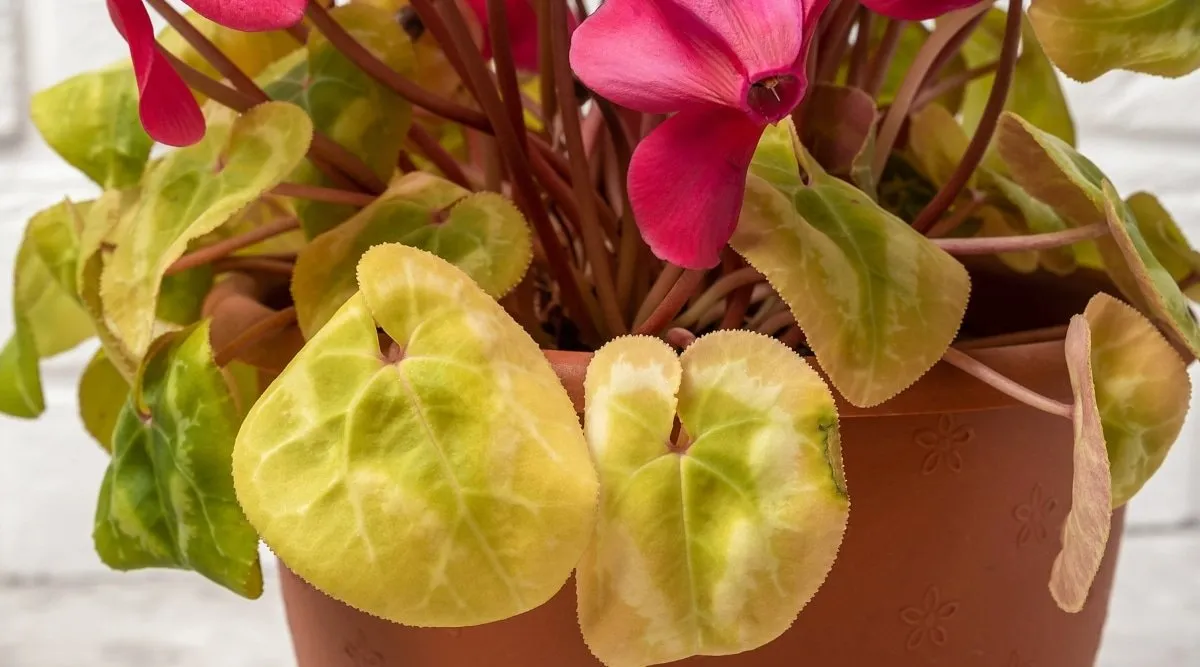 While underwatering can be rectified more easily than overwatering, it's crucial to provide enough water for your plant's growth without overdoing it.
Solution: If your plant is showing signs of underwatering, give it a generous soak until water drains from the bottom. If growing outdoors, keep a check on the soil moisture.
Dormancy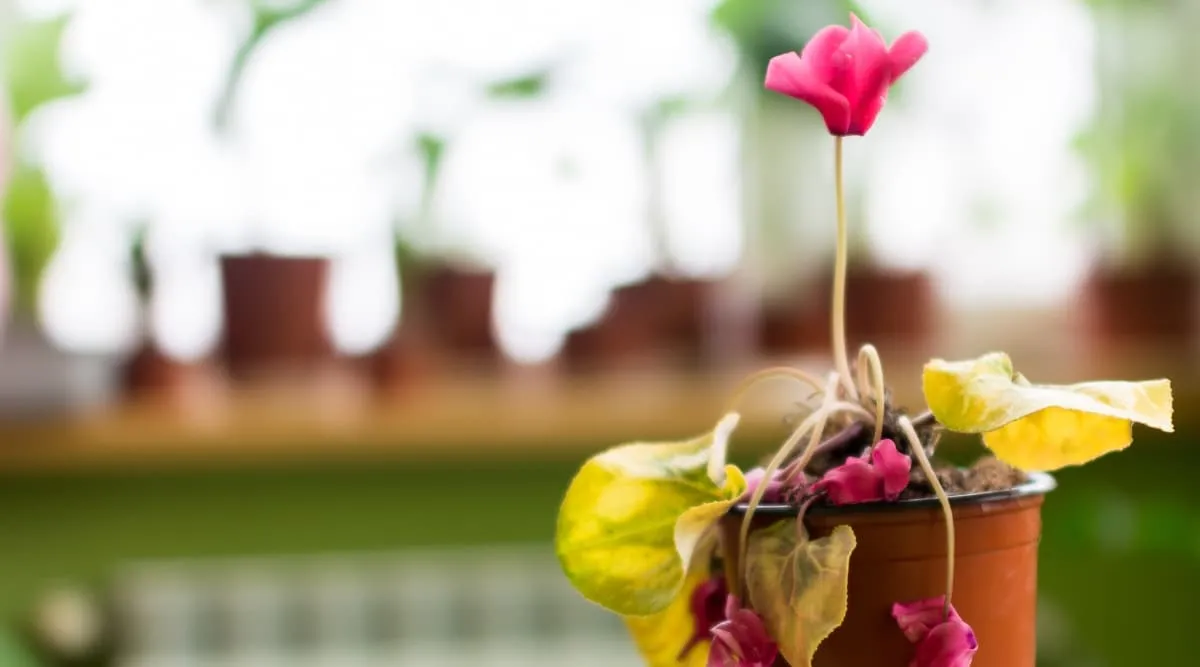 Indoor plants, like cyclamen, subtly show signs of impending dormancy through changes in leaf color from green to yellow.
Solution: As the plant enters dormancy, stop watering it to avoid overwatering and potential rot. When you observe fresh leaves sprouting from the crown, resume normal watering.
Cyclamen Mites
Cyclamen mites, although small and difficult to spot, can wreak havoc on your plant.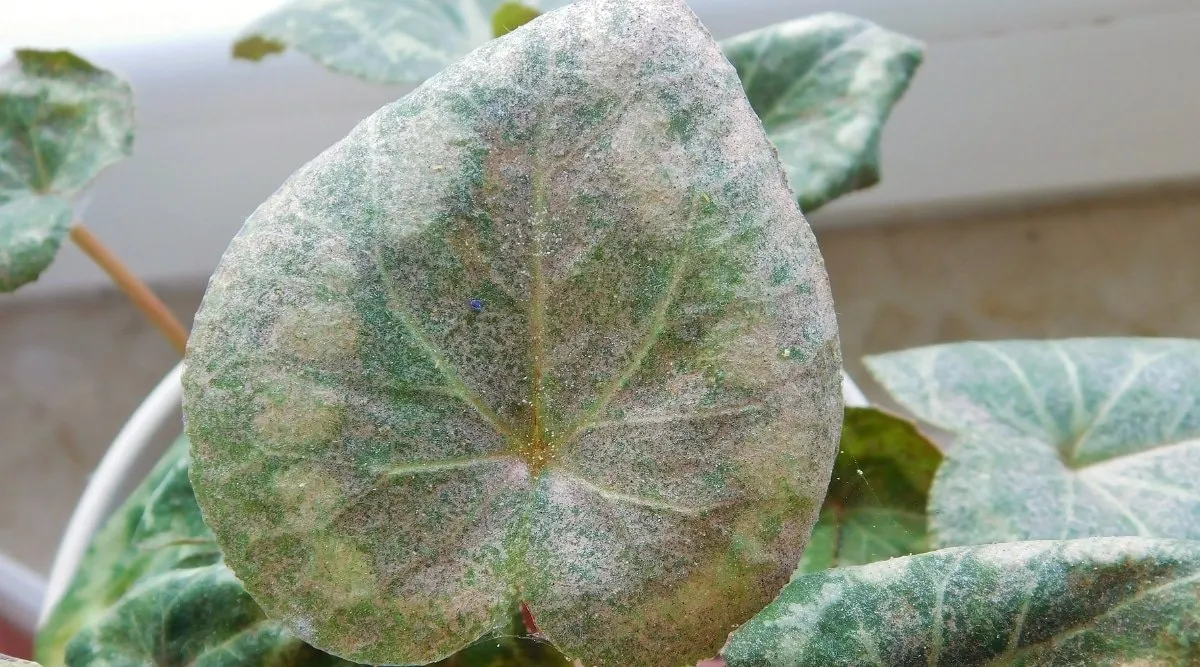 Solution: If you suspect a cyclamen mite infestation, you may need to discard the severely infested parts of the plant. Alternatively, you can use neem oil or similar pesticidal sprays to control the spread.
Aphids
Aphids are a common pest affecting many plants, including cyclamen.
Solution: If you spot aphids, take quick action to control them. Insecticidal soaps and horticultural oils are effective against aphids. Alternatively, you can create a homemade spray with water, dish soap, and cooking oil or let natural predators control the aphids if outdoor conditions are suitable.
Mealybugs
The infamous mealybugs do not discriminate in their choice of houseplants for feeding, and cyclamen plants unfortunately make their list too. These tiny insects with their oval bodies are covered in a white wax-like layer. They typically set camp on the underside of leaves and along the plant stems.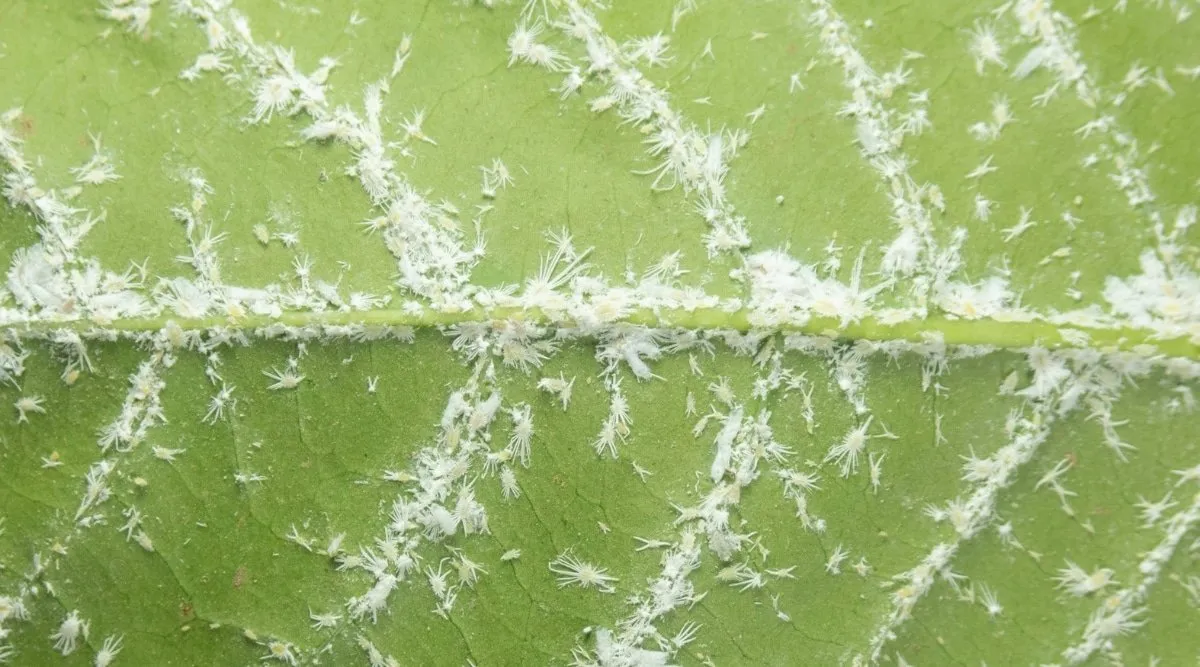 Mealybugs can be seen easier than aphids, but their symptoms of infestation mirror those of aphids. Their needle-like mouthparts puncture plant tissues, sucking out the contents of plant cells.
The sugary liquid they excrete after digestion, known as honeydew, coats the leaves underneath the feeding mealybugs making them wet and sticky. As mealybugs feed on the cell contents, they consume the cell pigments, causing the leaves to turn yellow. This honeydew also reduces the amount of sunlight the leaf can absorb, resulting in premature yellowing.
How to Eradicate Mealybugs
There are several methods to control mealybug infestations. Using a soft toothbrush or a cotton swab, you can displace the insects from the plants.
Another technique involves dabbing a clean cotton swab in 70% rubbing alcohol and gently applying it on the insect. This process dehydrates the mealybugs' bodies, ultimately leading to their death.
Commercial pesticides such as insecticidal soaps and horticultural oils are effective in managing mealybug populations. It's essential to read the label for accurate dosing and application instructions.
Thrips
Thrips, while some are pest insects, others function as decomposers of plant debris or as predators of pest insects. When it comes to cyclamen, the focus is on the harmful thrips that feed on leaves.
Thrips are a frequent pest on cyclamen plants. They have small, oval-shaped bodies, often compared to a grain of rice. They come in various hues, from brownish-black to yellowish-orange. They favor younger leaf tissue and flower buds as these areas offer them shelter from light.
A significant concern with thrips is their ability to transmit plant diseases. Infected plants often exhibit dark green/black leaves that are twisted and contorted, streaks of white within flowers, or yellow/orange lesions on leaves. Thrips prevention is key to stopping the spread of viruses and fungi to your houseplants.
Thrips Detection Method
Thrips inject their saliva into the leaf cells and suck out the cell contents. As a result, the leaf cells become colorless empty pockets that eventually dry out, causing tan-to-white patches on the leaves.
Thrips also feed on the pollen of cyclamen flowers. When thrips infest the flowers, the flowers may fail to open or show damage upon opening, such as colorless tissue, white spots/streaks on the flower petals, and overall distortion of the flower.
Detecting thrips is simple:
Use a plain white sheet of paper.
Place it under the suspected infested flower or leaf.
Gently tap the flower or leaf over the paper.
Thrips, if present, will fall onto the paper.
Thrips Control Methods
Thrips are difficult to control due to their excellent hiding skills. Traditional chemical pesticides often fail to make contact with them, leading to their survival and possible resistance to the pesticides.
Systemic pesticides work more effectively against thrips because they need to ingest the chemical. Always read the pesticide label before using it to ensure its effectiveness on thrips in cyclamen. It also gives information on protective gear to wear during application and the application frequency.
In nursery greenhouses, biological control methods are often used to control thrips due to the limited number of approved chemicals. Biological controls include natural predators of thrips or bacteria and fungi that are harmful to thrips but safe for humans. These predators can access the tight spaces that thrips favor, controlling their populations more efficiently than chemical applications.
In severe infestations, the best course of action may be to discard the plant to prevent the spread of the pests to other plants in your home.
Frequently Asked Questions
What kind of light do cyclamen need?
Cyclamen prefer indirect, bright light for about 4-6 hours a day. The definition of indirect light can vary based on the time of year. It should not cast a clean shadow and should pass through objects like blinds, curtains, or tree leaves. East or west exposures offering 4-6 hours of sunlight are ideal. Filtered southern exposure for 4-5 hours might also be sufficient. Look out for signs of excessive light like leaf curling or leggy growth and adjust as necessary.
Will my cyclamen bloom again after dormancy?
Possibly. In an average household, the light levels may not be intense enough to trigger a second flowering of your cyclamen. However, this doesn't mean it's impossible. If the cyclamen starts showing new growth post-dormancy, move it to a brightly lit location. Also, increase the watering frequency and add a monthly feeding of a phosphorus-rich liquid houseplant fertilizer to your cyclamen maintenance.
What type of fertilizer do cyclamen require?
Cyclamen are not too particular about fertilizers. A phosphorus-rich houseplant fertilizer would promote flower production and blooming. The label will guide you with the right fertilizer-water ratio and frequency of application. However, avoid fertilizing as the plant enters dormancy, as this can interfere with the plant's rest period and potentially harm its overall health.
Conclusion
The yellowing of cyclamen leaves indicates plant distress. The causes could range from over or under-watering to pest infestation. Now that you understand the basic life cycle of cyclamen, you can identify the cause of yellowing foliage more easily and solve problems more quickly.