When it comes to plants, seeing roots coming out of the pot is a sign that it's time for a larger container. However, orchids are not your typical houseplants. They possess unique characteristics that set them apart from others, as you may have noticed from their extraordinary blossoms.
In the case of orchids, roots growing out of the pot can actually be a positive sign. It indicates that your plant is healthy and growing as it would in its natural environment. But what does this mean for your plant? Are these roots necessary? Can you remove them to enhance the appearance of your houseplant, or is repotting required?
This guide will provide answers to these questions and more. If you're curious to learn about these peculiar growths, including their purpose for the plant and why discarding them might not be the best idea, keep reading.
Most orchids are epiphytes, which means they grow on other plants. However, they are not parasites that derive nutrients or water from their host plants. Instead, they use the host plant as a support base, clinging to its bark and hiding in crevices and branches.
As orchids don't grow in the ground like most plants, they have developed unique methods to gather moisture and nutrients. The growth of roots outside the container is usually associated with this special adaptation. Let's explore these growths further.
What Are These Growths and Why Do They Occur?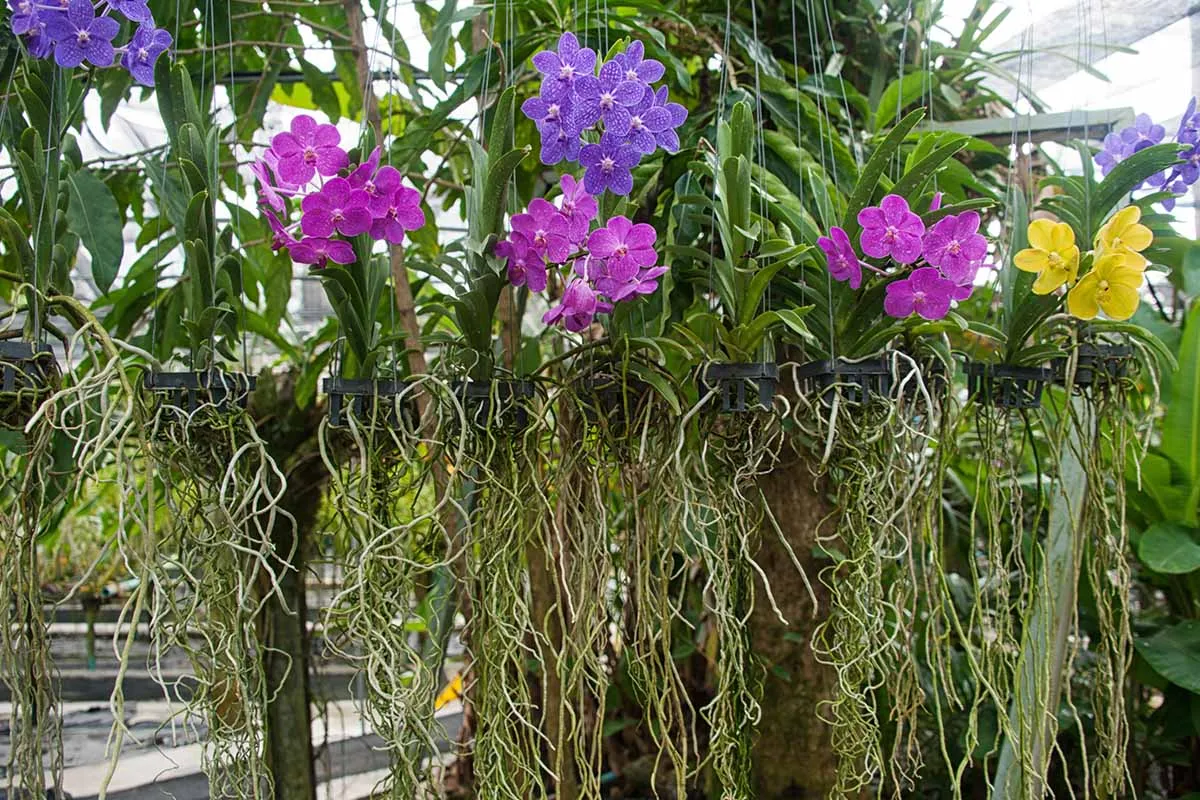 So, what exactly are these growths you're observing, and how are they connected to orchids being epiphytes?
Since epiphytic orchids don't grow in soil that can retain water, they have evolved alternative ways to absorb moisture. For instance, staghorn ferns grow fine hairs on their fronds to capture water, while orchids have their own adaptations to extract essential elements from the air.
Orchids possess two types of roots: aerial and "normal" ones. The latter type resembles the roots of most ground-dwelling plants and functions similarly, growing in leaf litter and other organic matter that accumulates in the crevices of branches and bark, where epiphytic orchids thrive.
Terrestrial orchids, on the other hand, have the typical "normal" roots designed for growing in soil. Aerial roots, on the contrary, are less common and are primarily found in orchids that grow on trees or rocks without traditional soil substrate.
Aerial roots serve the purpose of helping orchids acquire additional moisture and nutrients from the air, while also providing anchorage to the plant. Imagine holding onto a tree all day—you'd need some extra support.
But how do these aerial growths capture water and nutrients if they don't anchor in decaying matter, which serves as the plant's nutrient source? These growths are covered in a special outer layer called the velamen radicum, consisting of dead cells. The velamen should have a healthy color, appearing white, silvery, or gray. When moist, it turns green.
Certain other epiphytes, such as Monstera species, also possess velamen.
Once the velamen absorbs water and nutrients, the orchid's veins, known as steles, transport the moisture to the regular roots, stems, and leaves.
It's important not to confuse aerial roots with flower spikes. Although they may look similar, especially when young, flower spikes have buds at the ends, resembling clusters of bumps, while aerial roots have smooth tips.
What Should I Do with These Roots?
The short answer is: nothing!
If your plant has these growths, there is no need for immediate action. In most cases, aerial roots indicate that your plant is in excellent health and thriving as expected. It doesn't mean the orchid is unhealthy or that it has outgrown its pot.
Aerial roots can actually serve as an indicator of when your plant requires watering, acting as a built-in hygrometer. If the aerial roots near the base of the plant, in contact with the growing medium, appear green, they are wet, and the plant doesn't need watering. If they are silver or white, you can provide additional water.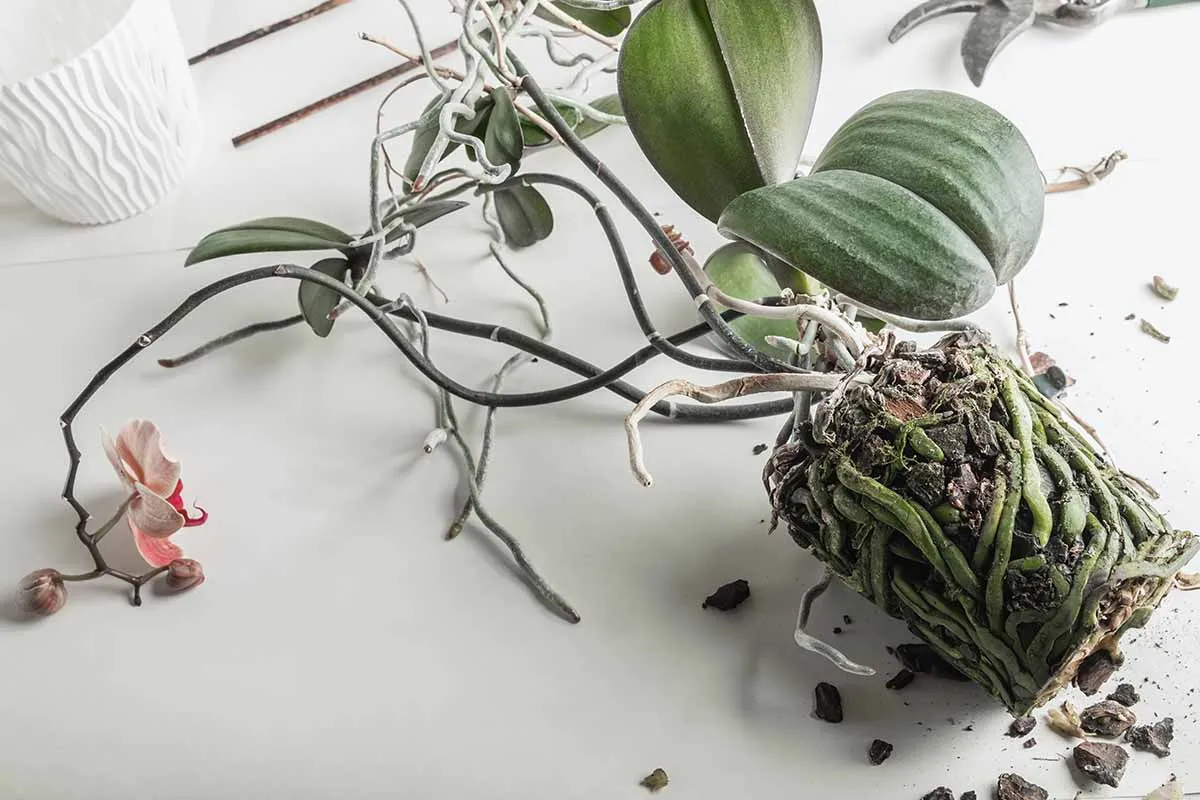 This method is less effective for aerial roots higher up on the plant, as they dry out more rapidly without access to moisture from the growing medium.
If any of the aerial growths appear shriveled, brown, or show signs of fungal growth, it indicates that they are dead or dying. This is likely due to overwatering, which is quite common with orchids. In such cases, you can trim off the dead or diseased growth. However, healthy growth should be left untouched. Removing aerial roots reduces the amount of water reaching the plant, and those roots serve a purpose, after all.
Can you simply remove them and provide additional water to compensate? Unfortunately, no. Doing so may overwhelm the existing roots, leading to rot caused by excessive watering. Moreover, removing the roots creates openings for viruses, bacteria, and fungi to invade.
If you can tolerate them, it is advisable to leave the healthy growths undisturbed.
Trimming Aerial Roots
Let's say you need to trim the aerial roots for some reason—perhaps they are damaged or diseased. How should you proceed?
First, find a pair of scissors and clean them with soap, water, or rubbing alcohol. It is crucial to use clean tools to avoid spreading diseases. Then, allow the scissors to dry or wipe them dry.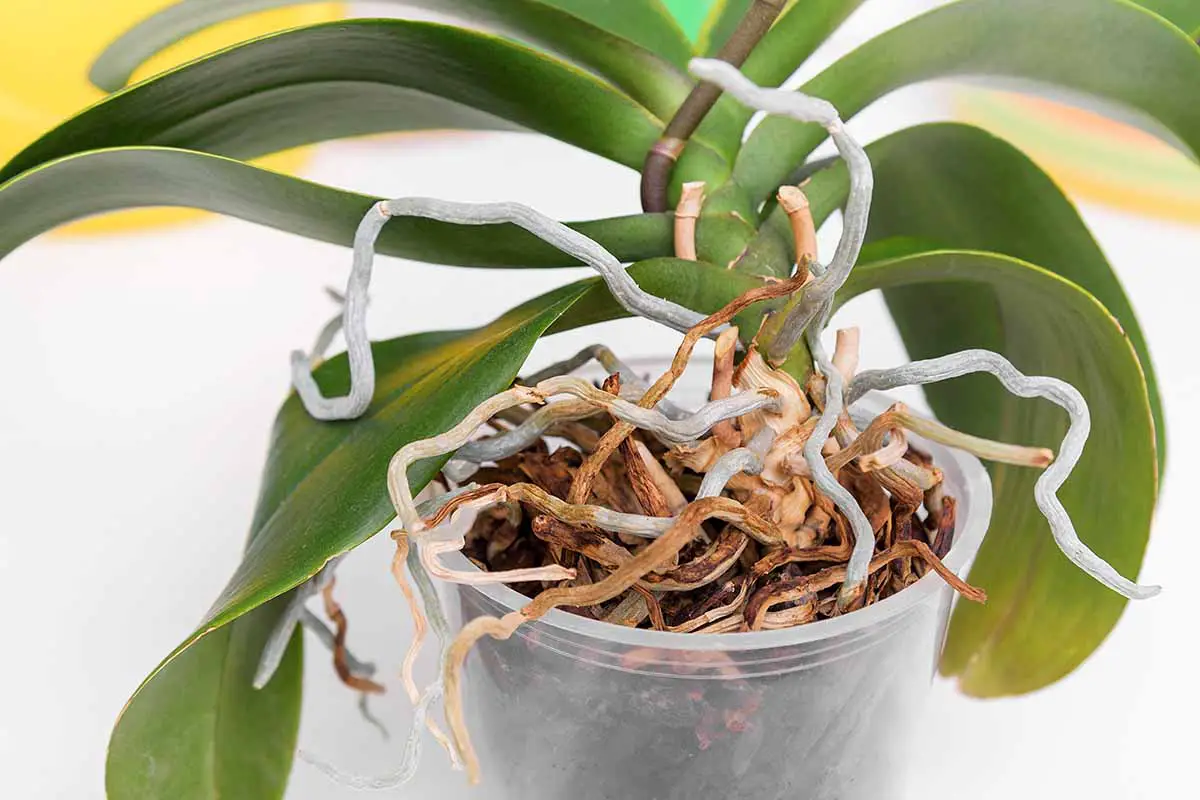 Carefully lift the aerial root and trace it to its base. Keep in mind that the roots may be twisted or entangled, making this task more challenging. It's akin to solving a maze, similar to those puzzles you enjoyed as a child. Once you solve the puzzle, use the scissors to snip the root at its base.
For the following weeks, closely monitor the area where you performed the trimming and observe the overall plant for any signs of infection. Look out for spots, discoloration, fungal growth, or black, mushy sections.
What if Normal Roots Are Growing Out of My Orchid Pot?
This is another possibility. However, these will not be the silvery-white aerial roots emerging from the top of the root ball where the stem meets the roots.
The roots you see peeking out of the pot's drainage holes are the normal roots. These growths appear darker and may be brown or yellow.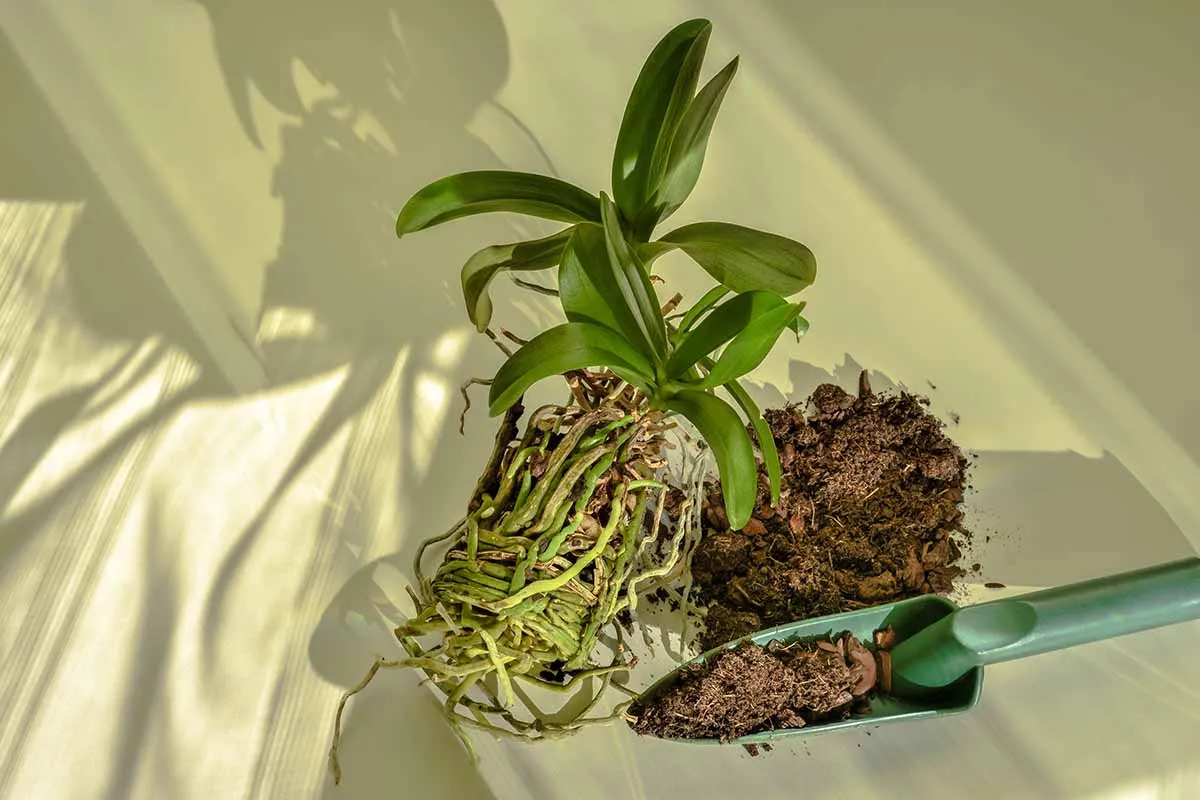 If normal roots are growing out of the pot, it's time to repot the orchid into a larger container or, preferably, mount it. If you find the sight of numerous aerial roots sticking out unappealing, mounting the orchid allows you to arrange them in a more aesthetically pleasing manner. Just remember not to bury them in the moss when mounting.
During repotting, choose a container with ample drainage holes and opt for a size slightly larger than the current one. The more drainage holes, the better.
Embrace Your Orchid's Roots
In most cases, orchid roots are nothing to worry about. If you spot them protruding unexpectedly, it's generally not a cause for concern. Understand that your plant is merely following its natural course.
In the worst-case scenario, repotting may be necessary.