Dreaming of savoring fresh, homegrown sweet corn but lack the space of a traditional garden? Look no further; container gardening is your answer!
Rethinking Traditional Corn Cultivation
While the idea of cultivating corn in vast fields may dominate popular imagination, the truth is many urban dwellers lack the space for expansive gardening. But here's the good news: container gardening can bring you a step closer to achieving a bountiful corn harvest.
Essential Conditions for Thriving Corn
Sunny Spot: Corn thrives in locations that receive ample sunlight. Identify a spot that basks in the sun's glow for the best results.
Good Air Circulation: A bit of wind ensures robust growth.
Moist Soil: Regular watering is vital to keep the soil consistently moist.
Starting Off: Planting in Pots
Temperature Check: As corn is sensitive to cold, wait until two to three weeks post the last frost to plant your seeds.
Choosing the Right Container: Opt for pots with a minimum of 12 inches in both diameter and depth. Each container can support up to four corn plants.
Feed Your Plants: Corn plants are voracious. Enrich the soil with compost or fertilizer before planting, and continue to fertilize throughout its growth.
The Joy of Homegrown Corn
Despite the challenges, the joy of biting into your own homegrown sweet corn is unparalleled. Plus, the journey of watching corn sprout and mature in a container can be an enlightening experience, especially for young curious minds.
Your Comprehensive Corn-in-Pot Tutorial
We've curated a detailed guide to assist you in your container corn growing journey. From selecting the ideal pot to understanding the care your corn plants necessitate, we've got you covered. Dive in and let's embark on this gardening adventure together!
Container Corn Cultivation: A Fun Family Project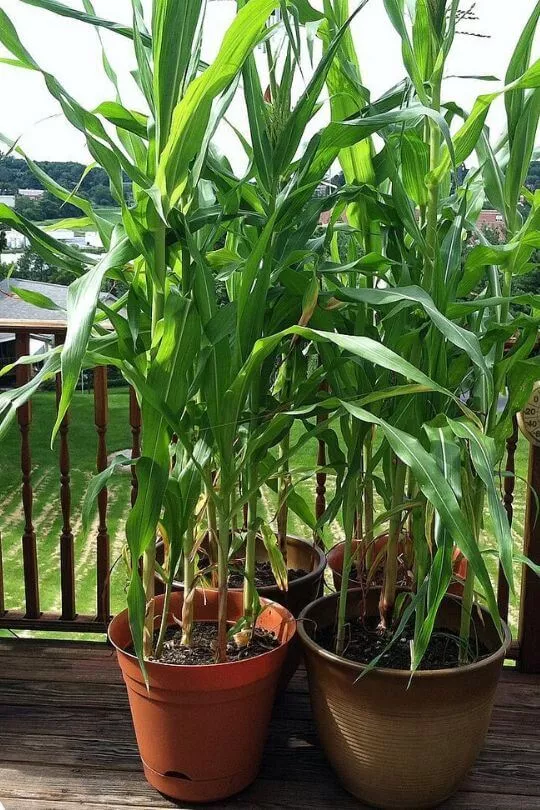 Growing corn in containers offers a unique, hands-on experience for both children and adults. Not only do youngsters delight in watching the corn stalks shoot up, but they also find playing amidst them equally fascinating. If you're contemplating adding some corn plants to your home garden, follow this guide.
1. Deciphering Corn Varieties
Many remain unaware of the diverse types of corn available. Here's a breakdown:
SWEET CORN: Perfect for a buttery dinner side, this juicy corn is not just yellow; it sometimes surprises with hues of brown or red.
POPCORN: Yes, the movie-time favorite! While store-bought popcorn is generally yellow-orange, homegrown varieties can even be blue.
FLINT CORN: Recognizable by its glassy exterior, it's often transformed into hominy for tortilla production. Its popping capacity is a lesser-known trait.
FLOUR CORN: Predominantly grown in the US Southwest, this starchy variant is ideal for cornmeal production due to its soft texture. It's also scrumptious when steamed or grilled.
DENT CORN: Commonly referred to as field corn, this is the primary type grown in the US, primarily for livestock feed and processed food. The dented appearance of its dried kernels lends it its name. It can be used for cornmeal or dried for hominy.
2. Timing your Planting
Corn loves warmth. To ensure its thriving growth, wait until 1-2 weeks after the last frost of the season before planting to avoid unexpected cold snaps.
3. Choosing the Perfect Container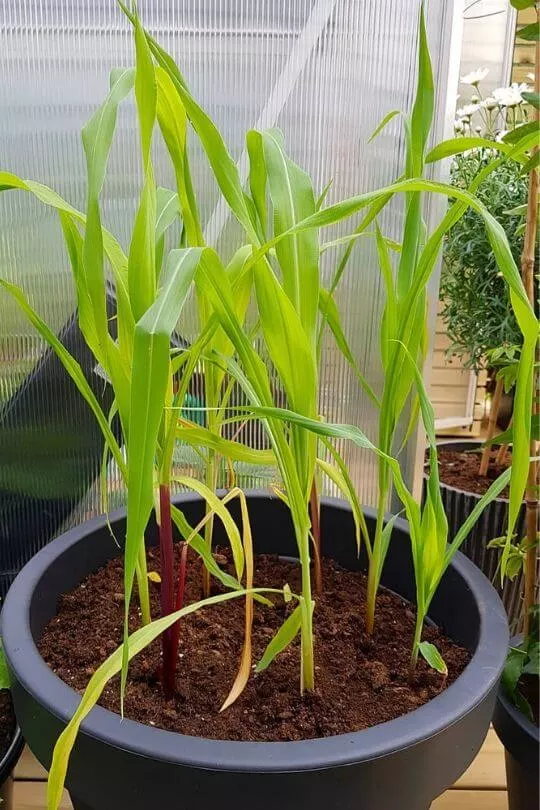 Selecting the right container can be challenging but also the most crucial step. Adhere to these guidelines:
Size Matters: At a minimum, choose pots that are 12 inches deep and wide. Bigger is better.
Materials: Traditional clay and plastic pots work, but don't be afraid to get creative. Repurpose laundry baskets, barrels, crates, or even garbage bins. Just ensure they hold enough soil to support the corn's growth.
Plant Count: Typically, a container of the specified size can accommodate up to four corn plants.
Drainage: Corn loves moisture but not stagnation. Ensure your chosen container has adequate drainage. If not, don't hesitate to drill some holes.
4. Picking an Ideal Location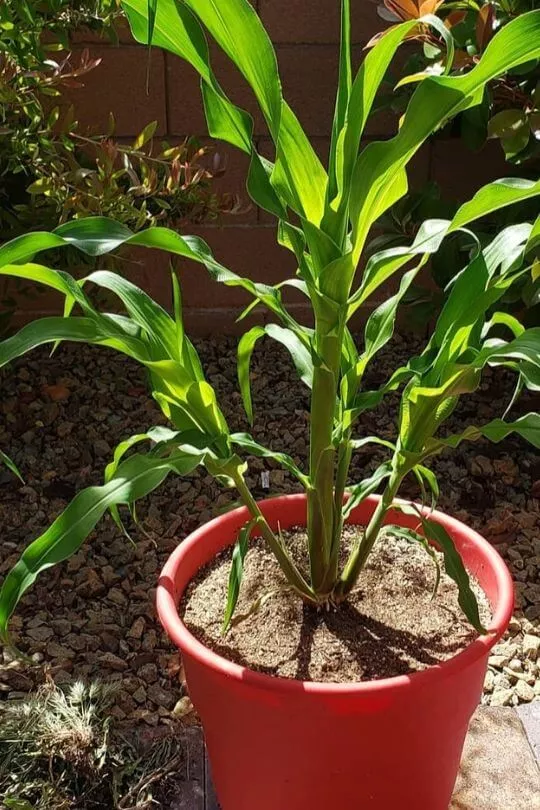 Locate a sunny spot where your corn can bask for 6-8 hours daily. A bonus of container corn cultivation is its ability to serve as a privacy barrier. By mid-summer, plants sown in May can act as a natural screen. Though they may not rival the towering 12-15 feet of garden-grown corn, they can still achieve an impressive 6-8 feet.
5. Soil Preparation: The Foundation of Growth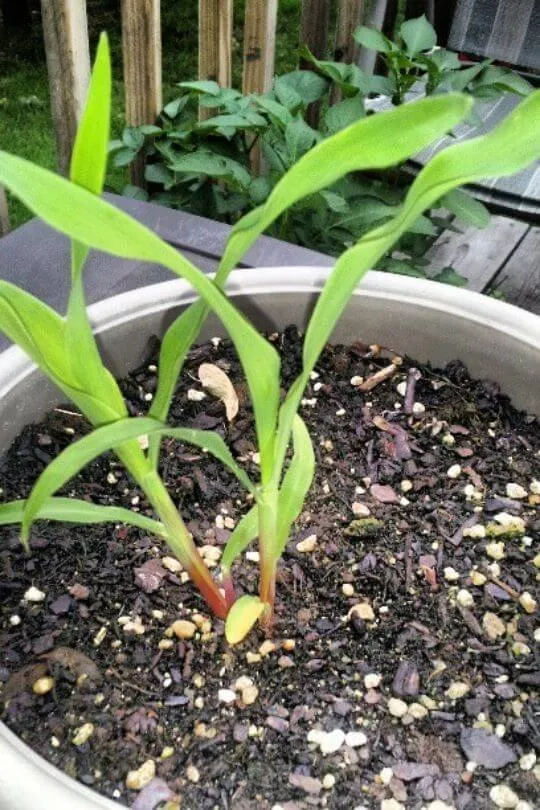 Corn demands soil that stays moist without being waterlogged. Here's how to get it right:
Moisture Balance: Opt for soil that can hold water without drying up quickly, but also ensures there's no stagnation.
Perfect Soil Mix: A peat-based potting mix is ideal. Elevate its nutrient content by adding compost, all-purpose fertilizer, well-rotted chicken manure, or fish emulsion. Remember, corn is notorious for being a heavy feeder. In farming contexts, it's known to deplete soil nutrients rapidly. Ensure your container soil is rich and ready.
6. Seed Sowing: Embarking on the Growth Journey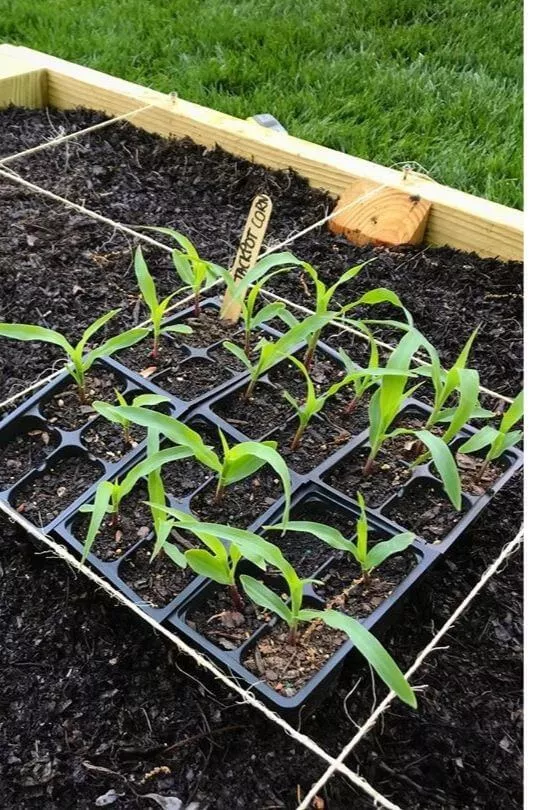 With your soil prepped, it's now time to sow those corn seeds. And it's simpler than you think!
Planting Depth and Density: For every pot, aim for 4-6 corn seeds. Each seed should nestle 1 inch deep in the soil.
Spacing Matters: Though sowing seeds closely aids pollination (and subsequently, a better yield), give each seed its space. Position each seed about six inches apart, tracing the outer perimeter of your container. Ensure there's a buffer of 3-4 inches between the seed and the container's edge.
Watering Post Planting: Once sown, drench the seeds adequately. Then, let the sun work its magic.
Germination Expectations: The warmth determines how quickly your corn sprouts. In cooler climes (between 55 to 60℉), anticipate a 10-14 day wait. However, in warmer temperatures (around 65℉ and above), the wait can reduce to a mere six days.
Caring for the Corn Growing in Containers
Growing corn in containers presents its unique set of challenges. Ensuring your plants are well taken care of can make all the difference in their growth and yield. Here's a detailed guide on nurturing your container corn.
1. Hydration: Quenching Your Corn's Thirst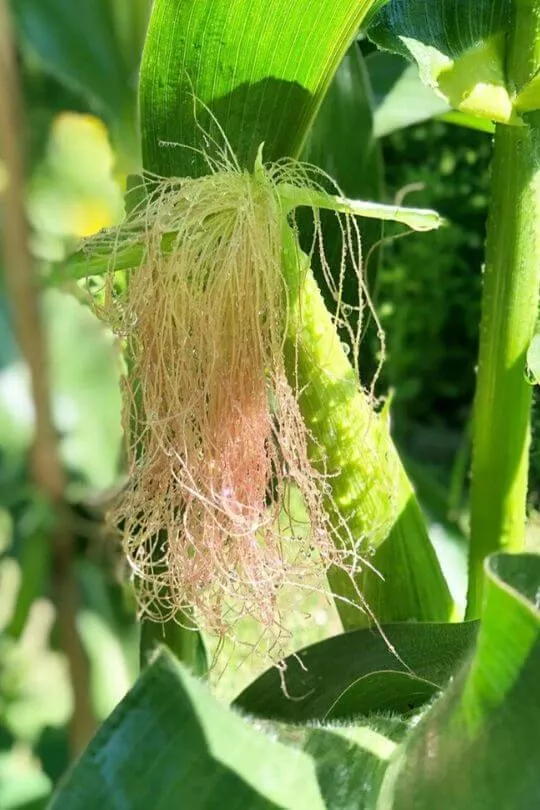 Corn thrives on moisture, making regular watering essential. Here's how to do it right:
Consistent Moisture: Water your corn every other day. Ensure the soil remains damp but not waterlogged.
Critical Fruiting Phase: The water requirement shoots up during the fruiting stage. Make sure you adjust your watering frequency and quantity accordingly. A juicy kernel is a sign of a well-hydrated plant!
2. Nourish with Fertilizers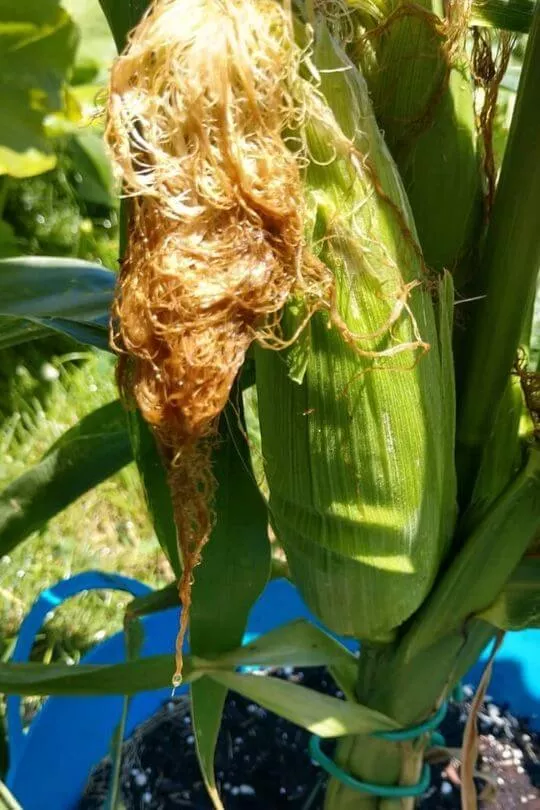 About ten weeks post sowing, your corn plants will be in need of a nutritional boost:
Choosing the Right Fertilizer: Opt for a 5-10-10 or 10-20-20 fertilizer. Each plant will benefit from half a tablespoon.
Application Method: Create a tiny depression near the plant base, sprinkle in the fertilizer, and then gently mix it with the adjacent soil.
3. Embrace the Power of Mulching
Contrary to some beliefs, container plants can significantly benefit from mulching:
Why Mulch? Not only does mulch retain essential moisture in the soil, but it also keeps pesky weeds at bay.
Mulching Materials: Consider wood shavings, old newspapers, or even grass clippings as effective mulch materials. They'll act as a protective barrier, maintaining soil moisture and deterring weed growth.
Understanding Corn Threats: Pests & Diseases
While corn stands tall and robust, it isn't completely immune to pests and diseases. By familiarizing yourself with potential threats, you can tackle them head-on.
1. The Pesky Corn Leaf Aphids
A widespread threat across various crops, aphids can be especially harmful to corn. An extreme infestation:
Results in malformed tassels.
Gives the plant a black mold-like appearance.
2. The Springtime Terror: Corn Flea Beetles
These beetles come alive in the spring. Their modus operandi involves:
Initially targeting local weeds.
Shifting to corn seedlings as they mature.
A clear sign of their infestation is the presence of tiny circular holes on the corn leaves.
3. The Ravenous Cutworms
While not exclusive to corn, these pests can wreak havoc across your garden.
They feed on multiple plants, leaving a trail of destruction.
Predominantly, they attack the upper part of the plant, but some species may focus on the crop's tip.
4. The Deceptive Seed Corn Maggots
A particular menace during spring, these maggots have an appetite for:
Corn seeds primarily.
If you're in the initial stages of germination, staying vigilant against these pests is crucial.
5. The Stealthy Southern Corn Rootworm
True to their name, these insects have a penchant for:
Corn roots primarily.
Occasionally, they might target the plant's core or bud.
To detect them, scrutinize the leaves and root regions meticulously. Their diminutive size makes them easy to miss.
The Corn Harvesting Guide for Container Growing
Growing corn in containers has its nuances, but when it comes to harvest, the process mirrors the garden technique. Here's a comprehensive guide to ensure you reap the best from your potted corn.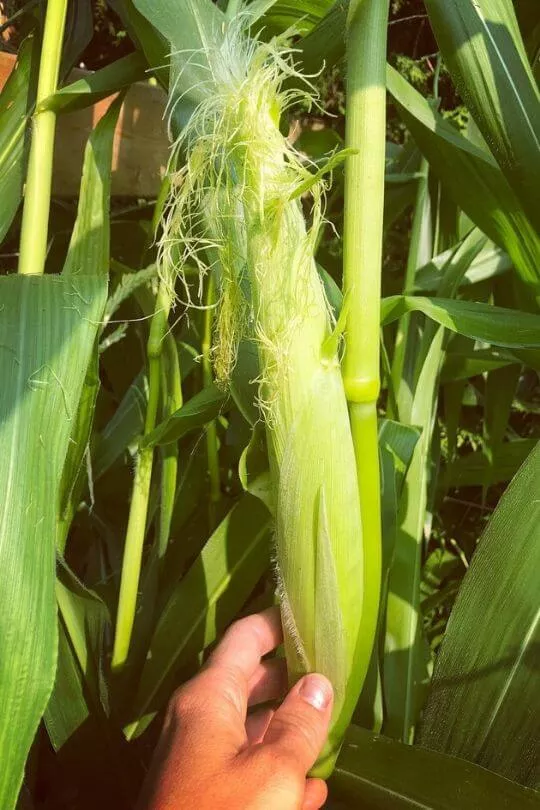 1. Harvesting Timelines and Expectations
Corn typically reaches maturity between 60 to 100 days, influenced by the corn variant and prevailing weather conditions.
Anticipate that the yield from container-grown corn might be slightly different from traditional garden crops.
To maximize harvest, opt for container-friendly corn variants and provide dedicated care.
Planting four corn stalks in close proximity per pot promotes optimal pollination, paving the way for a fruitful harvest.
2. The Ideal Harvesting Method
The early morning hours offer the prime time for harvesting, with corn's sweetness at its peak.
To harvest, firmly hold the ear of corn, pull downwards with a twist, and it should detach effortlessly from the stalk.
It's prudent to harvest only what you can consume within a short span, ensuring freshness.
3. Choosing the Right Corn Variant for Containers
When embracing container corn cultivation, the choice of variety is paramount. Here are some factors and a top recommendation:
Size & Purpose:
Opt for dwarf varieties, ideally those that grow to a maximum height of 4-5 feet. Define the corn's purpose – for decorative appeal or culinary use.
Pollination Insights:
Corn relies on wind for pollination, making cross-pollination a frequent occurrence. For purity, stick to a single variety per growing season or ensure a considerable separation if cultivating multiple types.
Diverse Corn Varieties for Container Growing
Corn isn't just about the classic yellow kernels; its diverse varieties offer multiple uses and aesthetic appeals. Here's a closer look at some intriguing types suited for container cultivation.
1. Sweet Painted Mountain Corn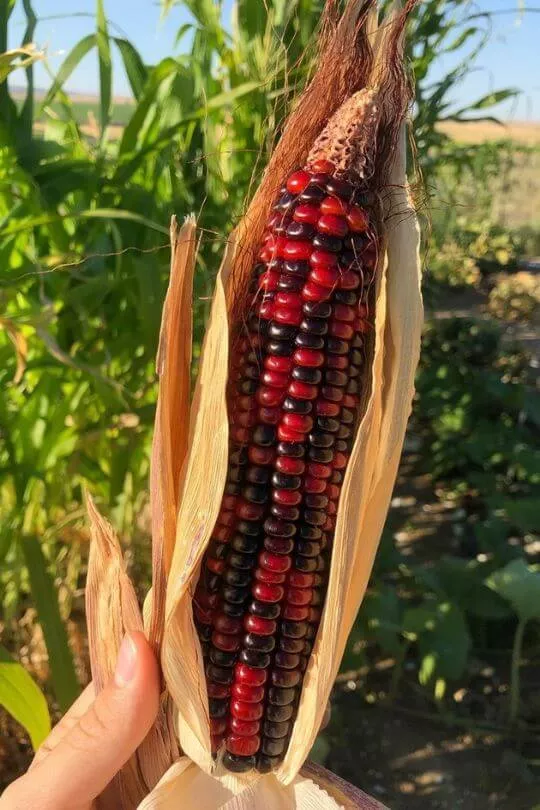 Hailing from Montana's chilly terrains, Sweet Painted Mountain is both a visual treat and a resilient variety.
Climate Resilience: Recognized for enduring cold temperatures and drought conditions.
Versatility: Suitable for culinary delights—eat it fresh, ground, or relish it roasted. Alternatively, use it as an ornamental display.
2. Strawberry Popcorn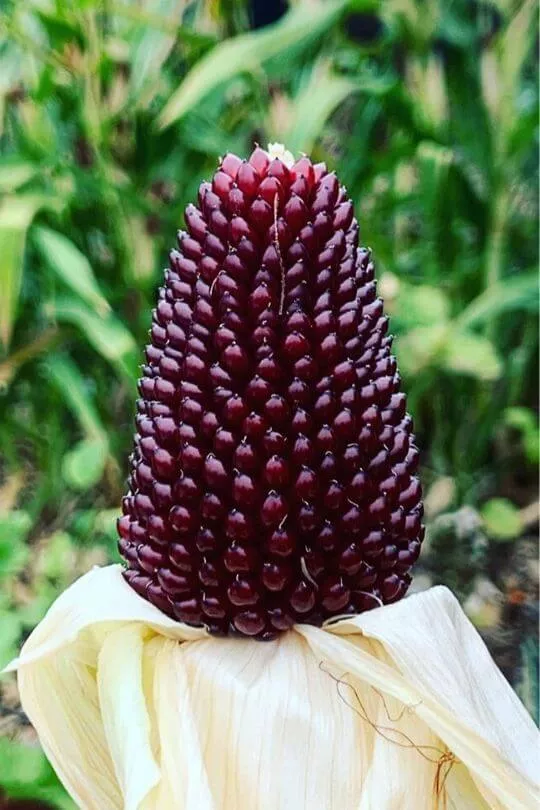 If popcorn is on your mind and space is a constraint, Strawberry Popcorn has you covered.
Appearance: As the name suggests, its ears resemble large strawberries, spanning two to three inches.
Plant Profile: Compact growth, with plants topping off at four feet. Expect each stalk to bear two to four ears.
3. Sweet Spring Treat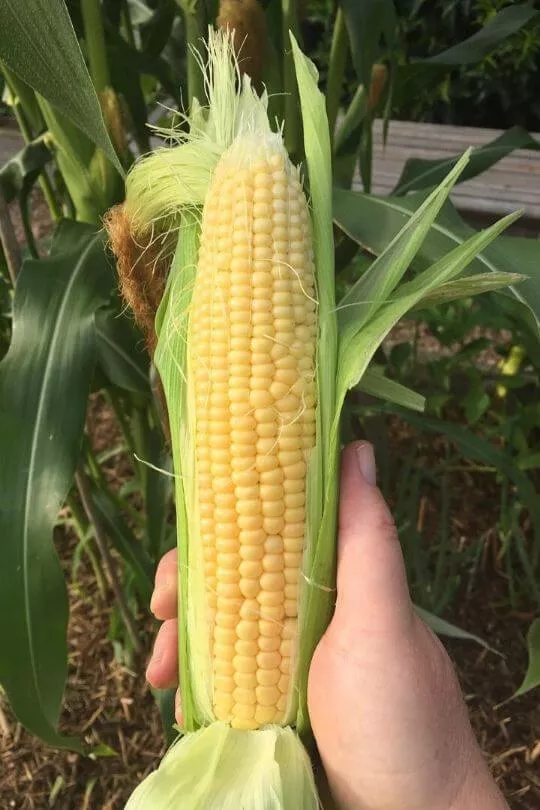 Aptly named, this variety promises an early harvest and is suited for chillier climes.
Maturity: Ready for harvest in under 70 days.
Plant Features: With stalks stretching up to five feet, they demonstrate a remarkable tolerance to cooler soil temperatures.
4. Chires Baby Sweet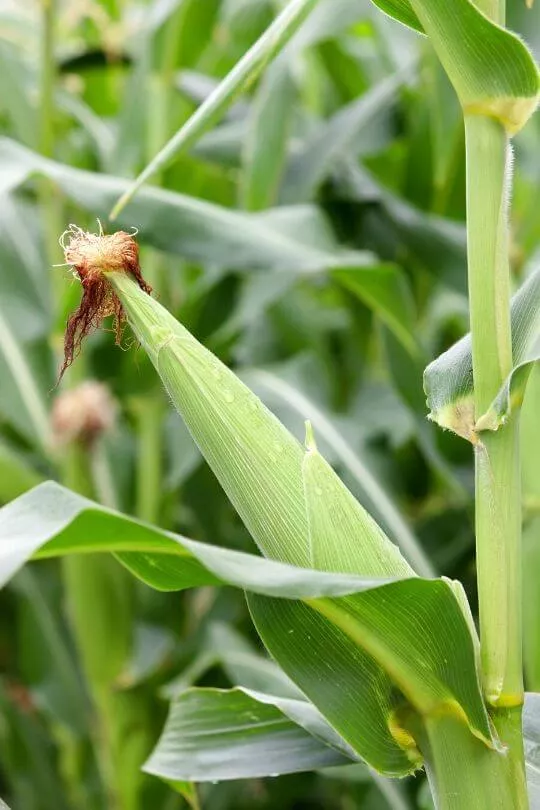 For lovers of miniature delights, Chires Baby Sweet offers an adorable yield.
Yield: Miniature corn ears, reminiscent of the baby corn featured in Asian cuisines. A single stalk might surprise you with up to 20 tiny ears!
5. Highlighting Trinity Corn: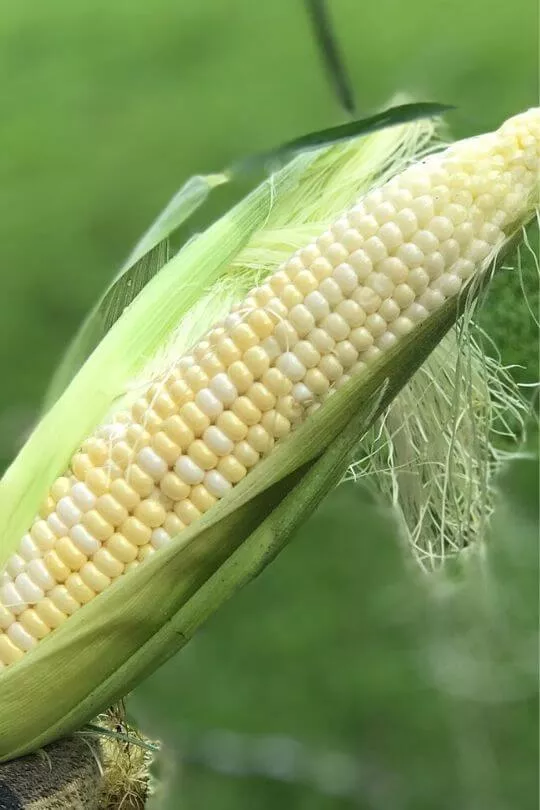 An early-maturing sweet corn variant, Trinity boasts
Delicious, tender kernels packed in eight-inch ears.
Known for consistent germination even in cooler soils.
An average height of about five feet.
Concluding Thoughts
Container gardening with corn is undeniably more demanding than with other vegetables, and the returns might be modest in comparison. However, the charm and challenge of cultivating these unique corn varieties can be a fulfilling venture for those seeking a gardening adventure this season.