Nature's remedy and wild medicinal plants surround us everywhere.
They dot our meadows, woodlands, and even sprout in our gardens. Their power is immense and often overlooked.
Many of these herbs, which we might consume in our diets or sip as herbal infusions, include dandelion leaves, goosefoot, nettle, raspberry leaves, horsetail, and notably, plantain.
This plantain isn't connected to bananas. Even if you haven't utilized it, you've probably seen it.
Both Plantago lanceolata (ribwort plantain) and Plantago major (broadleaf or greater plantain) are garden greens packed with health benefits, yet they're somewhat forgotten in contemporary wellness practices.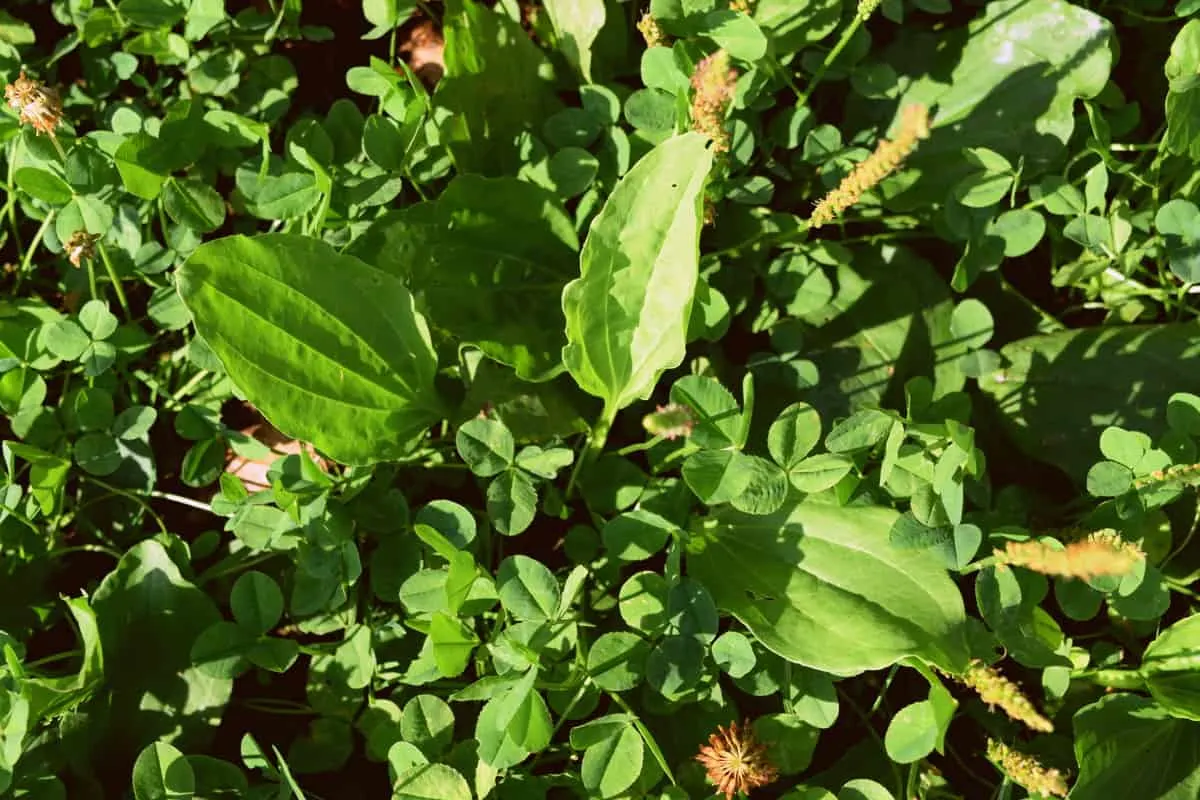 Wondering how to embrace the magic of these natural elixirs?
Cultivate a fascination for botany, seek a pristine location free of chemicals for gathering, and begin your botanical collection journey.
Harvesting Plantain Guide
Once you've spotted the distinct plantain leaves and gauged the plentiful yield, it's time to gather. Detach the leaves right from their base.
This can be achieved manually or with the assistance of gardening shears.
If you intend to use the fresh leaves, just follow your chosen recipe's directions. But if you're preserving them for future use, give them a wash if needed, then either air-dry them in clusters or employ a dehydrator if accessible.
The Healing Essence of Plantain
A concoction brewed from plantain leaves has been a trusted remedy for ailments such as sore throats and persistent dry coughs. Notably, it's also a natural booster for immunity, especially as the chill sets in.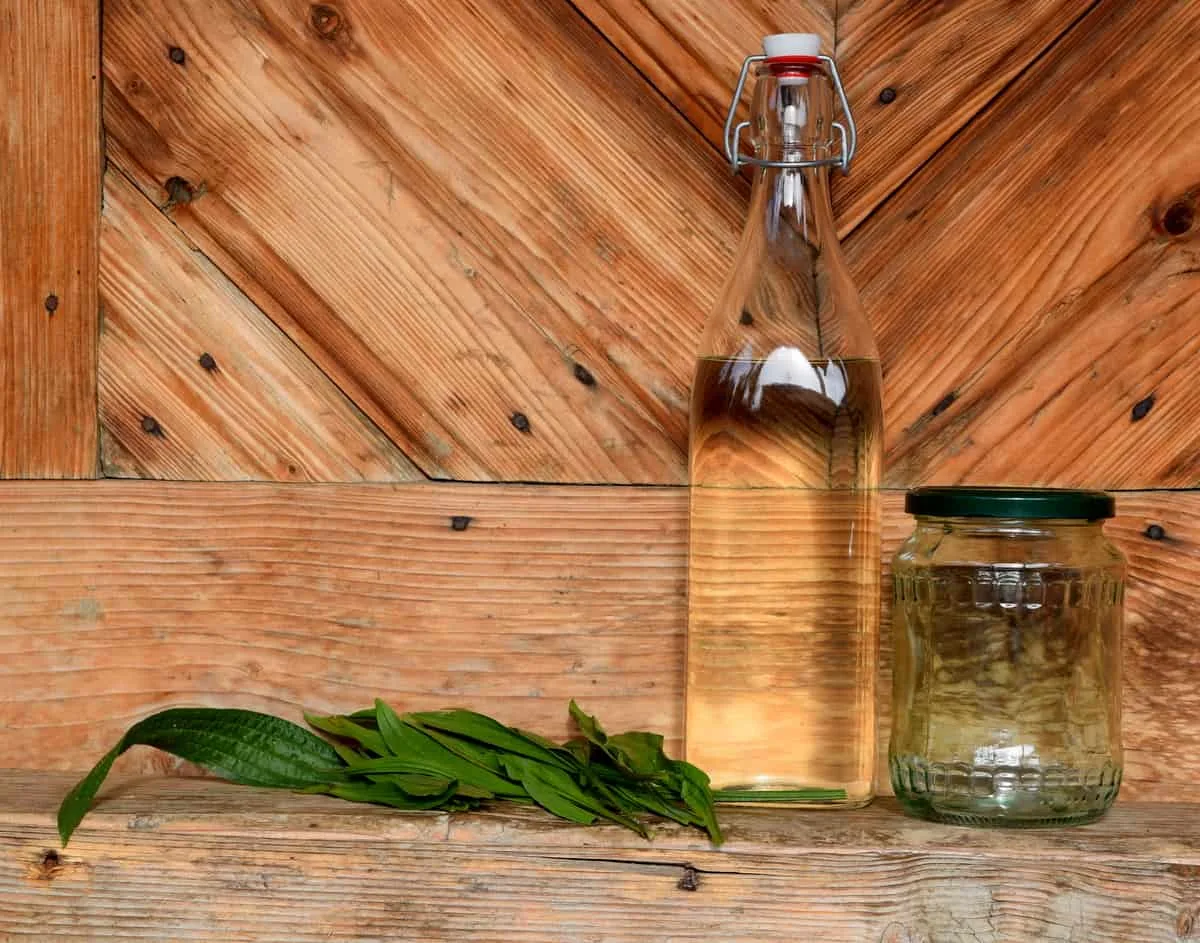 While there are myriad ways to whip up a tincture, the foundation remains consistent: infusing the herb in alcohol, keeping it in obscurity, then straining for use when required.
Here's a breakdown to guide you through:
1. Foraging the Right Ingredients
Locality Matters: Start by gathering fresh plantain flowers, either broadleaf or ribwort. It's always wise to harness what's available in your vicinity. While their properties closely mirror each other, blending them can intensify their efficacy.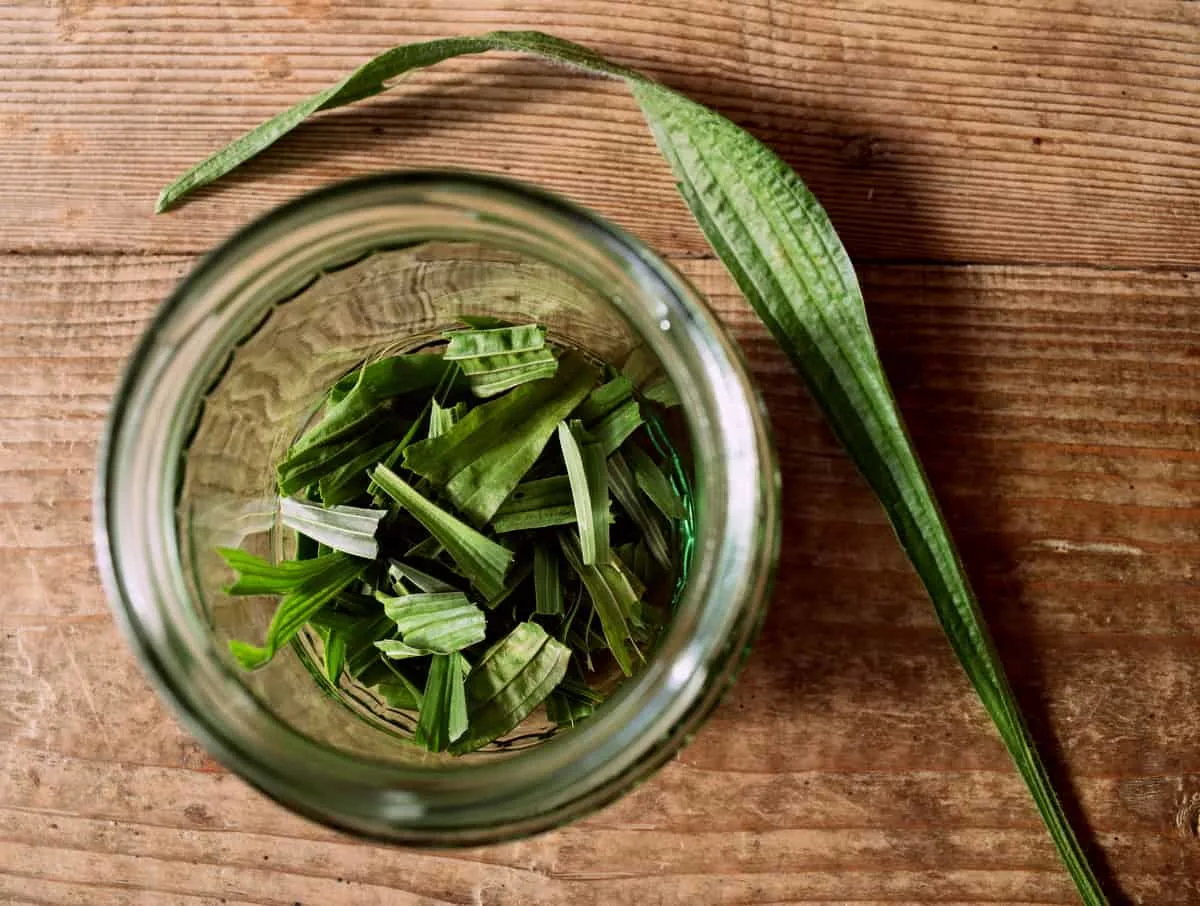 2. Prepping the Plantain
Technique: Manually tear the plantain leaves or pulverize them using a mortar and pestle. Once processed, transfer them into a sterilized container.
3. Mixing in the Solvent
Choice of Alcohol: Introduce vodka (grain or potato-derived) or brandy (fruit-sourced) into the mix at a 2:1 ratio (2 portions alcohol to 1 portion fresh plantain). Precision isn't crucial; rely on your instincts and knowledge, considering the inherent variability in herbs across locations and seasons.
4. The Waiting Game
Storage: Seal the container with a snug lid and let it rest in a shaded spot for 4-6 weeks.
Dosage & Precautions
An optimal dosage for adults would be 1 ml, and it's recommended not to exceed three doses daily.
LABEL EVERY JAR! This can't be emphasized enough. Over time, most tinctures will adopt a similar hue, but their properties and applications vary significantly.
In our holistic health repository, for instance, we house a shepherd's purse tincture, which is renowned for managing bleeding and alleviating hemorrhoid discomfort. There's also the yarrow tincture, championed for enhancing circulation and mitigating varicose veins.
Safety first: Properly labeled jars ensure you avoid any unintentional health blunders.
Embracing the Versatility of Plantain
Instead of eradicating plantain from your garden, consider harvesting them for a range of herbal solutions.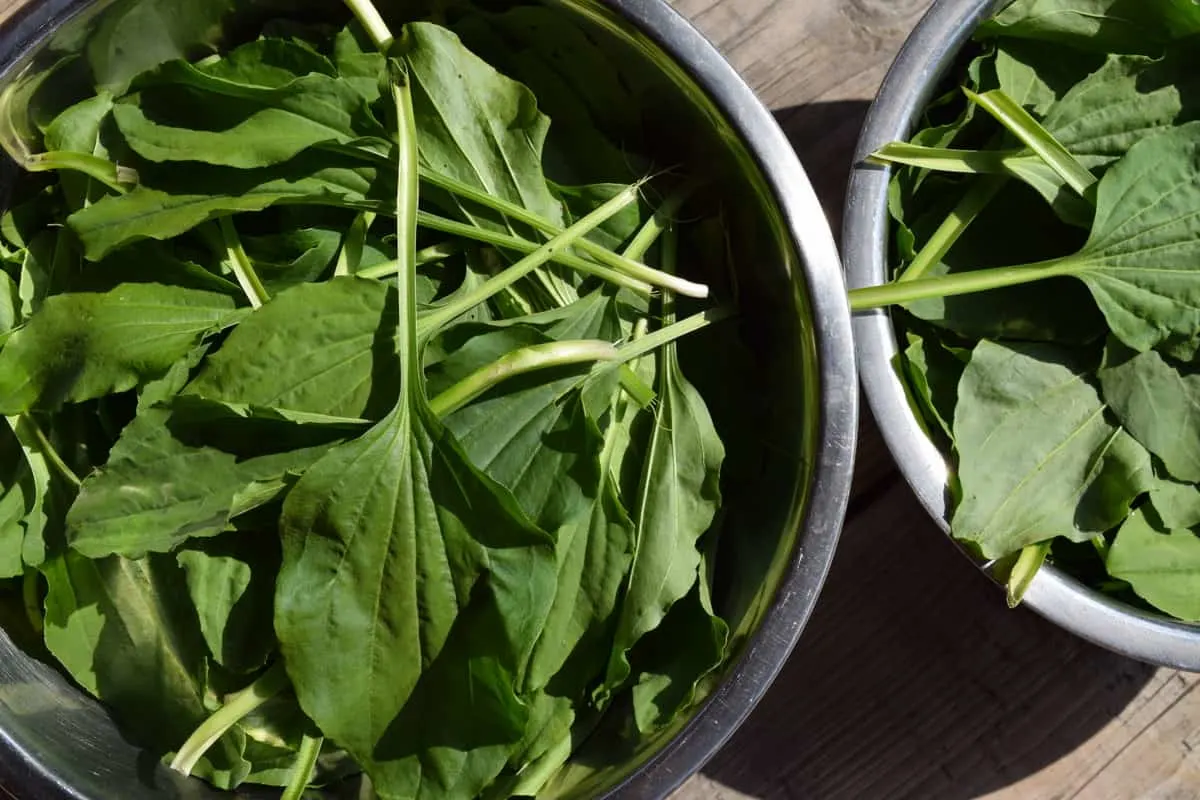 Foraging is a transformative step towards self-sufficiency and independence. Once you've adeptly identified several valuable wild plants, it's time to utilize them in various beneficial forms such as oils, salves, tinctures, and poultices.
Harnessing the Power of Plantain Poultice
Ideal Timing:
Summer aligns perfectly with the need for plantain poultices, especially due to prevalent insect bites and stings.
Application:
For bites causing irritation or itchiness, pick a plantain leaf, rinse, and chew into a paste. Apply this paste onto the bite and cover with cloth or bandage. Let it sit for a few hours, reapplying as needed until the discomfort subsides.
Taste & Benefits:
Although plantain has a slightly bitter flavor, it's palatable and renowned for its healing properties. This poultice is also beneficial for minor wounds.
Winter Solutions:
For those winter bites, having a plantain salve at your disposal is invaluable.
The Magic of Plantain-Infused Oil
Beyond Poultices: A step ahead of the direct application, infusing plantain in oils such as olive, almond, or coconut amplifies its benefits.
Applications: This oil is a panacea for various skin issues, providing relief from irritations, burns, and minor injuries.
A Green Initiative: Engaging closely with your surroundings and harvesting wild herbs leads to a green treasure trove. For example, comfrey is not just a plant but an effective fertilizer. The power of common garden weeds is not to be overlooked!
Preparation:
Gather fresh leaves during a dry afternoon.
Tear or cut the leaves.
Allow them to wilt on a clean surface overnight.
Transfer the leaves into a glass jar.
Submerge them in extra-virgin olive oil or your preferred oil.
Storage:
Place the jar in a dark, cool location for about 4-6 weeks. After straining the oil, you can incorporate it into various recipes or apply directly to the skin.
Plantain-Infused Vinegar: A Multi-Utility Solution
Versatility: Infused vinegars have diverse applications, from cooking and cleaning to laundry and healing.
Sunburn Relief: Overexposure to the summer sun can lead to painful sunburns. A remedy? Infuse fresh or dried plantain leaves in apple cider vinegar for a natural relief solution.
Additional Uses: This infusion can double up as a rinse to soothe a dry, itchy scalp.
Lavender-Plantain Lotion: A Soothing Skin Solution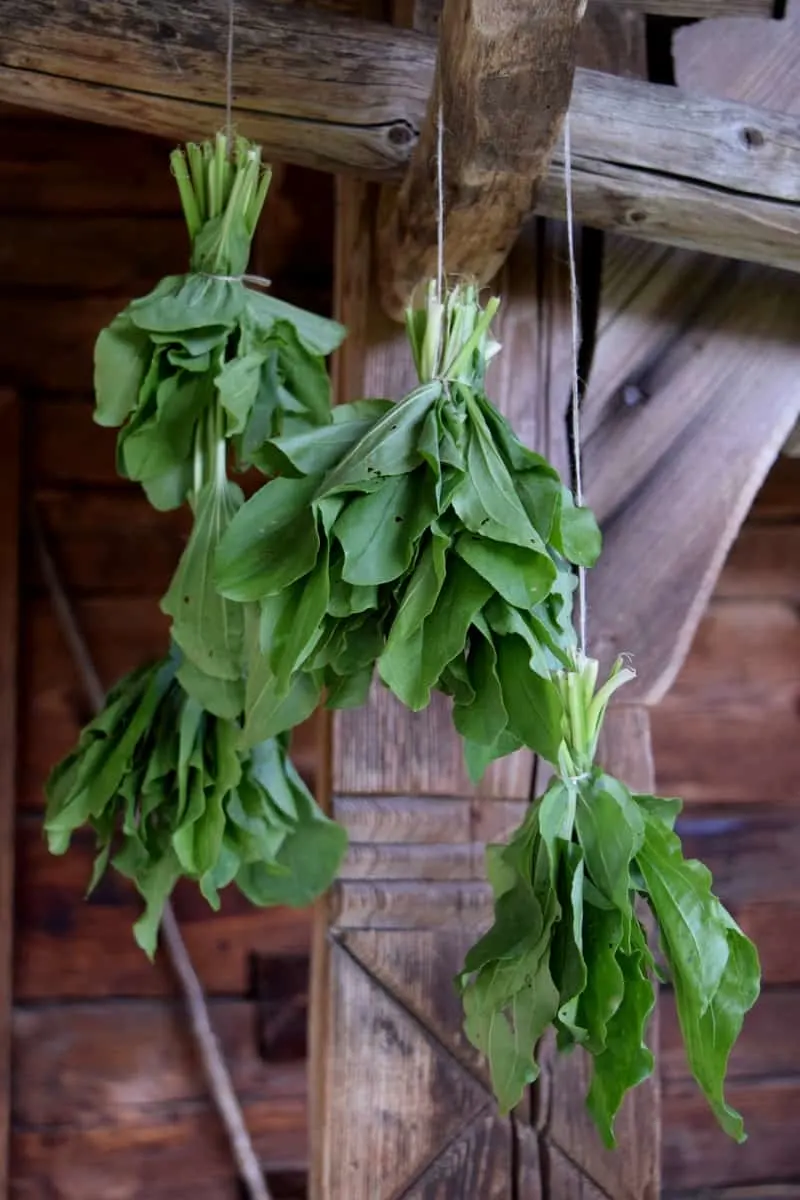 Benefits:
Plantain is celebrated for healing inflammatory skin conditions, especially eczema.
Preparation:
Step 1: During peak growth, harvest and dry ample plantain from your yard for future use.
Step 2: Create a plantain-infused oil, allowing it to steep for 4 to 6 weeks.
Step 3: Using the oil, craft a soothing lotion to combat skin irritations.
Plantain Lip Balm: A DIY Cosmetic Venture
The Need:
Looking for an alternative to the ubiquitous menthol-flavored lip balms? It might be time to craft your own.
Ingredients:
Herbs: Dried calendula, comfrey, and plantain
Cosmetic Essentials: Beeswax, shea butter, cocoa butter, and castor oil.
Why DIY?:
Making your own lip balm lets you trust the ingredients, ensuring a natural, effective remedy. Plus, having these ingredients around is excellent for concocting other homemade cosmetics and herbal treatments.
Plantain Bath Salts: A Revitalizing Soak
Why Use:
After a tiring day filled with chores or taking care of the household, nothing beats a rejuvenating bath.
Ingredients:
Essential oils (optional)
Roughly chopped plantain leaves (dried or fresh)
Lavender flowers for a calming effect.
Application:
For easy cleanup, place all ingredients in a tightly woven cotton bag. This ensures no residue goes down the drain.
Plantain Lotion Bars: Quenching Dry Skin
The Problem:
Battling persistent dry skin? Craft your own moisturizing solution.
Ingredients:
Shea butter
Coconut oil
Beeswax
Optional: Plantain-infused oil for added skin benefits.
Plantain Salve: Nature's First Aid
Benefits:
A must-have for any natural first aid kit, plantain salve offers numerous skin benefits.
Ingredients:
Fresh or dried plantain leaves
Coconut oil
Beeswax
Tea tree or lavender essential oil.
Note: While making the salve requires some effort, the end result is truly worth it.
Edible Plantain: A Forgotten Delight
Culinary Uses:
Fresh, young leaves can be chopped and added to salads.
Toast the plantain seeds for a snack.
Use plantain as a remedy for dry coughs during winter.
Availability:
Plantain is a common herb but may not always be at hand when needed. Forage during summer to prepare for winter creations like salves and lip balms.
Alternative Source:
Can't find plantain around? Don't fret. Dried plantain is available online, ensuring natural remedies are always accessible.