Want to learn how to care for Peace Lily? Known as a mystical plant, the Lily of Peace, scientific name Spathiphyllum Wallisii is also called the "White Flag".
Because according to spirituality, it has the power to absorb bad energies, purify the environment and bring a sense of peace and harmony. Widely used for decoration of environments, houses and gardens. Because of its unique beauty and easy cultivation, the Peace Lily has become one of the most popular plants in the world.
With long leaves and dark green coloration, it exudes shine and vitality when well cared for. Known for attracting luck and happiness. It is used outdoors and indoors for its easy adaptation. Its white leaves are actually bracts, which envelop the true flowers and have the appearance of an elongated spike. We prepared this article for you to learn all about how to care for Peace Lily.
It is not necessary to be a plant expert to care for a Peace Lily, it is even a great option for beginners, as they are easy to care for, resistant and withstand low light environments. You just need to know a few secrets. But overall it's simpler than you might think. So now that you know a little bit about this plant that is Brazilian, let's learn in practice how to care for the peace lily.
How to care for Peace Lily: essential tips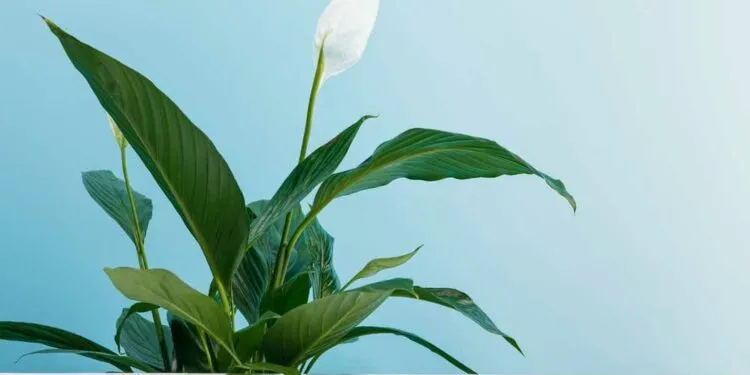 We separate three important points that you should be aware of when taking care of your Peace Lily.
Location: shade or sun?
Shadow. But be careful, because it also needs sun. The lack of sun can be the main reason for the absence of flowers, but too much of it can turn the leaves yellow and often even burn them. A shady place with low light in the morning is ideal for growing this species.
Climate: dry or humid?
damp. Since its foliage is large and lush and it is a plant of high humidity.
Did you go on a trip and when you came back you found it withered and lifeless? Relax. Unlike other plants, it is hardy and recovers easily. You can regain vitality with a good emergency watering. Want to know what an emergency watering is and how to do it? See in the video below:
Temperature: high or low?
high But excess is harmful. Two hours a day of the weak morning sun and your plant will be radiant. A special care with this species is to protect it from the wind. The wind little by little can cause burns on the foliage, in addition to leaving an aged, burnt, yellowish and lifeless appearance. The balance between shade and a little daily light is the secret to the shine and beauty of the leaves.
OK. Now how to care for Peace Lily, and what to do to bloom?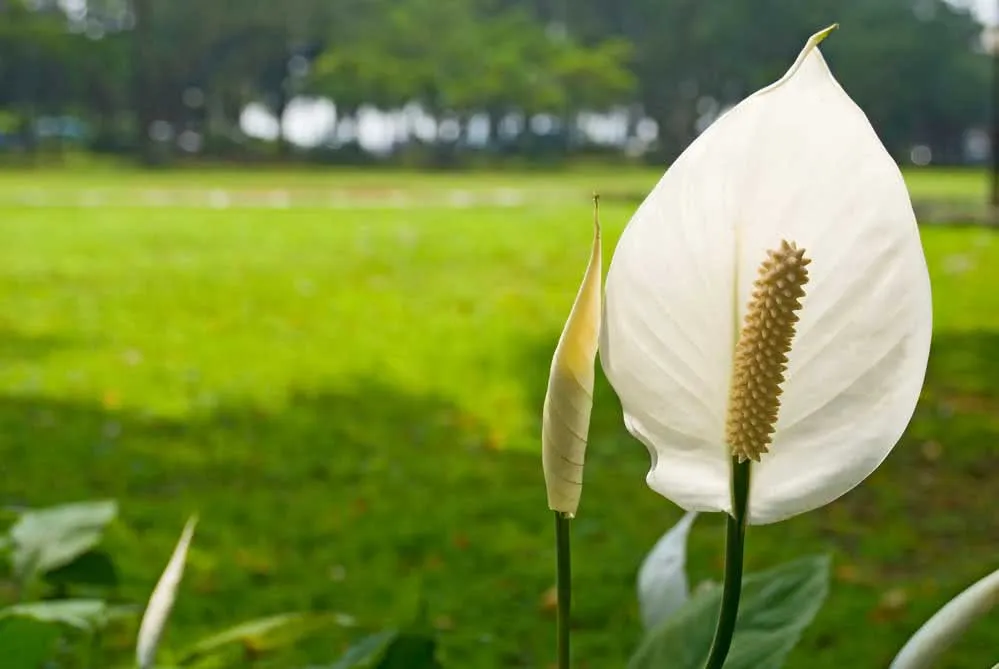 We already know that the Peace Lily is a shade plant, which likes high humidity and high temperatures. So it blooms very well in many environments, but if it doesn't, it could be due to problems related to soil nutrients or lack of sun. Lack of humidity can also be a problem, especially on dry days. A golden tip is to use and abuse the water spray on these days.
Good soil fertilization is also essential in this case. Often the plant does not bloom due to the lack of nutrients in the soil. To know how to take care of Lily of the Peace, a complete fertilization with fertilizers once a year is ideal, and nutrient replacement should be done with organic nutrients once every six months. Homemade recipes like coffee grounds, eggshells and even worms, fit well in this aspect.
The Peace Lily likes shade, but do not confuse it with pitch or darkness, although it is a low-light plant, darkness does not contribute to the appearance of flowers. If your Peace Lily is not blooming, try moving it gradually, as a little more light can often help with blooming.
The time of year factor can also influence the appearance of flowers. Warmer conditions are more conducive to flowering, so they tend to bloom in early spring or summer. If they are outside this season, it may be normal for the flowers not to appear due to the colder weather.
Where to grow?
Below are some options and ways of growing and caring for them, to help you learn how to care for Peace Lily:
Caring for Peace Lily in the Garden
Because it is a plant of different sizes and sizes, beautiful and with many meanings, the Peace Lily is widely used as a decoration element. In addition to looking beautiful, it brings a sense of peace when used in gardens and decorative planters. At the time of planting, it is important to pay attention to the place, so that it is shaded without too much exposure to the sun and high humidity. So your garden will be even more sophisticated and alive.
Caring for Peace Lily in the Vase
The Peace Lily in the vase enriches the environment. In the corner of the room, as in the table arrangement, from the bathroom to the bedroom. It's a joker when we think about decoration, it brings harmony to any environment. It is important to pay attention to the humid and shady place, if the leaves are turning yellow or lifeless in the vase, it is worth changing the place looking for light and humidity. The soil should receive nutrients every six months.
Caring for Peace Lily in an apartment
Those who live in an apartment are often restricted to contact with plants. Whether due to lack of light, heat in the environment or lack of space. It is worth mentioning that the Peace Lily is a plant of great resistance and easy to grow, so it is ideal for apartments. It is
It is important to note that it is important to pay attention to very dry air. Sprinkling water from time to time should solve the problem, so the plant is strong and healthy, and your apartment looks more beautiful.
Extra tip: arrangements with Lily of the Peace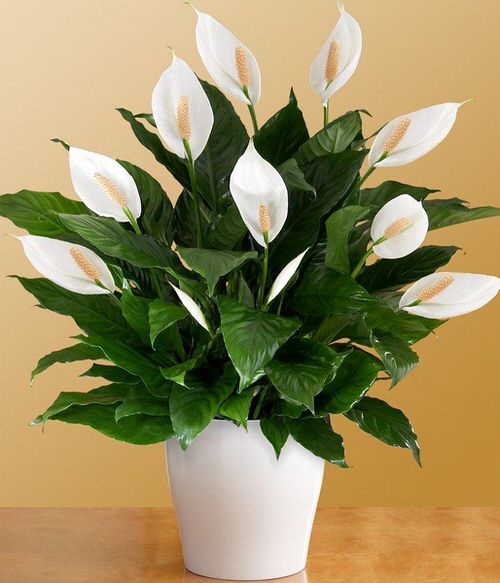 Now that you've learned how to care for a Peace Lily, how about creating a beautiful arrangement?
A different and beautiful way to fall under the charms of the Lírio da Paz are the arrangements. They serve as great decoration options for centerpieces, events, offices, weddings, baptisms, as well as being used as a gift for someone special. When putting together an arrangement use your creativity. A very beautiful vase, stones, wooden gravels and the mixture of the Peace Lily with other species, can be a great bet.
Did you enjoy learning these tips on how to care for Peace Lily?
Having a plant at home or at work is always a great option. It brings life, reduces stress, provides a sense of well-being and lightness to the environment, in addition to improving air quality, increases productivity, improves mental and emotional health and stimulates creativity.
Knowing this, how about betting on Lírio da Paz to make your home, apartment or place of work even lighter and cozy?
Now that you've learned all about how to care for Peace Lily, let us know if this article was helpful. If you found it easy to take care of this species and what way will you choose to grow your "darling" Peace Lily?