Belonging to one of the largest plant families, orchids are distinguished by their unique beauty and vibrant color palette. With an impressive tally of over 25,000 known species, these flowers are gaining popularity as a choice of gift, owing to their distinct, captivating appearance.
While orchids are found almost ubiquitously across the globe, they hold special significance in regions such as India, Madagascar, China, and the Himalayas.
Potting Orchids
Most orchids are epiphytic by nature, implying that they naturally affix themselves to trees or rocks instead of growing in soil. Planting your orchid in conventional soil-filled pots, as is the practice with other plants, might lead to root decay, thereby endangering the plant's survival. This makes it crucial for orchid roots to have ample ventilation.
Choosing the correct pot is an essential aspect of orchid care. Beyond traditional clay pots, there are other pot types specifically designed for these plants. While many orchids prefer compact pots, certain species necessitate larger pots to accommodate their extensive root systems.
Here are some of the most favored pots for growing orchids:
Clear Plastic Pots: These are ideal for orchids whose roots signal when it's time to water. Clear plastic pots allow you to visually inspect the root system without disturbing the plant.
Metal Mesh Pots: These pots enable excellent root aeration and their design facilitates easy suspension at elevated heights, providing the dual benefits of aesthetics and increased sunlight exposure.
Wooden Pots: Crafted from specific rot-resistant wood, these pots feature design elements such as small holes that enhance root aeration and drainage. For best results, line the interior walls with moss before adding the growing medium.
However, ceramic pots and specialized orchid pots available in gardening stores also serve the purpose.
Orchid Growing Medium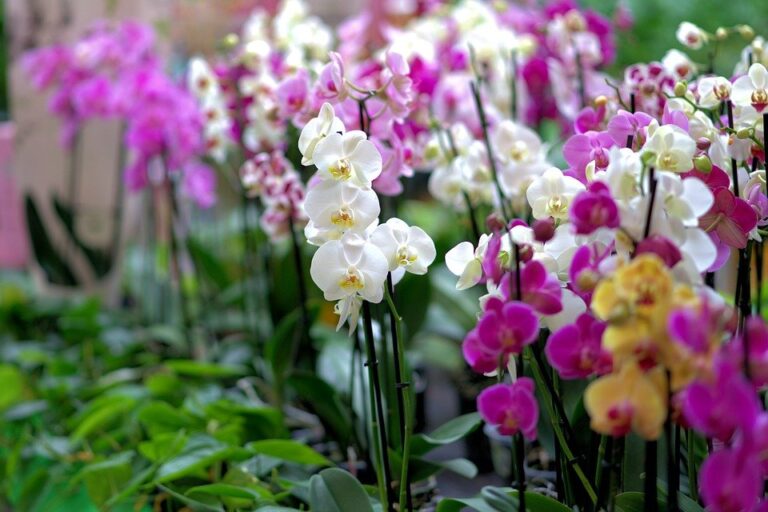 While there are three primary orchid growing mediums, it's noteworthy that none of them include soil, as it's detrimental to orchid roots. The chosen mixes typically comprise one part perlite, one part medium-grade charcoal, and four parts of coconut shell or fiber or fir bark, available in fine, medium, or coarse grains.
Coarse Mix: Ideal for Cymbidium and other large species.
Medium Mix: Suitable for Cattleya and Phalaenopsis species, among others.
Fine Mix: This mix is widely used for Oncidium, Paphiopedilum, Oncidiinae, and essentially all other species with smaller roots that require greater humidity.