Renowned for their vibrant summer blossoms, Pelargoniums, often referred to as common geraniums, are an excellent addition to any garden. Perfectly suited for hanging baskets, flowerpots, and garden plots, these resilient annuals are tolerant of both heat and drought. They boast a continuous bloom period extending from June until the arrival of fall frost. This article provides a comprehensive guide on the nurturing and cultivation of Pelargoniums.
It's noteworthy to mention that despite the frequent use of the term "geraniums" in reference to Pelargoniums, these plants are not true geraniums. Genuine geraniums belong to the Geranium genus and are hardy perennials capable of enduring cold temperatures. This article will focus solely on the care and growth of the tender annuals recognized as common geraniums, belonging to the Pelargonium genus.
Planting Common Geraniums
Common geraniums, or Pelargoniums, flourish in environments with ample sunlight, requiring at least five hours of direct exposure daily. Although they are not as water-dependent as some other annuals, they favor a moist and well-drained soil environment.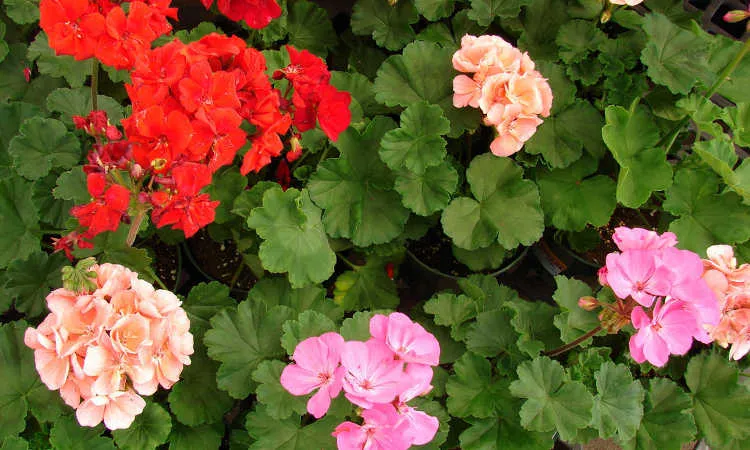 These plants are ideally suited to pot or container growth and can be maintained outdoors in locations with partial to full sun exposure until the arrival of the fall frost. However, they are unable to survive harsh frosts or the first severe freeze, resulting in their annual lifespan.
Ideal Planting Time for Pelargoniums
Being sun enthusiasts, pelargoniums should only be moved outdoors when nighttime temperatures consistently exceed 55°F (13°C). When late summer arrives and nighttime temperatures begin to fall below this level, the plants should be relocated indoors.
Guidelines for Planting Pelargoniums
When selecting geraniums from a nursery, it's essential to scrutinize their appearance carefully. Healthy specimens will exhibit no discoloration on the leaves, either above or below, and their stems will be robust rather than spindly. It's also imperative to avoid plants showing signs of pest infestation.
To safeguard against root rot, situate the plants in large containers equipped with drainage holes. To accommodate substantial root growth, consider planting one or two plants in a large pot of at least 20 gallons and 18 to 24 inches wide. Use a well-draining potting mix instead of heavy soil when planting in containers to prevent waterlogged or compressed soil conditions that geraniums dislike.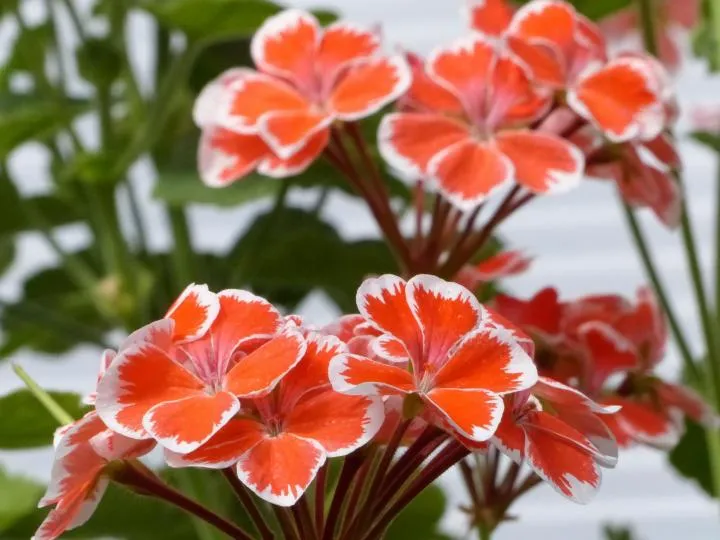 When planting directly into the ground, avoid overcrowding the plants to ensure good airflow. Adequate root space is crucial for any geranium variety; otherwise, the plants will deteriorate. Additionally, practicing crop rotation and refraining from planting pelargoniums in the same location every year can help prevent pest infestations.
Geraniums Care Guidelines
Apply a light mulch to the soil when planting in the ground to cool the root zone.
Allow the soil to partially dry out between watering sessions, then thoroughly soak it. Overly moist soil is more harmful than underwatering. A simple finger test can help gauge soil moisture; if the soil is dry to a depth of 1 inch, it's time to water. Avoid overhead watering and splashing foliage to prevent disease.
Regular deadheading encourages continuous bloom throughout the summer. Also, deadhead after heavy blooming or strong rain. One gardening enthusiast suggested, "For sustained re-blooming, pinch just below the spent flower as much as possible. I did this, and each of my pelargoniums bloomed from spring into fall year after year."
Pinch back the stems to encourage bushiness and prevent legginess.
Fertilize every two weeks or so during the active growing months, using a half-strength water-soluble fertilizer. Avoid fertilizing during winter, when the plant is dormant.
If you're overwintering your plant indoors, reduce watering, but don't let the roots completely dry out. Geraniums benefit from a dormancy period over winter, where they require less water and grow minimally.
Repotting geraniums in the spring can stimulate new growth—or any time they appear to need rejuvenation.
Overwintering Common Geraniums
Geraniums that have been outdoors during the summer can be maintained as houseplants, provided they receive plenty of sunlight. In the northern regions, the winter sun may not be strong enough to stimulate bud growth in some varieties.
Before the first frost of fall, trim the plants using a clean, sharp knife, reducing the stems to about 6 to 8 inches. They should not be burdened with supporting a mass of leaves in the low-light conditions of winter. Keep a few stem cuttings for rooting—this is an easy way to increase your collection.
Transfer the main plant to the smallest possible pot, one just large enough to accommodate the roots, using regular potting soil as a filler.
Keep the plants in a shaded area for a week, then move them to a sunny location and keep them cool.
Over the winter, geraniums thrive with night temperatures between 50° and 60°F (10° to 16°C). They will survive even if temperatures drop to 32°F (0°C) or rise above 80°F (27°C), as long as they're kept relatively dry.
When the plant starts showing new growth in spring, remove all the old leaves.
Nurturing new growth can often be more challenging than initiating it. Here are some tips to help you succeed:
Water the plants sparingly, only when the leaves begin to wilt, and avoid overwatering. Do not fertilize or feed the plants during this period—they need to rest.
For geraniums that have been overwintered to bloom by Memorial Day, consider pinching them back in February. Once the threat of frost has passed and warm weather returns, you can transplant the plants to beds or pots, depending on your preference.