When the word 'kiwi' is mentioned, it often brings to mind images of succulent, aromatic fruits. However, have you ever considered growing these delightful fruits in your own backyard, specifically in pots? The exciting answer is, yes, you can! Here's everything you need to understand about cultivating Kiwi in a pot at home.
Understanding Hardy Kiwis
Hardy kiwis, a smaller variant of the regular kiwi, are often store-bought. An intriguing aspect of these fruits is their dioecious nature, meaning that to ensure fruit-bearing, you must plant a minimum of one male for every 8-10 female plants.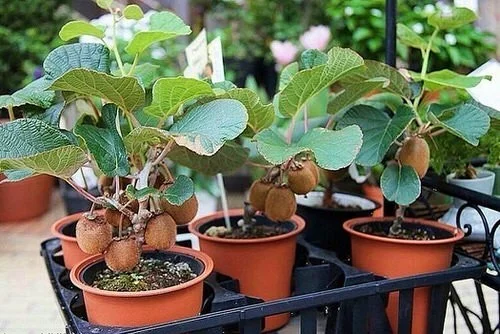 The Ananasnaya variety of kiwi is recommended for beginners due to its robust growth and prolific grape-sized aromatic fruits. For early fruit production, choose the Geneva variety, whereas the Dumbarton Oaks variant is known for its high yield.
The Michigan State variety is ideal for those seeking larger fruits that can withstand colder climates down to USDA Zone 5. The Ken's Red variant is visually appealing with red-colored skin, while the Issai variety, being self-fertile, does away with the need for male and female variants.
Propagating Kiwi: Seeds or Cuttings?
Kiwis can be propagated from either seeds or cuttings, and patience is key as it takes about 3 to 5 years for the plant to yield fruit. Seeds can be procured from a local nursery or online stores, but using cuttings often leads to better cultivars. If you want your vines to bear fruit, remember to plant both male and female plants.
Expert Tip: To save time, consider getting a potted plant from a nursery, preferably a self-pollinating variety.
Picking the Right Container
Start your planting journey with a 12-14 inch container that has sufficient drainage holes. After a few years, when the vine outgrows the initial container, transplant it to a larger one, being careful not to break the root ball.
Ensuring Proper Support
Given that kiwi vines can grow to 25-30 feet in length, they require sturdy support to handle their weight. Training them to climb a patio overboard or installing a strong trellis structure works well. Kiwis can also be grown on a large balcony or rooftop.
Key Requirements for Growing Kiwis in Pots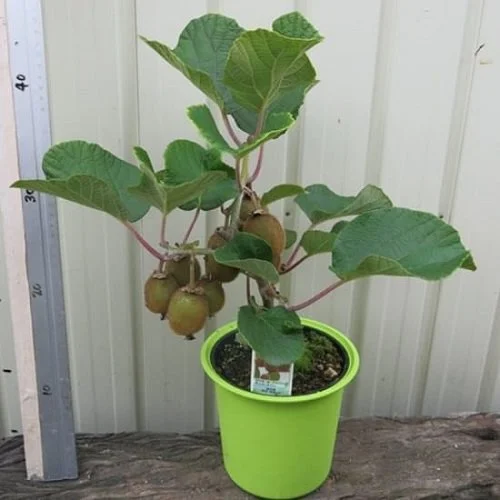 Soil
Kiwi plants thrive in well-draining, loamy to slightly heavy soil rich in organic matter like leaf mold, compost, or aged manure. The pH level should be slightly acidic to slightly alkaline. Avoid clay-rich and overly sandy soils.
Location
Kiwis require full sun exposure for healthy growth, with an ideal exposure of 5 to 6 hours of sunlight daily.
Temperature
In cold climates, the temperature range of 40º-60º F (4.44º-15.56º C) is best, whereas in warmer regions, 56º-77º F (13.33º-25º C) works well. Young plants could be harmed or killed at temperatures below 14º F (-10º C).
Watering
The soil must be kept moist for the plant's optimal growth. Overwatering or letting the plant sit in standing water can cause root rot.
Fertilizing
Regular fertilization is necessary once the kiwi plants are established. However, over-fertilization could harm the sensitive roots. A balanced granular fertilizer like 16-16-16, used 2-3 times per year following label instructions, is sufficient.
Caring for Your Kiwi Plant
Pruning
Annual pruning of kiwi vines is necessary. Female plants are best pruned in winter during dormancy, while male plants can be pruned after flowering. For self-pollinating plants, winter is ideal.
Mulching
Mulch helps retain soil moisture. Using a mixture of compost or shredded leaves works well, but keep it away from the base of the vine to prevent rot.
Pest and Disease Management
Kiwi plants rarely suffer from pests or diseases. If any issues do arise, an organic neem oil solution can usually handle them. If you have pets, particularly cats, be sure to protect your plant.
Overwintering Kiwi
While mature kiwi plants can survive temperatures down to -15 F (-26 C), young plants should be protected during winter for better fruit quality. Indoors, wrap the stems with a cloth or blanket and ensure some daylight exposure.
Harvesting and Storing Kiwis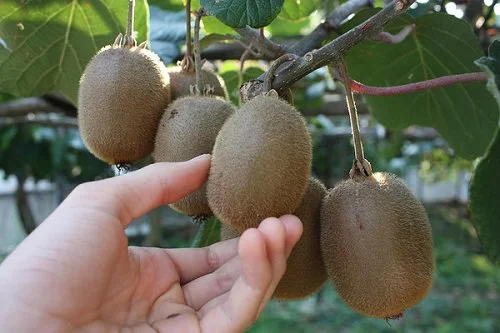 Kiwi plants propagated from seeds will typically begin to bear fruit within three years. However, some varieties, like the Arctic, bear fruit much earlier. Once mature, the vine can produce 40-50 pounds of fruit annually for up to 45-50 years!
Fruits are ripe when they start to soften. Test one to ensure it's ready. Harvested kiwis can be stored in a refrigerator for approximately five weeks.