In this article, we're going to discuss a simple, cost-effective method to grow an unlimited amount of tomatoes with just four slices of a ripe tomato and some dirt. This method is not only easy but also environmentally friendly as it requires minimal input and maximizes output.
1. Introduction To Tomato Propagation
Tomatoes, Solanum lycopersicum, are among the easiest plants to propagate. This is due to their unique ability to develop roots from their stems, and in this case, from their slices containing seeds. A mature tomato slice is packed with seeds, each capable of developing into a robust tomato plant.
2. Choosing The Right Tomato
The first step in this process is choosing the right tomato. Ideally, you want a fully ripe tomato from a variety you love. Organic and heirloom tomatoes often provide the best results, but any ripe tomato will do. Slice this tomato into four even sections, each containing an ample amount of seeds.
3. Preparing The Planting Medium
The next step is to prepare the planting medium. Although we refer to it as 'dirt,' it's important to use a quality potting mix or compost. The compost should be well-draining but able to retain moisture, fertile, and free of pathogens and weed seeds.
4. Planting The Tomato Slices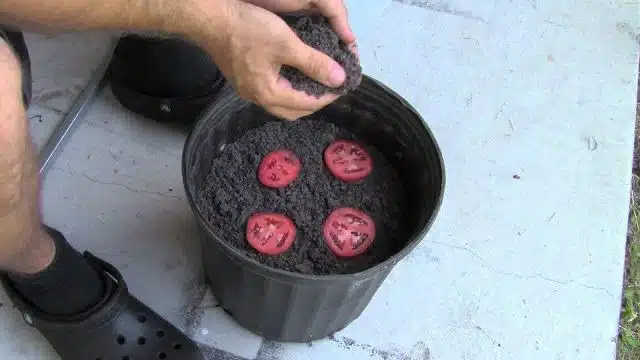 Lay out the tomato slices on the surface of the compost in a pot or flat. Press them gently into the compost, but don't cover them entirely. Each slice should have direct contact with the compost, allowing the seeds to access the nutrients they need to germinate.
5. The Waiting Game: Germination
Cover the pot or flat with a plastic bag or a plastic wrap to create a miniature greenhouse. This will maintain humidity and warmth, promoting germination. Place the pot in a warm location with indirect light, as direct sunlight could overheat the pot. The germination process can take 1-2 weeks, during which you need to ensure the compost remains moist but not waterlogged.
6. Thinning and Transplanting The Seedlings
After the seeds germinate, you'll find a dense population of tomato seedlings emerging from each slice. When the seedlings have grown a couple of inches tall, it's time to thin them out. Carefully select the strongest seedlings and gently separate them from the cluster.
Transplant these seedlings into their pots or garden bed. Ensure each plant has adequate space to grow and access to sunlight and water.
7. Cultivating Your Tomato Plants
Over the next several weeks, nurture your tomato plants by ensuring they receive plenty of sun (6-8 hours a day), regular watering, and occasional feeding with a balanced organic fertilizer.
8. Harvesting Your Unlimited Tomatoes
As the plants mature and bloom, you'll start to see tomatoes forming. Wait for them to reach their full size and color before you harvest. And remember, the ripe tomato you harvest could be the start of your next crop!
Conclusion
The method of growing tomatoes from slices is an ingenious and economical way to propagate an unlimited amount of tomatoes. By following these steps, you can maximize your output from just four slices and some dirt. So why not give it a try? Enjoy the process and, of course, the fruits of your labor!