Growing cilantro, scientifically known as Coriandrum sativum L, is sometimes challenging due to soil compatibility. However, cultivating cilantro in water provides a simpler alternative. This guide will walk you through the water-based cilantro growth process and offer some valuable tips for successful cultivation.
You'll Need
Strainer or colander
Paper napkins or cotton
A container
Fresh water
Quality cilantro seeds (preferably organic)
Steps to Grow Cilantro in Water
Quality Seeds Matter: Begin with top-quality seeds. Opting for organic seeds is recommended.
Setting Up: Place one or two paper napkins or cotton pads inside the colander.
Seed Placement: Distribute the cilantro seeds evenly on the napkin or cotton.
Moistening: Cover the seeds with another napkin or cotton pad and dampen it.
Submersion: Fill the container halfway with water and set the colander with the seeds inside.
Lighting: Ensure the container is placed in a location receiving 4-6 hours of sunlight daily.
Within a month, your cilantro plants should be flourishing. Refresh the water weekly for the best results.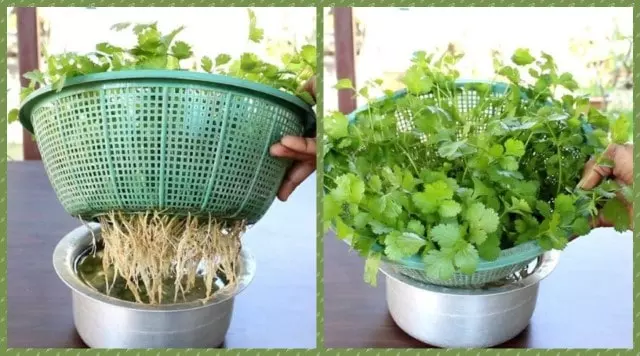 Ideal Time for Cultivation
Cilantro can be grown indoors in water throughout the year. For outdoor water cultivation, choose spring and summer after the frost danger has passed.
About Cilantro (or Coriander)
Height: Typically, cilantro grows between 30 and 70 cm tall.
Names: While "Cilantro" is the Spanish term for this plant, "Coriander" is used in various parts of the world. Both terms refer to the same aromatic plant.
Tips and Facts
Regrowth: Cilantro can be regrown. Trim the top part of the plant slightly and watch it flourish again. For consistent supply, maintain multiple plants.
Sunlight Requirement: Cilantro needs substantial sunlight. When cultivating indoors, placing it near a window ensures optimal sun exposure.

Common Challenges & Solutions
Temperature Sensitivity: Cilantro prefers warmth and is frost-sensitive. Ensure your cilantro remains in a cozy spot, avoiding excessively cold water.
Premature Flowering: Unfavorable conditions can cause cilantro to flower prematurely, altering its taste. A workaround is to sow seeds intermittently every 2-3 weeks, ensuring a constant supply of fresh cilantro.
The Health Benefits of Cilantro
Cilantro isn't just a tasty herb; it's packed with benefits:
Rich in essential oils like linalool, granting antispasmodic and antihistamine effects.
Packed with vitamins A, K, C, and B2.
Contains vital minerals like potassium, phosphorus, calcium, and magnesium.
Aids in digestion by stimulating appetite and supporting gastric juice production.
Contributes to cholesterol reduction.
Embrace the benefits and simplicity of water-based cilantro cultivation with this guide. Happy growing!