Cucumbers are a popular vegetable that can take up a significant amount of space in your garden due to their sprawling vines, which can grow to be 6 to 8 feet long or even longer. However, there is a solution to maximize your garden's real estate and still have a bountiful cucumber harvest. By utilizing a cucumber trellis, you can support and contain the plants while allowing them to grow vertically. In this article, we will explore a variety of unique cucumber trellis ideas that will not only save space but also enhance the aesthetics of your garden.
Why Use a Cucumber Trellis?
There are numerous advantages to using a cucumber trellis, even if you have ample space in your garden for the vines to spread along the ground. When grown on a trellis, cucumber plants tend to produce higher yields compared to those grown on the ground. By growing upward instead of outward, you can maximize the fruit production per square foot. Additionally, lifting the fruits off the ground reduces the risk of soil-borne diseases affecting the crop. Cucumbers grown on trellises also have straighter and longer shapes, making them easier to harvest.
Which Cucumber Trellis Should You Use?
Choosing the right cucumber trellis depends on various factors such as your garden's layout, budget, and personal preferences. There is a wide range of trellis options available, from do-it-yourself projects to decorative structures. If you have an ornamental garden, a metal arch or woven trellis can seamlessly blend the food crops with the aesthetic surroundings. However, if you have a traditional vegetable garden, simpler and more affordable DIY structures might be more suitable. Additionally, utilizing available wall or fence space can provide additional trellis options. When selecting a cucumber trellis, consider factors such as cost, durability, and ease of use.
Here are some unique cucumber trellis ideas that can be implemented in various garden settings, including containers:
1. Wooden Lattice Cucumber Trellis: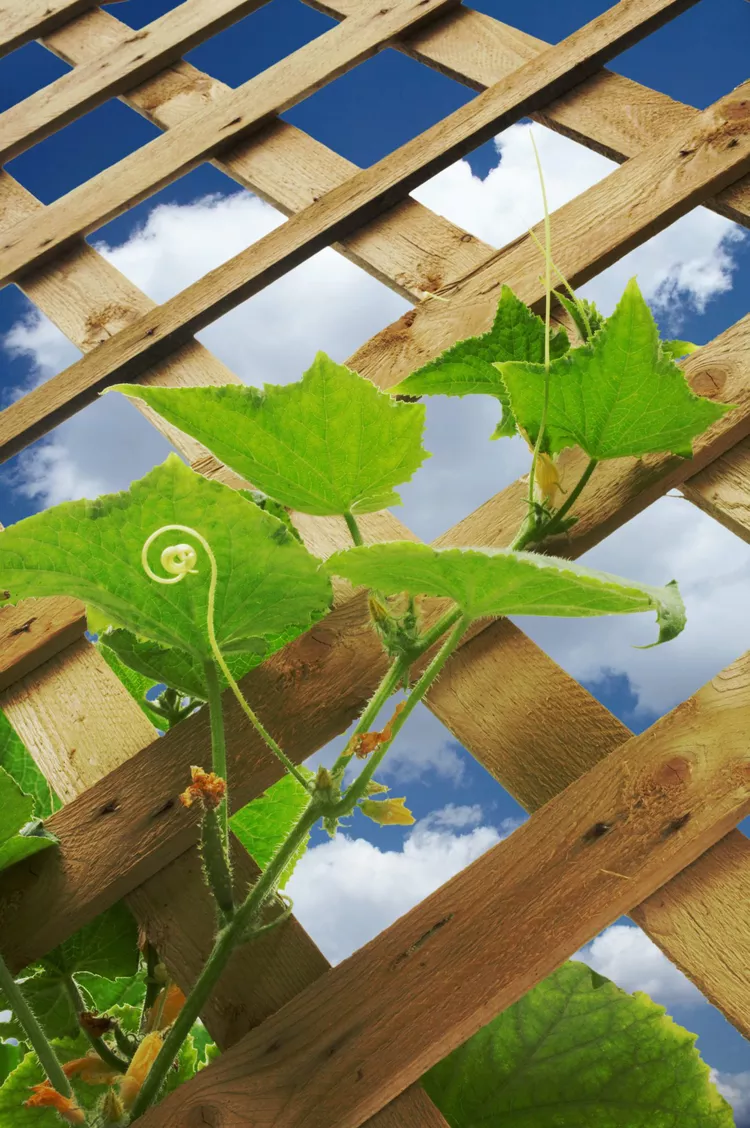 A wooden lattice, whether part of an existing fence or a standalone section attached to two posts, can serve as an attractive support for growing cucumbers. It can be incorporated into a square-foot gardening system or installed along exterior walls, offering both a climbing surface for the vines and added privacy.
2. Arch Trellis:
For those looking to maximize garden space and create a visually appealing element, an arched trellis can be installed in the ground or between two planters. Although it is a slightly more expensive option, it is durable and strong enough to support heavier vining crops like melons and squash.
3. Rustic DIY Obelisk Trellis: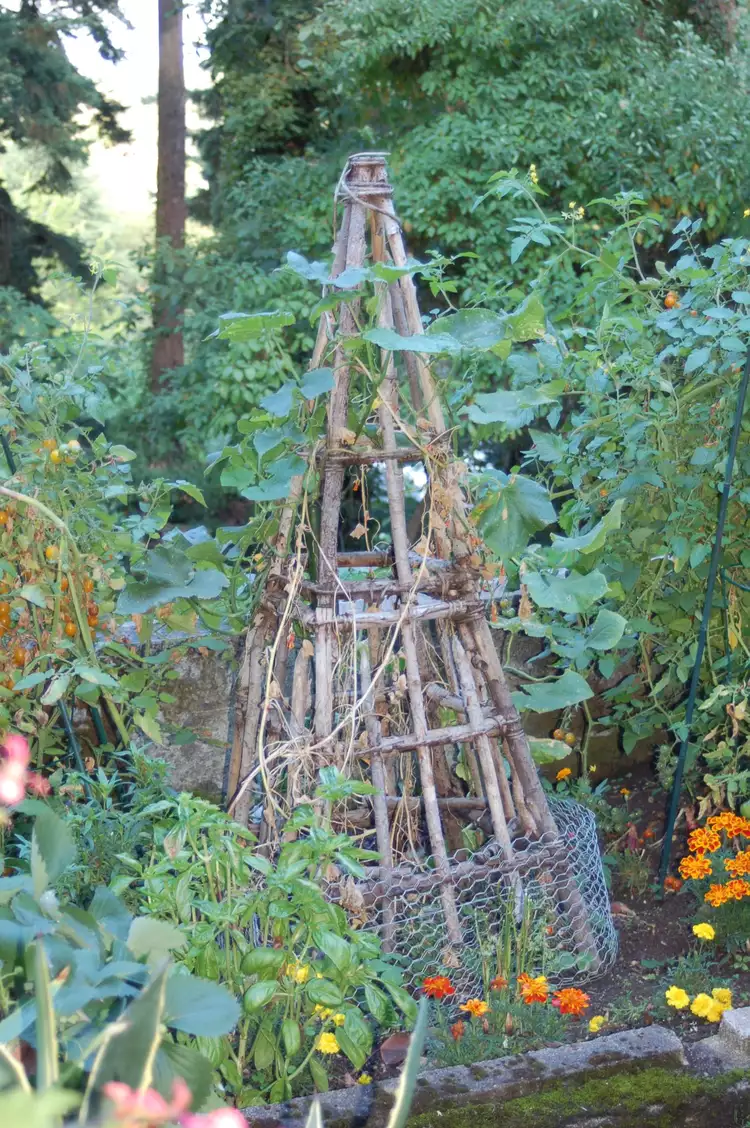 This decorative trellis can be created by lashing together wooden cuttings or using bamboo. It can also be purchased in various sizes as pre-made metal or wooden obelisks. Smaller obelisks are ideal for growing cucumbers in containers, while larger ones add a touch of aesthetics to vegetable gardens in ornamental landscapes.
4. A-Frame Trellis: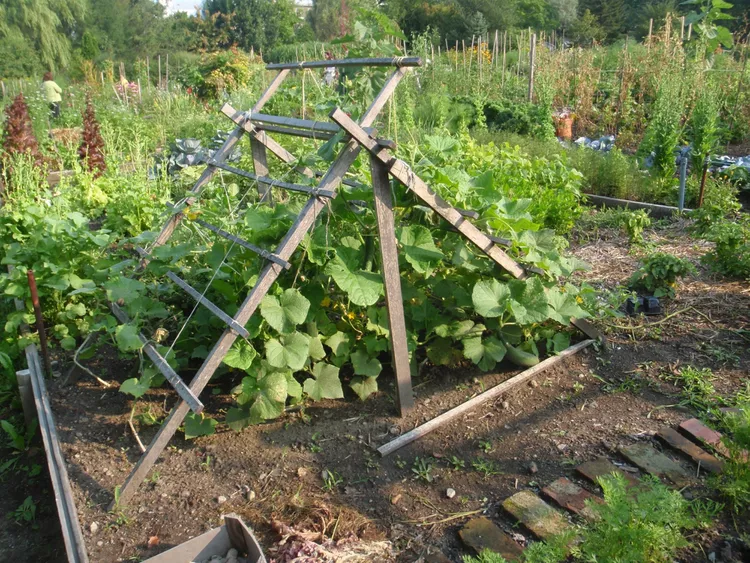 A-frame trellises, resembling ladders, provide two growing surfaces for supporting vines. You can repurpose an old step ladder or build a more decorative A-frame trellis using reclaimed wood, thick branches, or bamboo canes. Cross supports can be made from the same materials or alternative options such as netting, cattle panels, or string, depending on your budget. A-frame trellises can be constructed in long rows or as stand-alone structures.
5. Lean-To Trellis: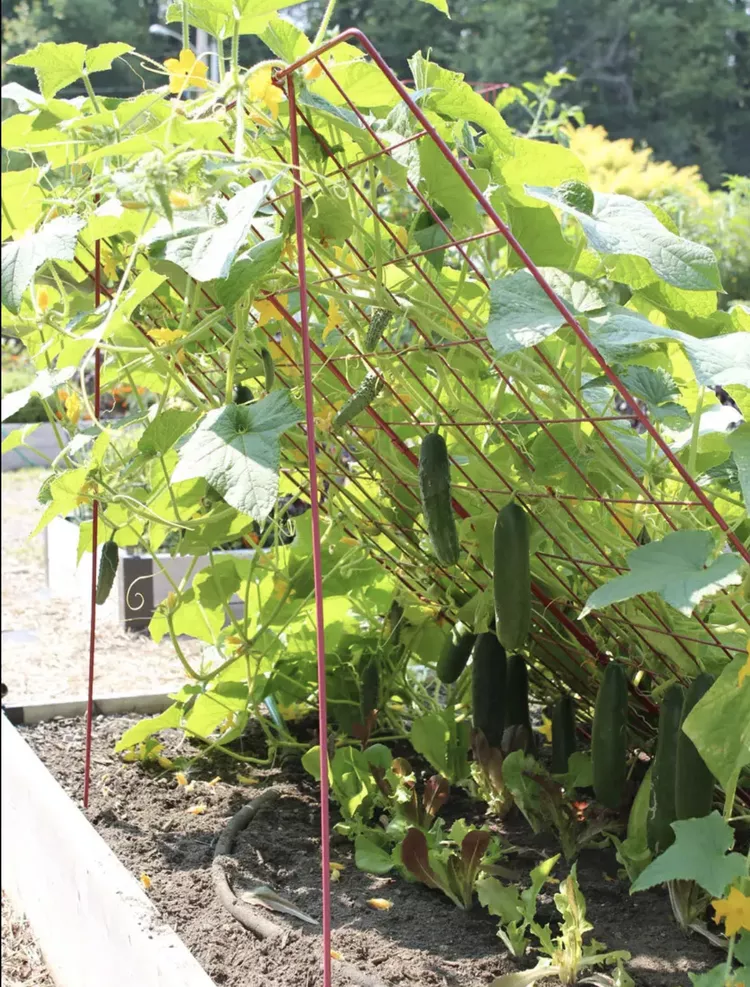 Similar to an A-frame trellis, a lean-to style trellis features a lower angle and a single growing surface. This design provides stability in windy locations. The space beneath the high end of the trellis can be utilized for growing shade-loving herbs or heat-sensitive crops, such as lettuce. Orienting the high end of the lean-to to the east ensures that crops planted beneath the trellis receive morning sun and afternoon shade.
6. DIY Bamboo Trellis: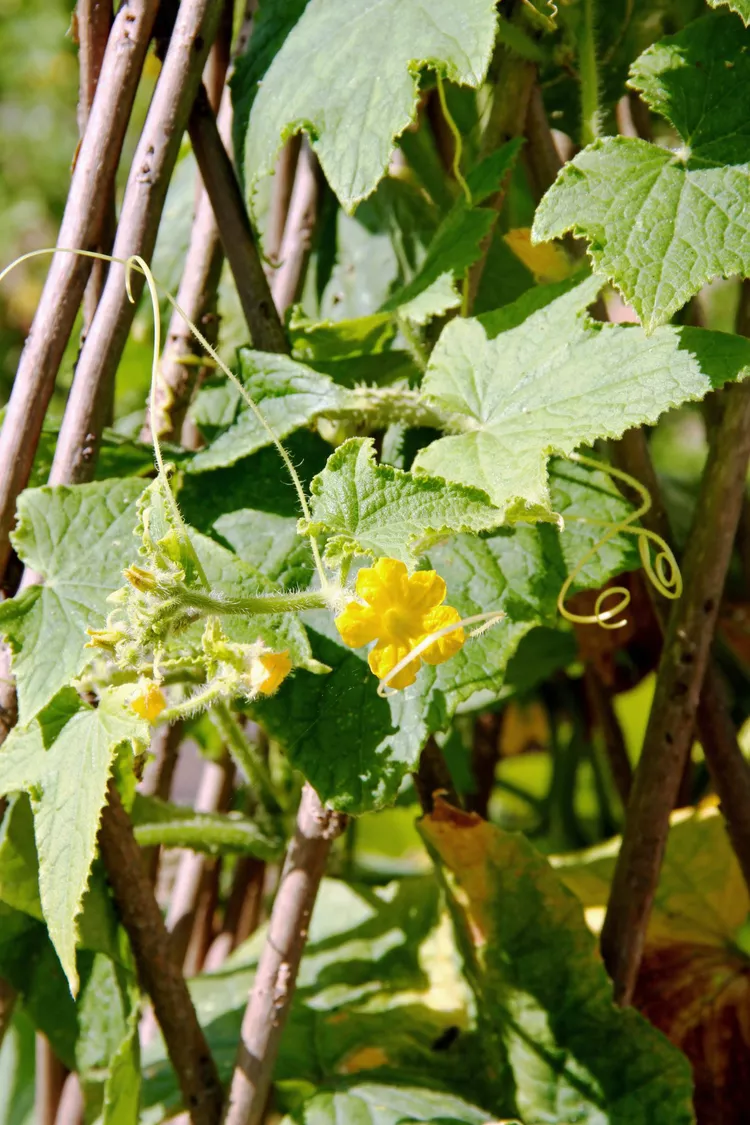 Bamboo is a lightweight yet sturdy building material that is often used to create teepee-style trellises. Families can engage children in gardening by constructing large teepee trellises using bamboo or twigs. Make sure to securely plant the ends of the poles in the ground for stability. In containers, a simple teepee-shaped trellis can be built by tying three poles together at the top and running string between them.
7. String Trellis: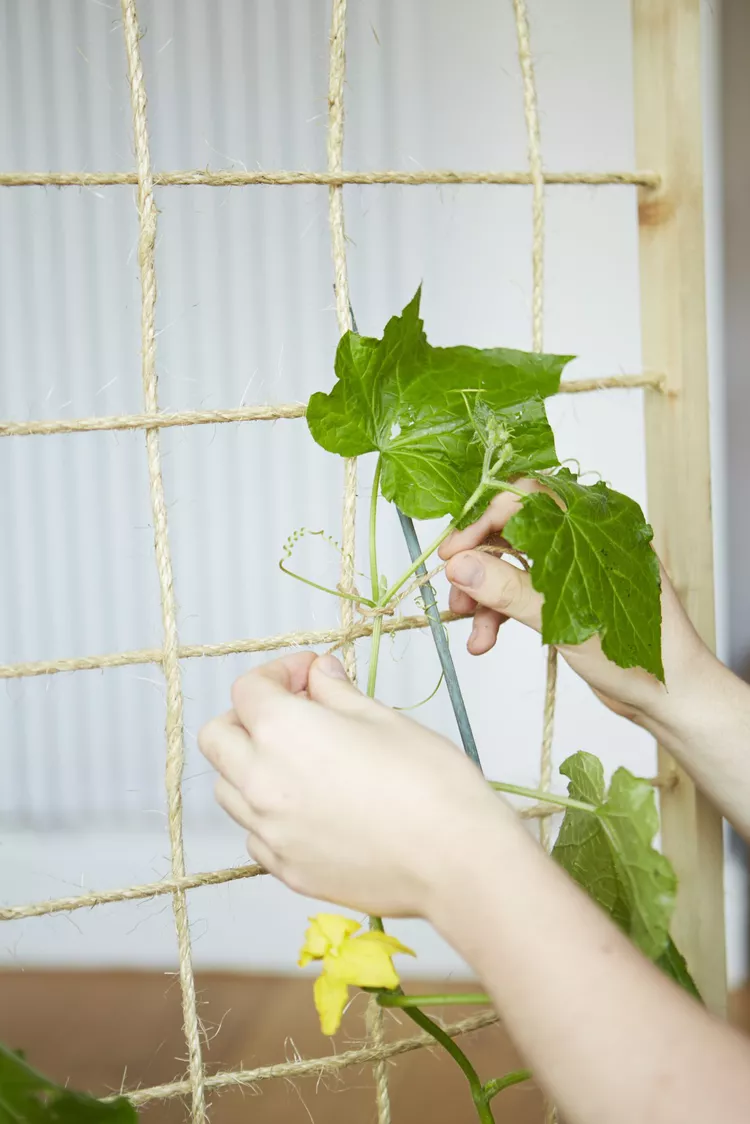 Trellises need not be complicated or expensive. A basic string trellis made of twine or jute strung between two posts provides ample support for cucumber vines. It can be as simple as using T-posts or wooden stakes driven into the ground, or a more visually appealing option like a wood-framed string trellis. Keep in mind that the strings may need to be replaced annually as they tend to stretch over time.
8. Chain Link Fence: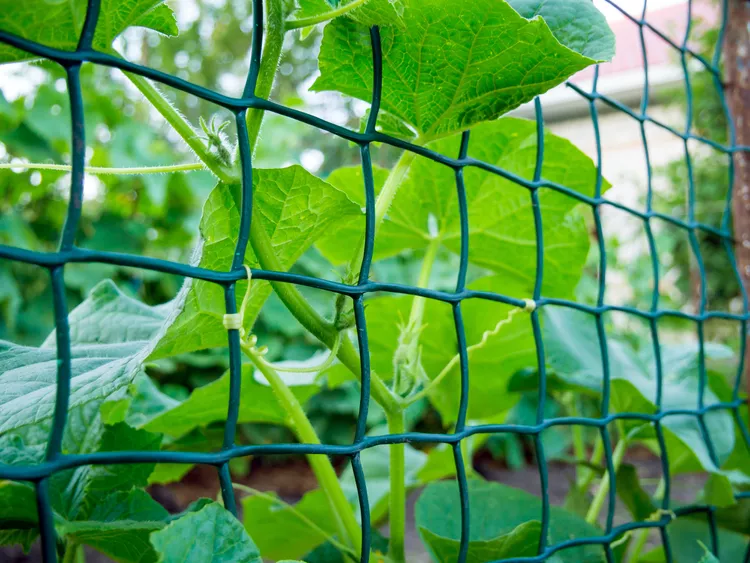 For simplicity's sake, an existing chain link fence can serve as a reliable support for cucumber plants. Fences are durable and can withstand several years of use without breaking when removing previous season's vines. Alternatively, scraps of metal fencing, steel remesh, or cattle panels can be suspended between T-posts or wooden posts to create an inexpensive fence-like trellis.
9. Tomato Cage: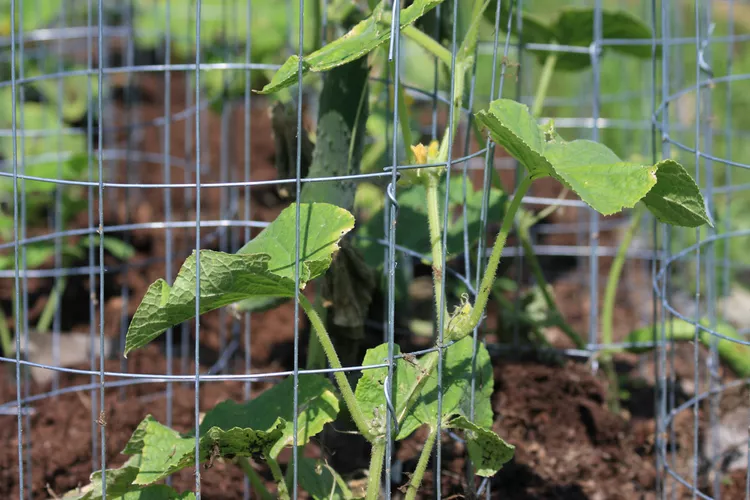 Although tomato cages are commonly associated with tomatoes, they can also be used effectively for growing cucumbers. Look for taller styles of tomato cages and ensure that the bottom prongs are deeply embedded in the soil. Tomato cages are available at various price points, so consider durability and choose the sturdiest option that fits your budget.
By utilizing these unique cucumber trellis ideas, you can save space, increase your cucumber yield, and enhance the overall aesthetics of your garden. Experiment with different trellis designs to find the one that best suits your needs and enjoy a plentiful cucumber harvest.