Pothos, with its vibrant and lush green leaves, is one of the most beloved houseplants around the globe. Its adaptability and low maintenance needs make it a favorite, but its beauty is what truly makes it shine in any home setting. If you're looking for innovative ways to showcase your pothos, here are 22 creative displays that you can consider:
1. Enchanting Variegated Shelf Display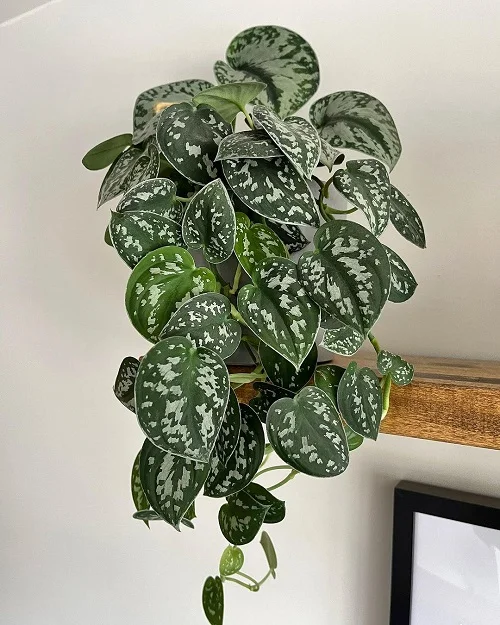 Variegated pothos leaves bring a touch of magic wherever they go. Arrange them on a floating shelf amidst your books or décor items, letting the contrasting colors shine through.
2. Hanging Planters with Pothos Charm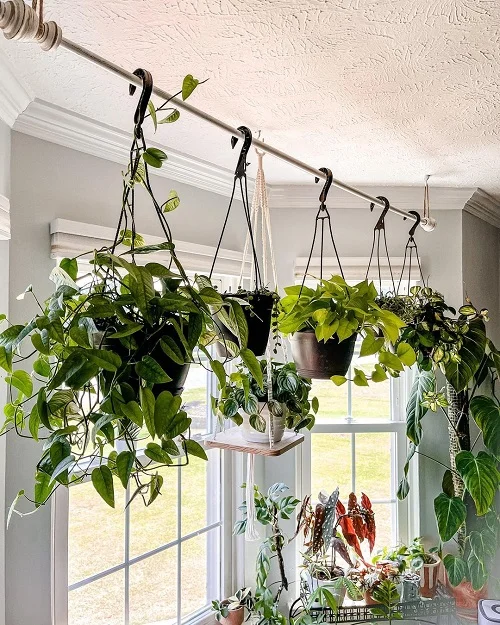 There's something mesmerizing about pothos vines cascading from hanging planters. Their draping nature will add a fresh, lively vibe to your space.
3. Cascading Pothos Vine on the Bookshelf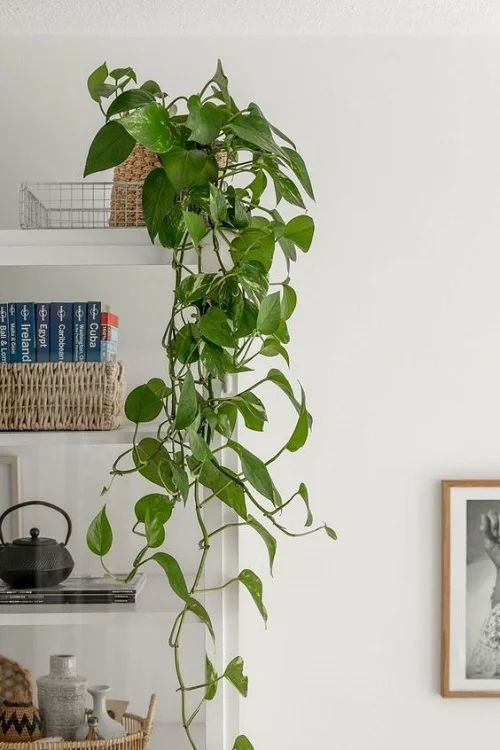 Why not combine your love for books with your adoration for plants? Let the pothos vines drape gently between your book stacks, providing a serene contrast.
4. Vine-Lined Pothos Doorway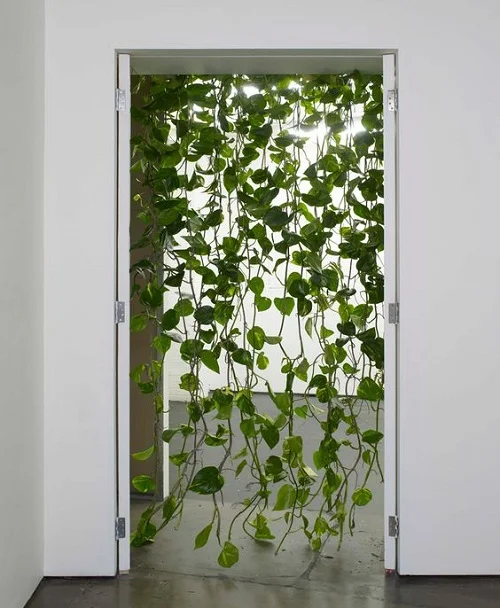 Frame your doorways with pothos vines, creating a live, evergreen border. The vines add a whimsical and refreshing touch to your home's entrance or exit.
5. Whimsical Plant Stand Wrap Using Pothos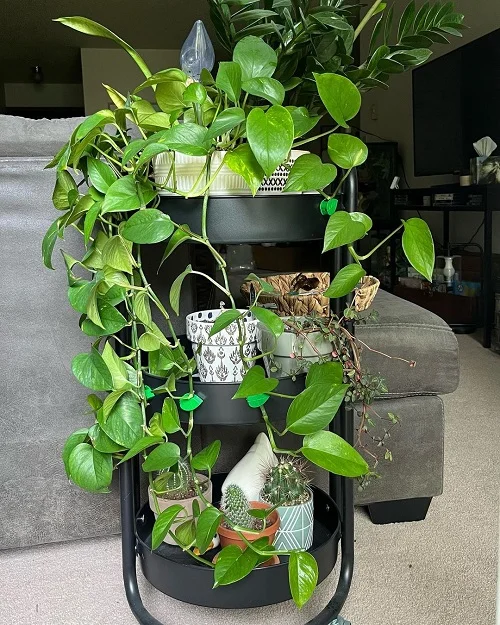 Turn a regular plant stand into a verdant spectacle. Wrap the pothos vines around the stand, letting the leaves cascade for a fun, nature-inspired display.
6. Stylish Pothos Wall Shelf Garden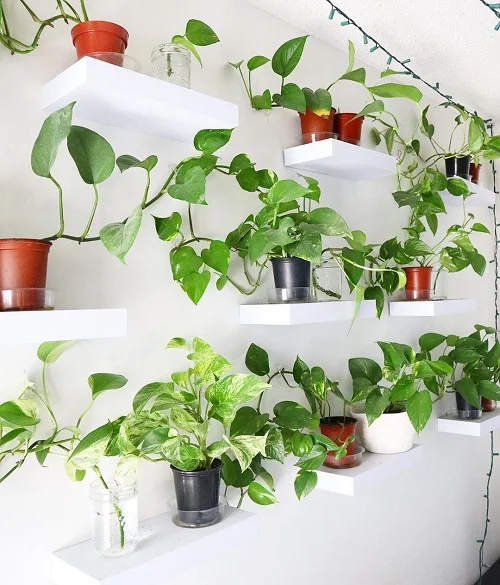 Create a vertical garden on your wall using shelves. Position pothos pots at varying heights and let the vines drape down for a stylish yet vibrant look.
7. Mason Jar Aquatic Pothos Haven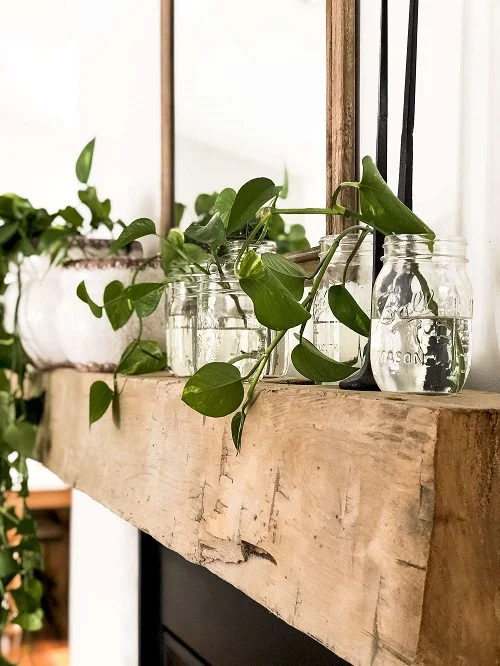 Pothos can grow in water, so why not utilize mason jars? Set cuttings in jars filled with water for a chic, minimalistic aquatic display.
8. Clay Pots for Fireplace Elegance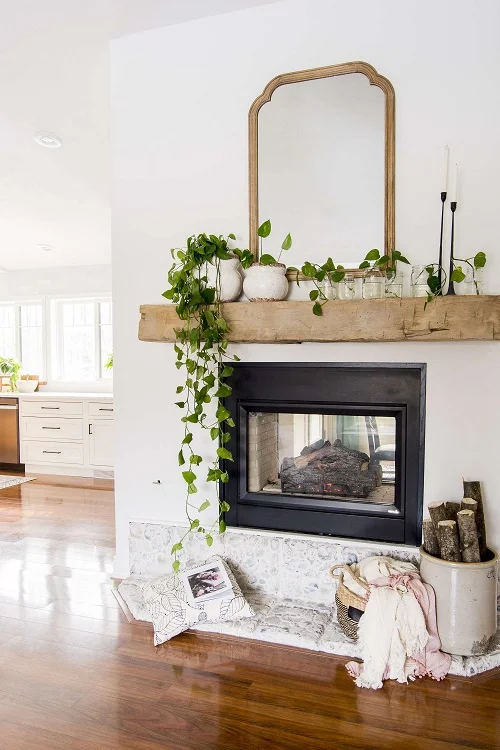 With the fireplace not in use, arrange pothos in rustic clay pots to lend a touch of old-world charm and warmth to the hearth.
9. Wall Mounted Boxes with Pothos
Use wall-mounted wooden boxes as planters for your pothos. It's a contemporary look that combines nature with geometric precision.
10. Macrame with Hanging Pothos Vines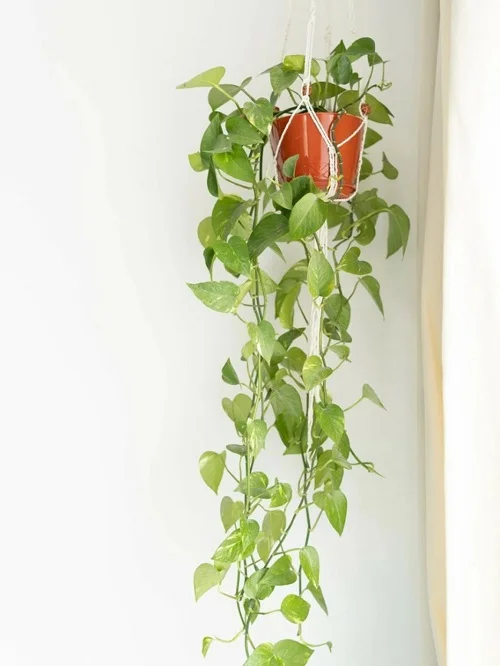 Macrame plant hangers and pothos are a match made in heaven. The vintage, boho vibes of the macrame complement the lush green of the pothos.
11. Variegated Pothos as Metal Stand Beauty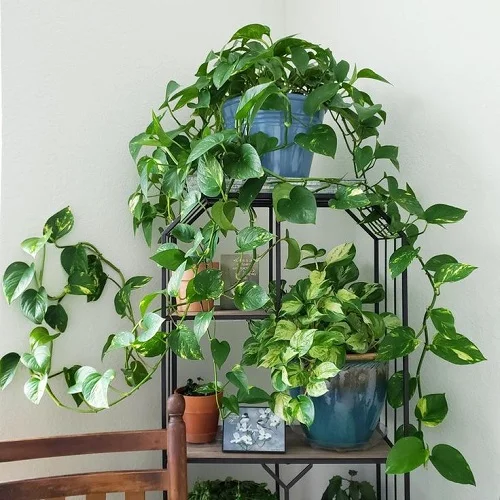 A metal stand with variegated pothos hanging from it brings in a rustic, yet modern look. The metallic gleam paired with green hues is a feast for the eyes.
12. Cascading Pothos Vines on An Old Wooden Chair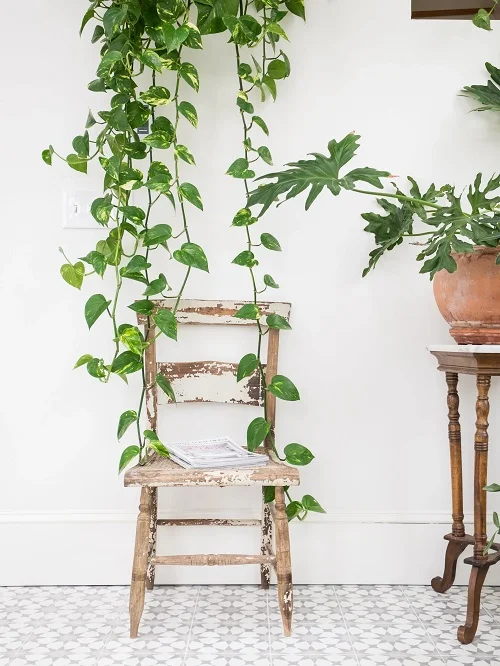 Give your old wooden chair a fresh twist. Position it in a corner and drape it with pothos vines for a nostalgic yet lively vibe.
13. Mixed Pothos Planters on Window Shelves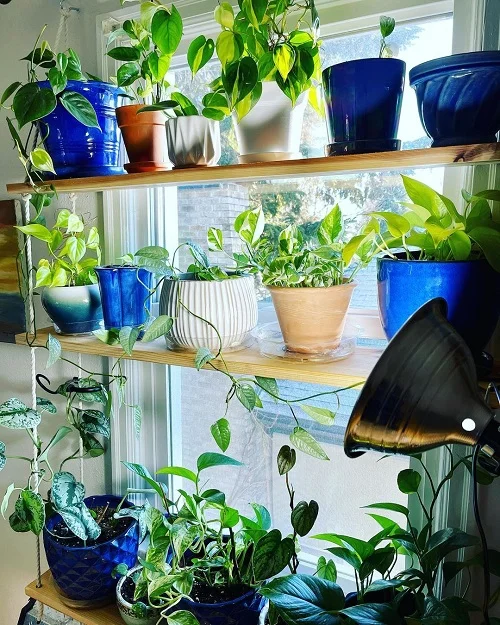 Use window shelves to place a mix of pothos varieties. The natural light streaming through will enhance the beauty of each leaf, creating a dazzling display.
14. Pothos Vine All Over the Cabinet!
Revamp a plain cabinet by allowing pothos vines to snake their way across its surface. It's an organic touch to regular furniture.
15. Ceiling Pothos Hanger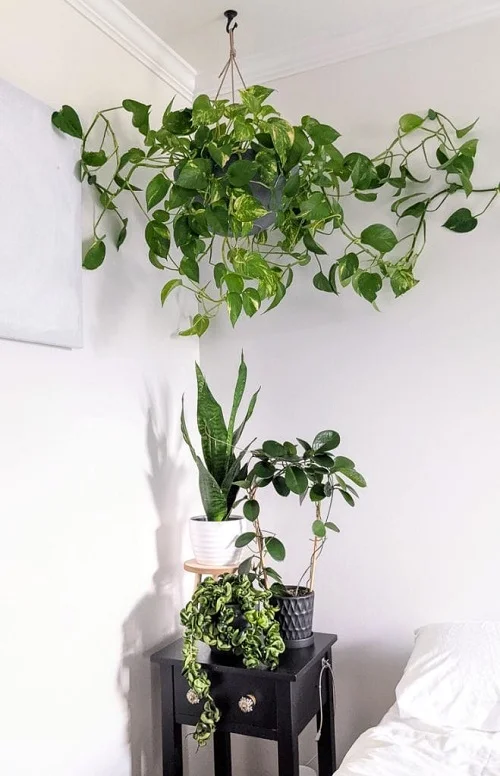 Suspend pothos from the ceiling in strategic spots. They dangle down like natural chandeliers, bringing in a fresh atmosphere.
16. Shelf Overflowing with Pothos Vines!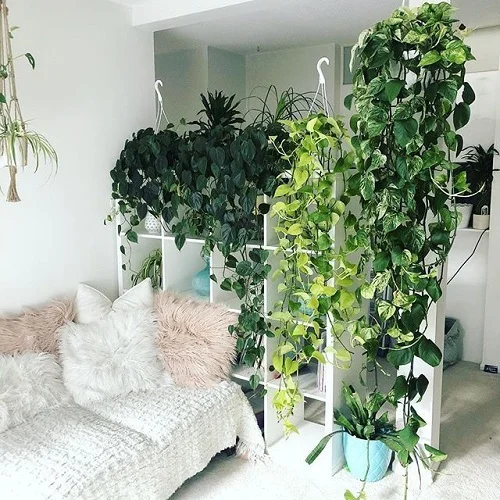 Create an overgrown, jungle-like feel by letting pothos overflow from a shelf. It's wild, yet organized.
17. Pothos Vines on the Staircase Wall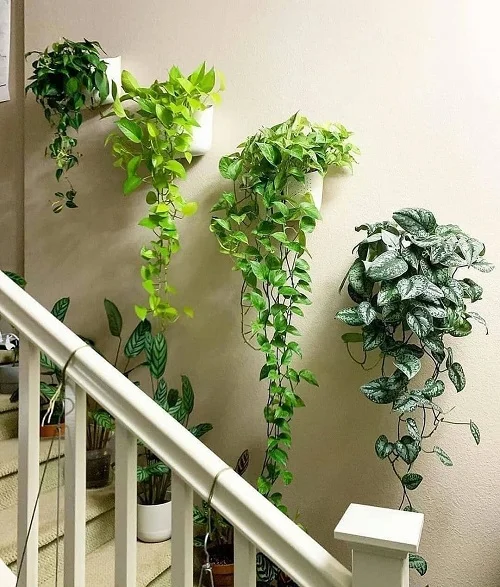 Guide visitors upstairs with pothos vines lining the staircase wall. It's both inviting and charming.
18. As a Serene Wall Cover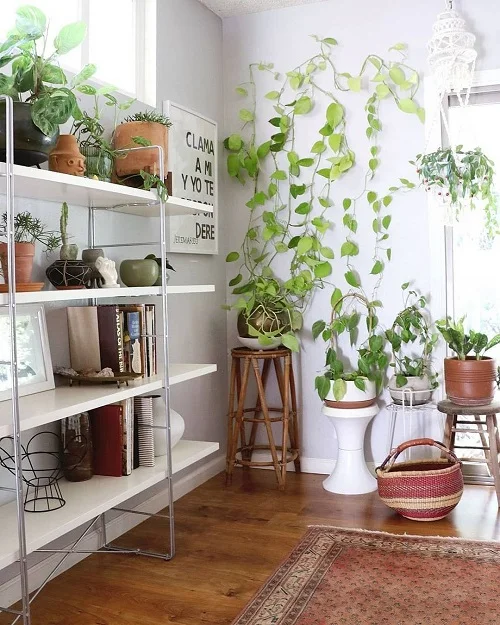 Create a living wall using pothos. It acts as a serene, green canvas, making any room feel more peaceful and connected to nature.
19. Pothos by the Bathtub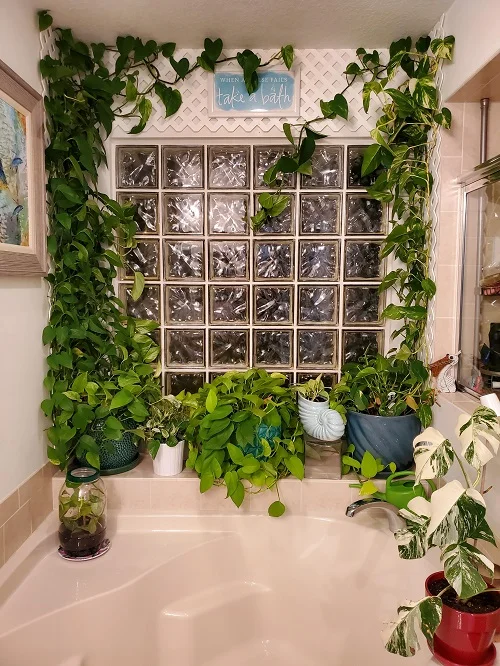 Make bath time more relaxing with pothos by the tub. Their presence turns your bathroom into a spa-like sanctuary.
20. Tall Metal Stand with Pothos Pot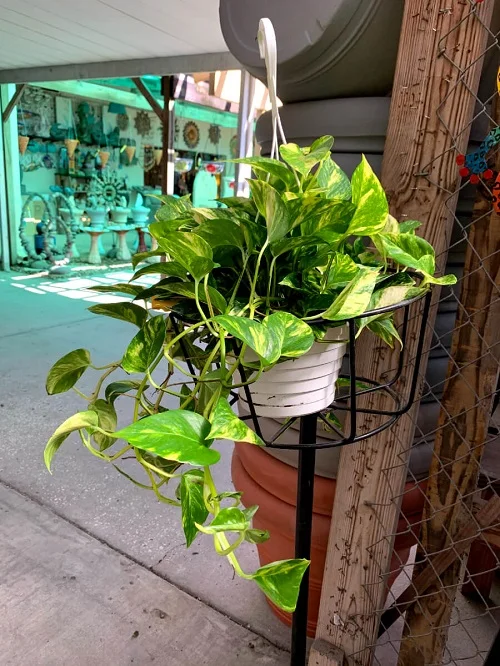 Display your pothos on a tall metal stand. Its elevated position becomes a focal point, drawing everyone's eyes.
21. Hanging Pothos Vine Ceiling Centerpiece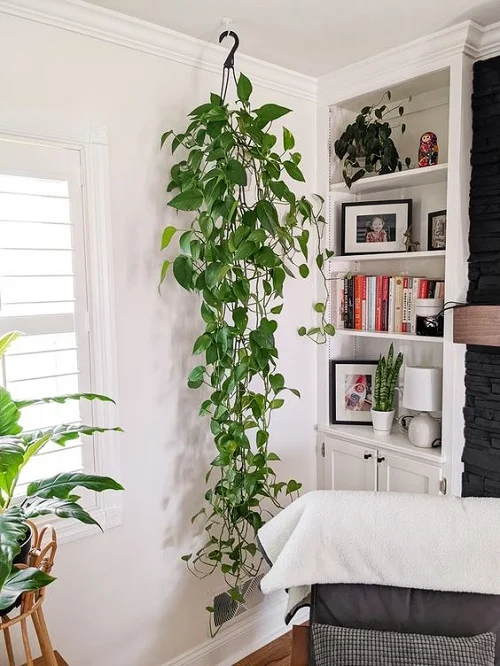 Use pothos as a ceiling centerpiece. Suspend them from a circular frame and let the vines hang down. It's enchanting, to say the least.
22. Pothos in Perfume Bottle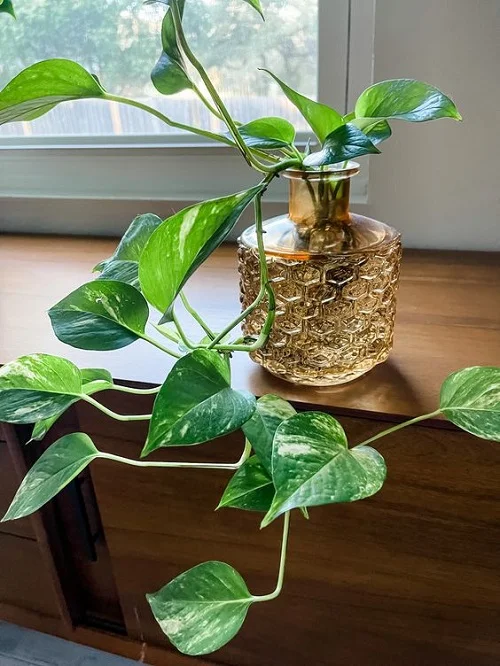 For a touch of delicate beauty, put small pothos cuttings in empty perfume bottles. They're great as tabletop décor, reminding you of the elegance that nature can bring.
With their adaptable nature and appealing aesthetics, pothos are the perfect choice to uplift any space in your home. With these 22 stunning displays, you have a plethora of options to showcase your pothos in all its glory. Remember to provide them with the right care, and they'll continue to beautify your home for years to come.